Linskill Community Development Team Community Grapevine Newsletter – 20 September 2020


As usual this week's Grapevine is full of ideas of things to do – why not try our chocolate brownie recipe, contribute to our new 'Zine' or tell us about your favourite book?
It's been quite a week!
Firstly, a note from the Trust's CEO, Simeon Ripley, updating us on keeping our centres open and groups running.
The Trust acknowledges that this is a challenging time for everyone. We are presently working through both new national and local guidelines so that our centres remain open to service our community, to the best safety standards and that structured groups can continue to run. By this, we mean those led by qualified instructors plus groups supported by engAGE and Encompass, where social distancing is closely managed. Sadly, socialising before and after classes will be discouraged in accordance with new guidelines, but we hope that you will still enjoy your activities and being part of your groups. Like everyone we hope that these measures will only temporarily delay our return to full centre opening. Meanwhile, thank you for your understanding and continued support in working with us to ensure our centres remain safe community places and know that your diligence in following guidelines is much appreciated. Best wishes. Simeon Ripley (CEO)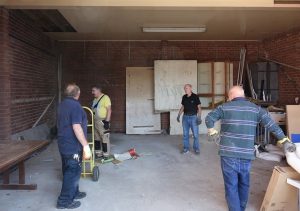 Firstly, some good news … at last – works are starting on The Shed!
What shed…?
Just before lockdown we were about to convert a large brick garage at the back of Linskill Centre into a Men's/Community Shed. Grant funding awarded by North Tyneside CCG is making this all possible and once completed The Shed will be a great social, skill-share and woodworking facility for all to use but with a focus on encouraging men's involvement. Now Linskill is open again and the garage has been cleared out (huge thanks everyone – that was heavy work!) the renovation will begin on Monday 21st September.
Watch this space for more updates over coming weeks as work progresses and we start planning it's opening.
---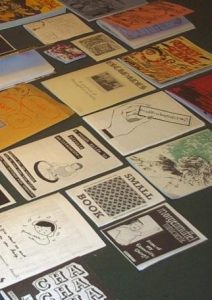 BE ACTIVE
We know you are a creative bunch so we are looking for your creative content to produce a new 'Zine' with a community focus.
What is a zine? Good question! A zine is an abbreviation of fanzine (or magazine) and is usually a small circulation self-published work of original or appropriated texts and images usually reproduced via a photocopier.
How can you get involved? We are looking for you to send us your submissions to go into our first edition which we will be producing over the next couple of months. Basically, what you can include in a zine is only limited by your imagination but could include:
Sketches/drawings
Recipes
Poetry and songs
Memories and stories from the past
Short stories
Gardening tips
Life hacks and tips
Jokes
Photographs
Puzzles
Colour in artwork
If you would like to submit something or would like more information please contact alex@linskill.org.
Finished issues will be available online and a small number will be printed and available for distribution.
---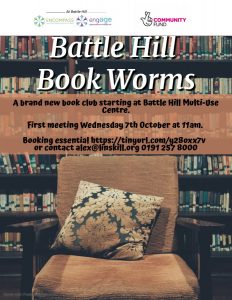 TAKE NOTICE
Share your favourite reads from the last few months and choose a new title for everyone to read next month.
Spaces are limited and booking essential.
---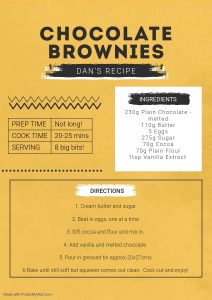 KEEP LEARNING
With The Great British Bake Off returning to our screens on Tuesday 22nd, the Community Development Team were inspired to bake. First up for the challenge was Charly and her delicious Dan's Chocolate Brownies. The verdict was a definite thumbs up!
Why not send in your favourite recipes into our new 'Zine'?
---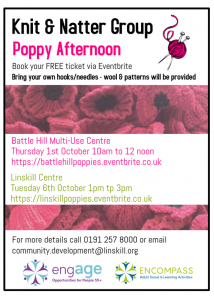 GIVE
Join other knitters and crocheters to make some woolly poppies for a remembrance display in North Tyneside. Please bring your own hooks and needles and wool if you have any red and black in your stash – if not we will have wool available. After this session you can book on every week and either make more poppies or bring your own project with you.
Places are limited and we have two sessions running, one at Battle Hill and one at the Linskill Centre.
---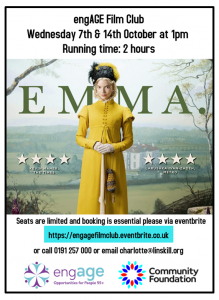 CONNECT
***Limited availability for 7th October *** 
Both showings start at 1pm. 

"Jane Austen's beloved comedy about finding your equal and earning your happy ending is reimagined in this delicious new film adaptation of EMMA. Handsome, clever and rich, Emma Woodhouse is a restless queen bee without rivals in her sleepy little town. In this glittering satire of social class and the pain of growing up, Emma must adventure through misguided matches and romantic missteps to find the love that has been there all along."
---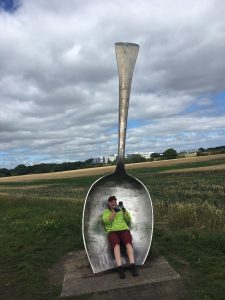 And it's goodbye from her..
As some of you will know, our lovely Helen is leaving us for pastures new. Her final day with Linskill is Thursday 24th September and I am sure you will join us in wishing her all the best in her future endeavours and say a HUGE heartfelt thank you for all of her hard work during her time in our Community Development Department. She will be missed. 

And it's goodbye from us…well not quite, more like adieu! Our weekly Grapevine will be moving to fortnightly so the next edition will be in your inboxes on Sunday 3rd October. Don't miss us too much! 

Take care and best wishes

Janice, Charly. Helen, Alex and Lucy 
Your Community Development Team
---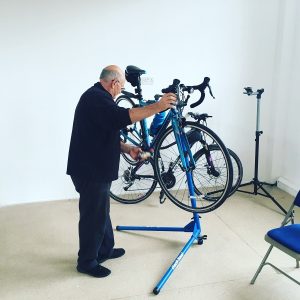 Don't forget Dr Bike is at Battle Hill Multi-Use Centre on Tuesday 29th September. He has limited availability and booking is essential.
Dr Bike – Battle Hill 29th September
---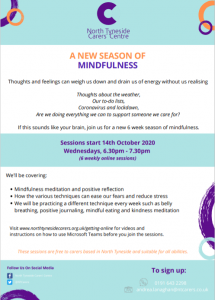 And finally, our friends at North Tyneside Carers Centre are running a new Mindfulness session in October. For more information and to book please email andrea.lanaghan@ntcarers.co.uk