Linskill Community Development Team Community Grapevine Newsletter – 23 August 2020


This week we go back to school, get on our bikes and go to the movies!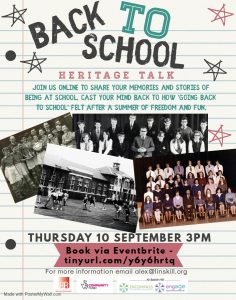 KEEP LEARNING
Join us on Thursday 10 September at 3pm for a trip down memory lane as we remember our school days. …..Cast your mind back to how 'going back to school' felt after a summer of freedom and fun.
Which school did you attend? Did you have a favourite teacher? Did you play netball or football for the school team? Were you a fan of cross country? Do you remember posing for the yearly class photo?
Presented by Dr Kath Smith from Remembering the Past, we will share some photos from across the decades, so join us to share your own memories and stories of being at school.
---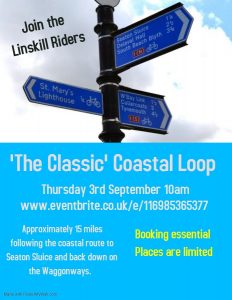 KEEP ACTIVE .
A picturesque ride up the coastal path to Seaton Sluice and back down the Waggonways on Thursday 3rd September. 
Following the success of the last ride to The Spoon, we're doing the classic coastal loop that we all know and love. Schools will be back, so we're hoping this popular route won't be too busy and we get to enjoy the amazing scenery.
The ride will be approximately 2.5 hours long, however there won't be a comfort break. We will stop for snacks and photos half way round, and then come back down the waggonways from Deleval Hall.
As always this is a 'no-drop' ride, we will make sure no one is left behind and the pace will be set to ensure that everyone can enjoy the ride and take in the beautiful sights and scenery.
Booking is essential due to current government guidelines. If you have any problems registering for Eventbrite please email helen@linksill.org or lucy@linskill.org or alternatively please ring 07394432225.
---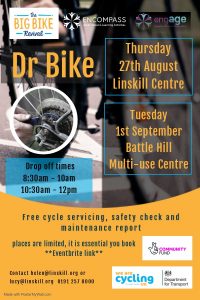 GIVE 
Cycling UK are supporting us to deliver free cycle servicing for our local community.
All servicing is free and delivered by volunteer Velotech trained bike mechanics.
After a comprehensive 'M-Check' has been completed, minor repairs to ensure a cycle is safe and roadworthy will be carried out.
Due to government guidance and to ensure we can see all bikes booking is essential for both of these sessions. On Thursday 27th August Dr Bike will be at the Linskill Centre and on Tuesday 1st September they will be at Battle Hill Multi-Use Centre. 
To book follow the link below for your preferred venue, click on the bike drop off time you reaaaaaquire, bring it along on the day, leave it with us and we will get in touch a few hours later when it is ready to collect.
---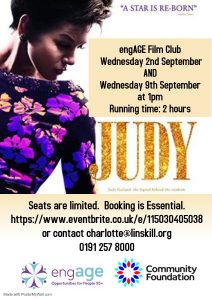 TAKE NOTICE 
LIMITED AVAILABILITY – be quick!  
This film is pure entertainment! Bring your flasks and snacks and enjoy an afternoon in front of the big screen watching JUDY (2019).
"Thirty years after starring in "the wizard of oz," beloved actress and singer Judy Garland arrives in London to perform sold-out shows at the talk of the town nightclub. While there, she reminisces with friends and fans and begins a whirlwind romance with musician Mickey Deans, her soon-to-be fifth husband"
Seats are limited to 12 but we are showing the film on two separate dates – when you register please choose either the 2nd or 9th of September.
---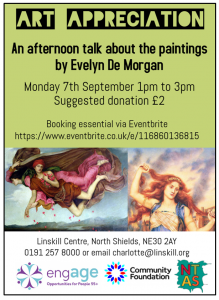 CONNECT 
Art Appreciation is back!  On Monday 7th September to discuss the paintings of Evelyn De Morgan whose work is currently on exhibition at the Laing Art Gallery.  The afternoon will include watching a pre-recorded art history talk from North Tyneside Art Studio on our fabulous new huge TV system – yay!
As you'll appreciate, the numbers of people we can have in our rooms are limited which means there are only 12 places for the session. Book your place online using Eventbrite or email charlotte@linskill.org 
 
Eventbrite doesn't allow us the option to charge for a session which is why there is a suggested donation of £2 to go towards the hire of the room.
---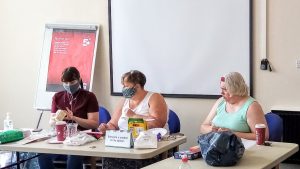 Better Together (our peer support group for people living with chronic pain) got away from Zoom and had their first meeting back in the centre on Wednesday, with home-made scones, pop quizzes and crafts. It was amazing to see everyone in the flesh again and please rest assured, those sitting close together are family members, or in their bubbles!
Next month they're having a laughter workshop with Helen – she's looking forward to it already!
---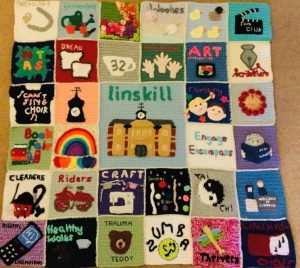 Remember this woolly idea? A few more stages and it will be on the walls at Linskill. Doesn't it look fab?!
---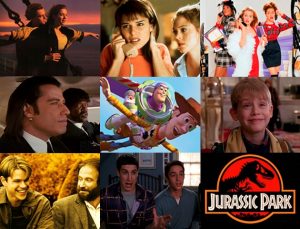 And don't forget….
With Charly still being on holiday your special guest host of her weekly coffee, chat and quiz on Friday 28th is Lucy. As you can probably tell from the image the quiz is movie themed. It happens every Friday at 11am. All welcome, just follow this  Zoom meeting link to join and don't forget your cuppa!
---
Dates for your diary:
Christina is running another series of Zumba inspired fitness classes from 9th September.
Page Turners Book Group is back on Tuesday 29th September at 1pm
 
Stay safe & best wishes
Janice, Charly, Helen, Alex & Lucy 
Linskill Community Development Team
---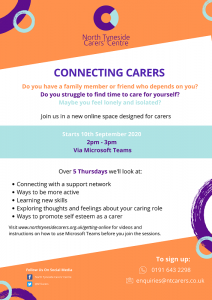 And finally…
Our friends at North Tyneside Carers' Centre are running a new virtual Connecting Carers series. For more information or to book a place ring 0191 643 2298 or email enquiries@ntcarers.co.uk
---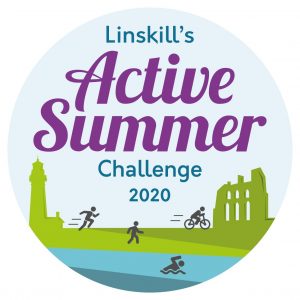 Plus don't forget…
It's the final week of Linskill's Active Summer Challenge, so let's keep those miles coming in and we will reveal our grand total in our 6th September newsletter. 
The challenge runs until 1st September – how far can we get!