Linskill Community Development Team Community Grapevine Newsletter – 23 January 2022

January is flying by and we have lots to keep you busy as we near the end of the month.
Enjoy reading an update on The Shed and find out about our fascinating talks exploring The Lit and Phil and British Pop Art. Bookings are open for the February Film and there are lots of things to get involved with from our friends in the community.
Going forward we are moving to a Friday 'mail out' so the next newsletter will be with you on Friday 4th February.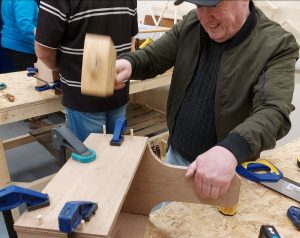 THE SHED UPDATE
Great news – building work has started on expanding the outdoor space at The Shed!
We have been awarded National Lottery funding to erect a custom built canopy and to buy a 2nd storage container to house our many tools and power equipment. This will increase The Shed's footprint by providing comfortable outdoor working in most weathers.
The Shed is an excellent community space where our members are benefiting from its use for making, mending and up-cycling.
Why not book your place on our next induction starting 17th March 2022? You will receive a 6 week induction into the safe use of woodworking tools and Shed equipment before taking up a place in The Shed.
For all enquiries, then contact David Pearce: david@linskill.org or on 0191 2578000 (Mon and Thurs).
---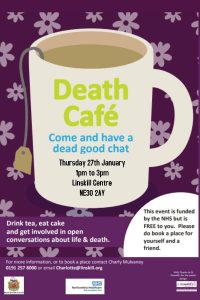 CONNECT – Death Cafes
Talking about 'death' is hard but isn't it better to talk about it before it happens?
At a Death Café people, often strangers, gather to eat cake, drink tea and discuss death.
Our objective is 'to increase awareness of death with a view to helping people make the most of their (finite) lives'.
A Death Café is a group directed discussion of death with no agenda, objectives or themes. It is a discussion group rather than a grief support or counselling session.
Despite the challenging title, 'Death Café' sessions are intended to be very light and funny. Please book your FREE ticket using the link below.
---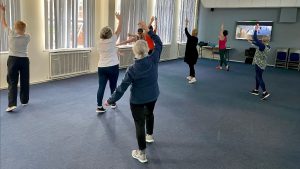 KEEP ACTIVE – Dance Fitness with Christina
Christina has loved welcoming new members to her weekly dance fitness sessions. What's unique about this class is that you can join in online or in-venue at Linskill. It happens every Wednesday 2-3pm. All levels welcome to join this fun, social fitness class.
It's £3 to join the fun and the class is pay as you go. Booking is essential via Eventbrite
---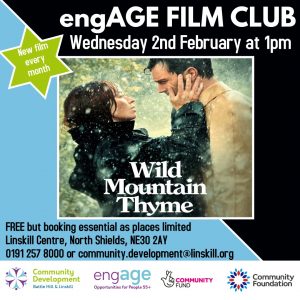 TAKE NOTICE – Film Club
The headstrong farmer Rosemary Muldoon (Emily Blunt) has her heart set on winning her neighbor Anthony Reilly's love. The problem is Anthony (Jamie Dornan) seems to have inherited a family curse, and remains oblivious to his beautiful admirer. Stung by his father Tony's (Christopher Walken) plans to sell the family farm to his American nephew (Jon Hamm), Anthony is jolted into pursuing his dreams in this comedic, moving and wildly romantic tale.
What films would you like to see? James Bond anyone?
The engAGE programme is funded for people aged 55+
---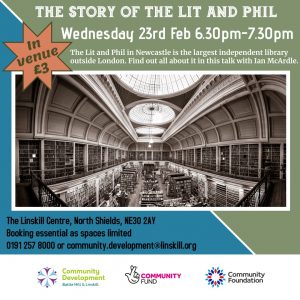 KEEP LEARNING
The Lit and Phil is the largest independent library outside London and it's right here in our own region! The Library has played and continues to play a vigorous role in the cultural life of the North East. This talk looks at how the Library has developed over more than two hundred years, organising lectures, concerts, book launches and language classes, in addition to collecting and preserving some 170,000 books, some of them valuable and rare.
This talk will be presented by local historian Ian McArdle.
A small fee of £3 will be charged for this session which is payable on arrival.
Image of the Lit and Phil thanks to Flickr User Photography @55 CC BY-ND 2.0
---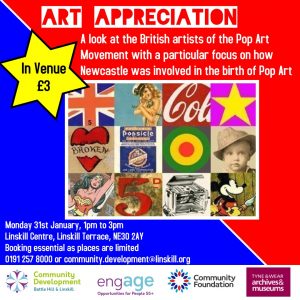 KEEP LEARNING – British Pop Art
In case you missed it there are still some spaces for the afternoon talk on 'British artists of the Pop Art Movement' on Monday 31st January, 1pm to 3pm at Linskill Centre.
Tickets cost £3, payable on the day. Please book using the link below.
* From February the Art Appreciation meetings will be temporarily moving to a Tuesday morning as we have a fantastic opportunity to work with the outreach team at Tyne & Wear Archives & Museums until May.
The engAGE programme is funded for people aged 55+
---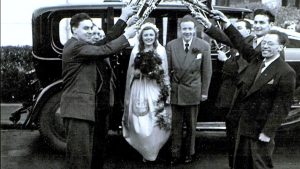 CONNECT – Remembering the Past
Will you marry me? An affectionate look back at courtship and romance.
Keep up that Valentine's Day feeling by joining the Remembering the Past team as they share stories about courtship, love and marriage taken from the Remembering the Past memory collection and archive. Bring along your own memories, stories, photos and objects if you would like to share.
The session is taking place on Tuesday 15th February, 2 – 3pm at the Linskill Centre. A small fee of £3 will be charged for this session which is payable on arrival.
Image thanks to Kathleen Joyce.
Will you Marry Me? Heritage Talk
---
Thank you for your continued support.
Lucy, Alex, David, Charly and Janice
Your Community Development Team
---
From our friends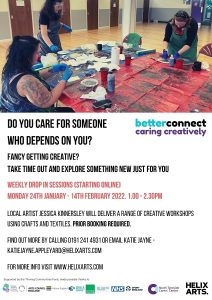 ---
The Northern Guide to Happiness Podcast has two events taking place this February, find out more below: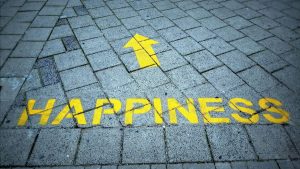 We've invited PhD student Libby Morrison to share with us some of the gems from Newcastle University's Politics of Happiness course, in this online talk.
She'll share a little bit of history, from the Greek philosophers' theories, to present-day psychology of happiness. We'll find out if happiness can be measured, and we'll hear about countries that have experimented with measuring Gross National Happiness instead of Gross Domestic Product (GDP).
Libby will leave us with some tips and activities we can all do, which have been shown to improving well-being.
Libby guested on the podcast last year.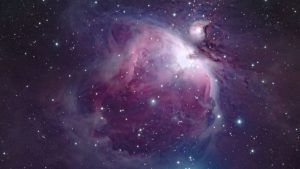 Astronomy and the hunt for extra terrestrial life
Is there life outside of earth? A question which has perplexed humans for eons, we now creep ever-closer to uncovering the answer.
Each year, more and more planets surrounding other star systems are being discovered and with new technologies we can now begin analysing those planets' atmospheres for signs of life.
How many worlds are there? Which of them could sustain life? During this talk Dan will uncover the methods and technology which make it possible for us to discover these new worlds.
Dan Pye is Director of Astronomy and Science Communication at Kielder Observatory and he guested on the Northern Guide to Happiness podcast earlier this year.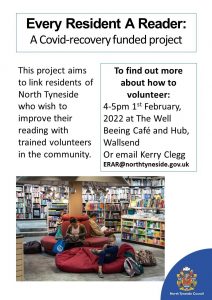 ---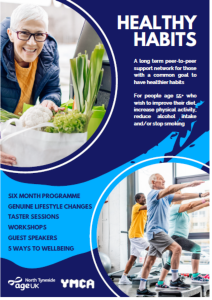 Is 2022 your kick start to making healthier choices and habits?

Healthy Habits is an Age UK North Tyneside free programme designed around you and your wellbeing goals. Taking a peer-to-peer approach, their programme allows you to address health related topics and achieve goals relevant to you within a supportive environment.

Alongside the peer group sessions you will also have the opportunity to work one on one with their Coordinator Tom to focus more specifically on your own individual goals and aspirations.

Susan, a happy participant said "One-to-one and group support with Healthy Habits has helped me make positive changes to my diet, health and exercise as I get older and I'm looking forward to social interaction in group settings when circumstances allow." Leon said "Being involved in Healthy Habits with Tom's positive attitude gives me something to look forward to every week."

As the programme is run over a 6 month period, you have the opportunity to build new relationships within your group, which you could then continue beyond Healthy Habits.
The programme involves workshops, peer to peer as well as one to one support, guest speakers, social activities and even cookery classes. Current participants have fed back that the content and variety is what has kept them engaged in the programme alongside the opportunity to make positive changes to their lifestyle and habits.

Pia said "The Healthy Habits project has opened my eyes to lots of health issues that I need to consider now, rather than when it is too late – prevention is much better than cure!"
To be eligible for this free programme you must be aged 50 plus years and reside in North Tyneside.
What are you waiting for?

If this sounds like something you'd like to get involved in in 2022 Age UK North Tyneside would love to hear from you!

Tel: 0191 280848 Option 0 or Email enquiries@ageuknorthtyneside.org.uk