Linskill Community Development Team Community Grapevine Newsletter – 24 June 2022

If you need a break from the glorious sunshine we have lots to keep you busy including our 'Cranes for Ukraine' session and July's film, Limbo. If you are heading out on your bike to enjoy the weather you can also book into a 'one to one' bike fit session with Velo28.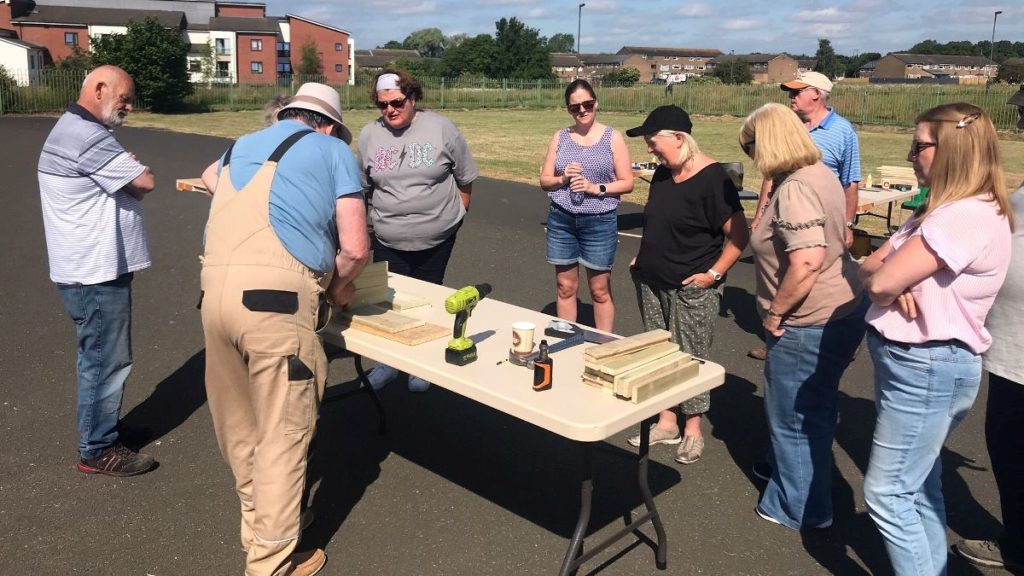 The Shed's fantastic volunteers have delivered three wonderful planter workshops at Battle Hill over the last month. Everyone went away happy with a completed planter to put into their garden. Ian and the team are already thinking about the next sessions, so watch this space!
---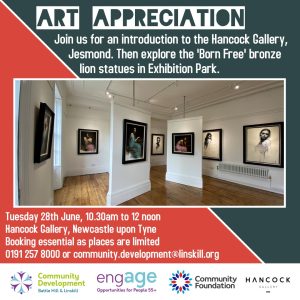 TAKE NOTICE
The Hancock Gallery is a new venue for the Art Appreciation group. Explore temporary exhibitions by three artists along with permanent exhibits after a brief introduction to the gallery. Afterwards we will walk along to the bronze 'Born Free' lions in Exhibition Park, where lunch can be bought at Urban Green Cafe or you can bring your own.
Please book using the link below.
engAGE activities are funded for people 55+
---
`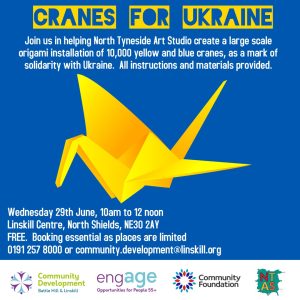 GIVE
Join us on Thursday 29th June to make origami paper cranes! I wonder how many will we make in the session!
---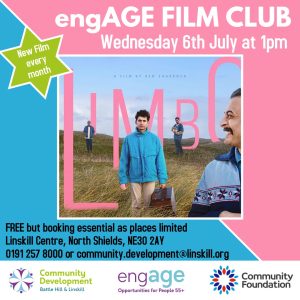 CONNECT – Film Club
Limbo is a wry and poignant observation of the refugee experience, set on a fictional remote Scottish island where a group of new arrivals await the results of their asylum claims.
Please book using the link below as places are limited.
engAGE activities are funded for people 55+
---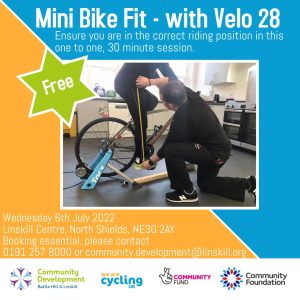 KEEP ACTIVE
Suffer from sore wrists, back or knees when riding for a long time? Want to be in the most efficient riding position? Then this session is for you!
Small adjustments like raising your saddle height can make a real difference to your comfort on the bike. Join Mark from Velo28 for a one to one 30 minute session.
Booking is essential via the Eventbrite link below.
---
We look forward to seeing you at an activity soon.
Lucy, David, Charly and Janice
Your Community Development Team
---
From our friends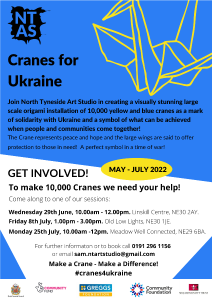 If you can't make our Cranes for Ukraine session why not join NTAS in one of their other sessions?
---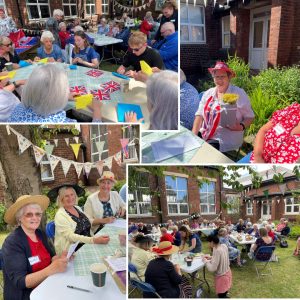 Cream Teas, Frocks, Fascinators & Hats!

Cullercoats WI had a Garden Party at Linskill Centre, celebrating the Queen's Platinum Jubilee and the success of their 'The Jubilee Bunting Trail' project, which took place throughout Cullercoats, Tynemouth and Whitley Bay. 

"We are always keen to get involved with local Community Events and are so pleased to be helping create some of the origami Cranes for the 'Cranes for Ukraine' project organised by the North Tyneside Art Studio, although we could not have done this without their support!"

Cullercoats WI meet at Linskill Centre on the 4th Wednesday of the Month at 2pm. If you would like more information please email: cullercoatswi@yahoo.com
---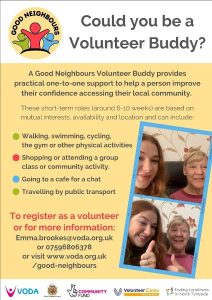 ---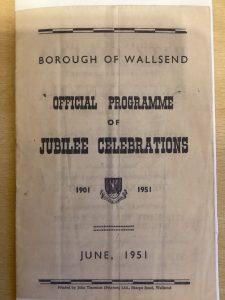 Join the Newcastle City Guides for their 'Wallsend Walkabout' on 29th June, meeting at Wallsend Metro Station and finishing at Wallsend Green.
The name Wallsend has links to the Romans and Segedunum. This walk remembers former great industries and some of the local heroes from the town. The route includes memorials, the 'Penny Wet' and places of education on the way to the quite unexpected village green.

SAVE THE DATE – Newcastle City Guide Keiran-Ann will be returning to Battle Hill Multi-Use Centre on Monday 26th September with her follow on talk about Wallsend from 1901 to 1951.