Linskill Community Development Team Community Grapevine Newsletter – 26 July 2020


The weather has been a bit mixed since the summer holidays started but don't worry we have lots in this week's edition to keep you busy – at home, outside, virtually and in the Linskill centre! Art Appreciation is back, Howard is gardening again and you can learn to Salsa!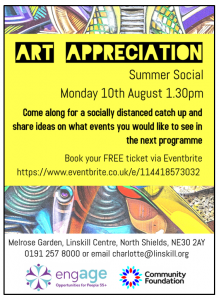 TAKE NOTICE 
We are starting to think about how we can run sessions from Linskill Centre again and the Art Appreciation group volunteers are looking for your ideas to move the programme forward.  If you usually come along to the monthly art talks or if you would like to start then please bring your flasks and snacks for our garden get together! Charly can't wait to see you all but the seats are limited so please book your place.
---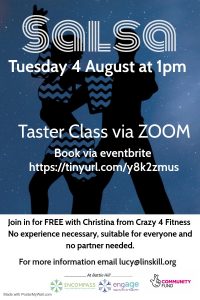 KEEP LEARNING
For our final class with Christina before a short summer break, she will be teaching us the Salsa! No experience necessary (honestly you can't have less rhythm than Lucy). Clear a bit of space in your living room, put on your dancing shoes and imagine you are on Strictly Come Dancing at 1pm on Tuesday 4th August. 
Suitable for all fitness levels, no experience or partner needed. 

Book your free place via Eventbrite below. You will automatically be emailed with the Zoom meeting ID. Any questions email lucy@linskill.org
---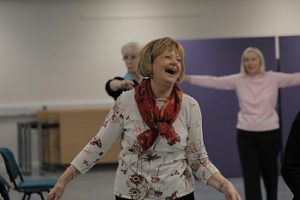 KEEP ACTIVE 
If the Salsa class feels a bit daunting and you're over 65  why not try this…

Are you aged 65+ and keen to stay active, and socialise with others?

Join Helix Arts' new 'Falling on your Feet' community online and take part in dance sessions via ZOOM.  Falling on your feet is a project that uses dance to help reduce slips, trips and falls and encourage creativity and wellbeing.  New weekly sessions are being run online from Monday 17th August at 10.30am with Penella Bee who some of you will remember from her sessions with engAGE at the start of Lockdown. 

To join in please click here and press the 'Join Group' button or email susannah.batey@helixarts.com for the link.  If you are new to ZOOM please still get in touch because they have lots of help available to get you started.
 
All the details can be found on their website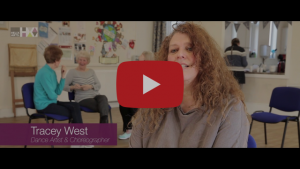 To learn more about the project you can also watch this short video.
---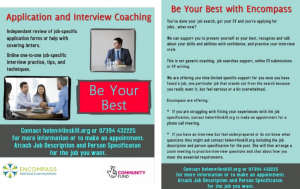 GIVE 
Helen, through the Encompass project, is offering individual job application and interview coaching. So if you or someone you know is struggling to fit their experience with the job description and person specification then email helen@linskill.org
---
`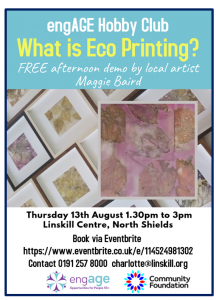 CONNECT 
Fancy trying something a bit different? Ready to come back to the centre? Then why not give this a go. Join local artist Maggie Baird on Thursday 13th 1.30 – 3pm. Booking essential.
---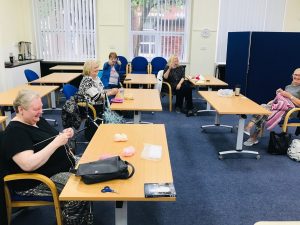 The first group we welcomed back to the Linskill Centre was the woolies, a bit more space than normal but it was still lovely to be together. 

And don't forget…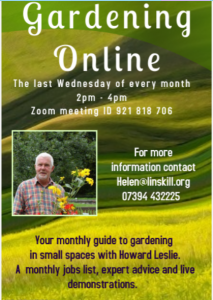 Howard will be running his final virtual gardening session on Wednesday 29th July before he comes back to the Linskill Centre in August. 

Plus…
Charly's engAGE coffee morning and quiz, which happens every Friday at 11am will be a bit different on Friday 7th August as she will be joined by Healthwatch who will be saying hello and giving a quick update. Just follow this  Zoom meeting link to join and don't forget your cuppa! 

Stay safe & best wishes

Janice, Charly, Helen, Alex & Lucy 
Linskill Community Development Team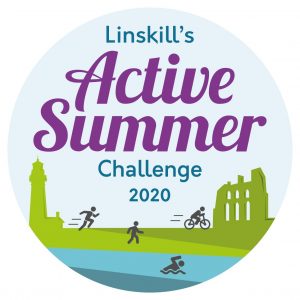 And finally,  
A quick update on our first active summer challenge and we have been so overwhelmed with all of our participants enthusiasm. We have also been blown away by how many people have wanted to get involved. This was a total unknown when we started to plan it and we thought maybe 10 of you would join us but currently we have 56 active participants! WOW! 

It has been great seeing everyone's favourite routes and the destinations of their walks/rides/swims. Next week we are running our first mini challenge and it's not too late for you to be involved. Follow the link below to contribute a mile or 10 or 100%!
Register for Linskill's Active Summer Challenge