Linskill Community Development Team Community Grapevine Newsletter – 27 May 2022

We can hardly believe we are already heading into June and promoting our July sessions! The office will be little quieter next week as most of the team is on annual leave for May half term.  If you do email us we will get back to you on our return week beginning 6th June.
We know you will all be busy celebrating the Platinum Jubilee, but first we would like to celebrate our super volunteers.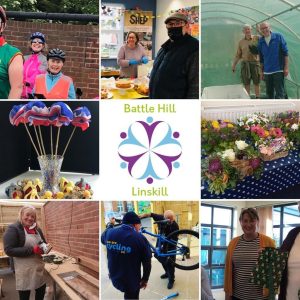 National Volunteers Week – THANK YOU! 
We are always grateful to our volunteers who help keep our activities going, but from 1-7th June organisations nationally recognise their effort and collectively say THANK YOU.
This year volunteers have already supported the following activities ….
Art Appreciation    Flower Arranging    Sew Social      Crafty Companions
Woollies                Cycling                   Gardening       The Shed
Creative Writing    Tai Chi                    Film Club         Card Making
Photography         Thrivers                  Better Together
Along with special one off activities like our Ukrainian cake sale and sewing and craft workshops. The image above is just a small example of those who help us and we are extremely grateful.
---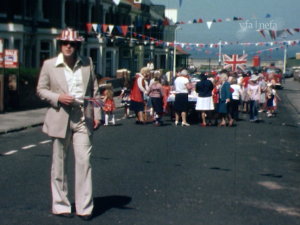 THE QUEEN'S PLATINUM JUBILEE 2022
The Yorkshire and North East Film Archives have curated a new stand alone 55-minute film, "Seen to be Believed", which takes an affectionate look at how the people of Yorkshire and the North East celebrated Coronations, Jubilees and Royal visits through the decades. 
The film is being shown at the Exchange Theatre in North Shields at 7.00pm on 2nd June.  
It's a 'pay as you feel' ticket, so you can go for free if you feel like it but booking is essential.
---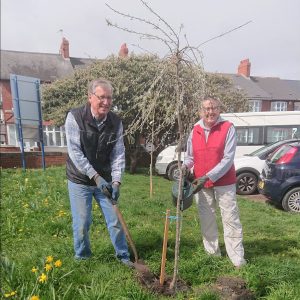 GIVE – VOLUNTEER GARDNERS
Would you like to spend a couple of hours week, or when you can, to help keep the Linskill Centre looking tip top for everyone? 
Join Mike Branighan for an introduction to our garden spaces on Tuesday 14th June, 10am to 12 noon.  You'll enjoy some practical work in our greenhouse to pot and take home some flowering plants.
---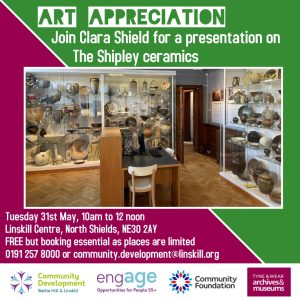 TAKE NOTICE 
This month's Art Appreciation session focusses on The Shipley ceramics collection with an introduction to some of TWAM's other collections, including handling objects.
Tickets cost £3, please book using the link below.
---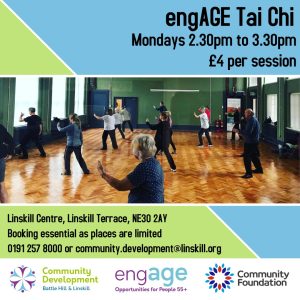 KEEP ACTIVE 
Space has opened up in the engAGE Monday Tai Chi class – if you've ever fancied trying this meditative martial art then here's your chance!  The group meet on Mondays, 2.30pm to 3.3pm and there is a £4 cost. 
Beginners are extremely welcome!
---
KEEP ACTIVE 
A low impact way to improve your posture, increase your confidence and lower stress.
After the success of our first course we are running a 6 week beginners belly dancing course at the Linskill Centre with Klaire.
---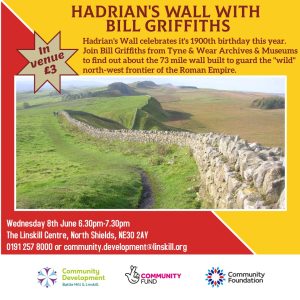 TAKE NOTICE
Hadrian's Wall celebrates it's 1900th birthday this year. Join Bill Griffiths from Tyne & Wear Archives & Museums to find out about the 73 mile wall built to guard the "wild" north-west frontier of the Roman Empire.
There is a small fee of £3 for this event which is payable on the day.
Photo credits; thanks to Flickr user quisnovus (CC BY 2.0)
Hadrian's Wall With Bill Griffiths
---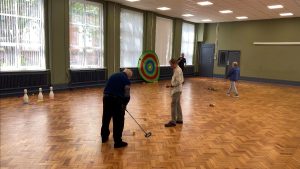 LAST CHANCE TO BOOK
The Rookie Golf games are coming to Linskill and Battle Hill. Come along to one of our taster sessions and find out why people love playing.
Rookie Golf uses pop up targets and velcro balls and there are a variety of fun games for you to enjoy. It's a brilliant way of having fun and getting some gentle exercise at the same time. No experience or sporting skills needed. No special clothing needed either, just wear trainers or flat shoes. All equipment and tuition is provided. Come on your own, or bring your friends – we guarantee you'll have a great time!
To find out more about Rookie Golf have a look at this video which shows you what's involved!
---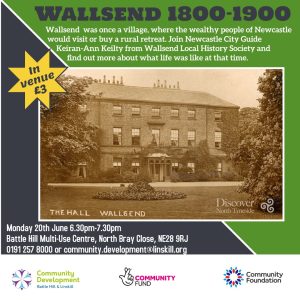 TAKE NOTICE 
Not so long ago Wallsend was a village, where the wealthy people of Newcastle would visit or buy a rural retreat.
Join Newcastle City Guide Keiran-Ann Keilty from Wallsend Local History Society and find out what life was like at that time and about one resident in particular when he lived in Wallsend Hall in this heritage talk taking place at Battle Hill Multi-Use Centre.
There is a small fee of £3 for this event, which is payable on the day.
---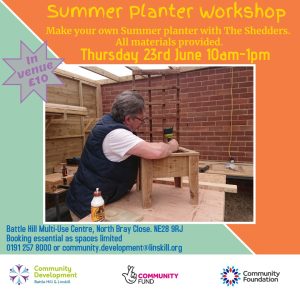 KEEP LEARNING
Make your own summer planter for your garden or yard with The Shedders. Perfect for all sorts of climbing plants!
All materials provided.
There is a £10 charge for this event which is payable in advance of the workshop to cover materials.
---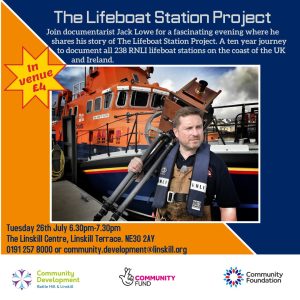 CONNECT
Jack Lowe is a documentarist using photography, audio recordings and film to make and share the story of The Lifeboat Station Project, his 10 year journey to all 238 RNLI lifeboat stations on the coast of the UK and Ireland. Jack photographs and interviews the lifeboat volunteers he meets along the way but there's a twist! Travelling in his mobile darkroom — a decommissioned ambulance called Neena! Jack uses Victorian photographic techniques to hand-make the images on glass.
Head to lifeboatstationproject.com to see hundreds of photographs made over the years and to find out how you can get behind the rest of his odyssey.
There is a small fee of £4 for this event which is payable on the day.
Photo credits; thanks to Duncan Davis.
---
However you are spending the long weekend we hope you have a lovely time. 
Lucy, Alex, David, Charly and Janice
Your Community Development Team
---
From our friends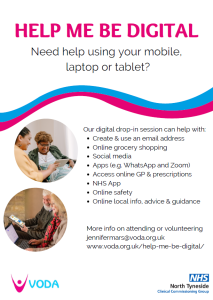 ---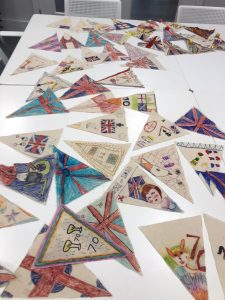 Watch out for Whitley Bay Jubilee Celebration bunting which is going up this week in Whitley Bay & Cullercoats! All hand-made, all unique and all colourful! A great way to celebrate the Platinum Jubilee! 
You can download the trail map through the link below, prizes to be won! 
Did you know that this project has brought together 1 Women's Institute, 84 Businesses, 1 Building Society, 14 Scout and Guide Units, 4 Care Homes, 13 Schools, 1 Charity and a population of 46,623!
---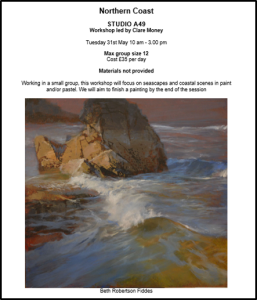 Join Linskill Centre based artist, Clare Money, for her new workshop!
Working in a small group, this workshop will focus on seascapes and coastal scenes in paint and/or pastel. We will aim to finish a painting by the end of the session
Please find all the details in the link below.
---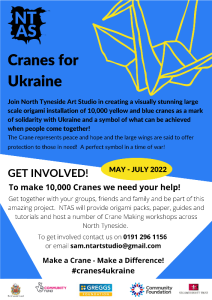 ---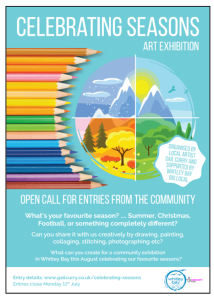 ---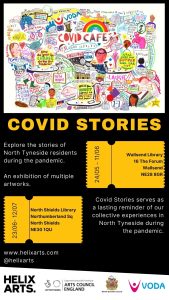 ---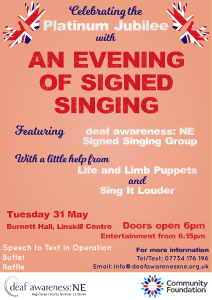 ---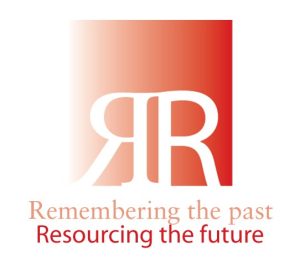 Our friends at Remembering the Past are working with a researcher from Newcastle University on a research project around local history, community and memory. They are looking for 5-10 participants to take part in a focus group on 16th June 2-4pm at The Linskill Centre.
As a thank you for taking part participants will receive a £10 Amazon voucher. To take part in the workshop you will need a smartphone with a data connection. Audio and video will be recorded during the session and photographs will be taken for research purposes but may appear in published papers and presentations relating to the research so please only sign up if you're happy to be recorded and photographed.
If you've got any questions or want to sign up to take part please email Hattie Rowling h.c.rowling2@ncl.ac.uk
---