Linskill Community Development Team Community Grapevine Newsletter – 30 May 2021

Our latest programme is full of ideas to keep you busy over the summer, whatever it has in store for us. The 'Summer Challenge' is back in July, along with a new route to our favourite giant piece of cutlery! PLUS we have all your usual favourites like Art Appreciation, the Film Club and online Heritage Talks. Before you get stuck in, we would like to take a minute to say a huge thank you to our volunteers who have helped to keep the sessions, and us, going over the last year! THANK YOU.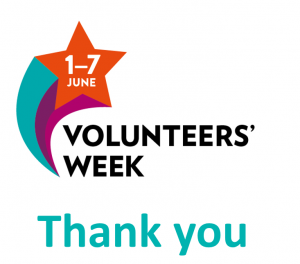 GIVE
It's National Volunteers' Week and we wanted to acknowledge the commitment and support all of our volunteers give us.
Unfortunately we don't have images to represent all of our brilliant volunteers, it's been an odd year, but we hope this small video shows you all how grateful we are for your support, time and encouragement.
Thank you!
Volunteers' Week Thank You Video
---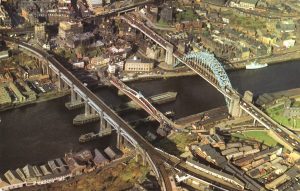 TAKE NOTICE 
Join us Thursday 10th June at 3pm for our next online heritage talk; Across, over and under – a lifetime of change on the River Tyne, for a look back at how the River Tyne has evolved to meet our changing needs since the 1950s,. 
Image of the Newcastle Bridges, c1980 thanks to Newcastle City Libraries.
Across, over and under – a lifetime of change on the River Tyne
---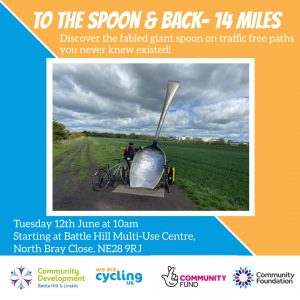 KEEP LEARNING
We visited the giant spoon, near Cramlington, last summer and the ride was such a success we are running it again. However, we have improved the route and can guarantee you will discover paths you never knew existed!
This ride will be mostly off road using the Waggonway and NCN network. There will be a few short, on road sections, however these are very quiet.
The ride itself covers 14 miles. The waggonways we are using can become very muddy and they are uneven. We therefore suggest this ride is at an intermediate level due to paths we are using.
Due to the route there will be no café stop and suggest you bring a drink and snack with you for when we stop at the spoon.
Current social distancing and track and trace guidance will be followed. Maximum number of participants will be 12 excluding leaders.
Booking is essential via Eventbrite and you need to provide your own roadworthy bike which is suitable for uneven tracks – such as a mountain or hybrid bike. It is not suitable for road bikes. Electric bikes are welcome.
If you have any questions please email community.development@linskill.org
To the spoon and back – 14 miles
---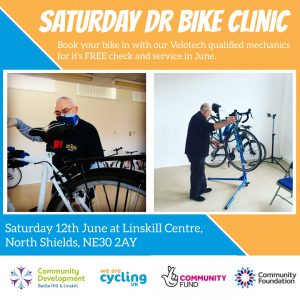 KEEP ACTIVE 
Due to demand, Dr Bike is back for a Saturday clinic on 12th June. 
Many thanks to Cycling UK's Big Bike Revival program for making these FREE clinics possible.  
To ensure we are Covid secure, we have limited spaces so make sure you book your place.
What does a comprehensive check entail?
A typical Dr Bike health check may include some of the following cycle replacements and checks:
Brakes – Calliper and cable adjustment, cable, and pad replacement,
Gears – Indexing, adjustment, and cable replacement,
Chain – Check for wear, lubricate if necessary,
Tyres – Puncture repair/tube replacement, inflated to recommended pressure (PSI),
• Other – Check all nuts and bolts are correctly torqued; check headset and bottom bracket; check and replace missing bar plugs / cable end caps.
Dr Bike – Linskill Centre 12th June
---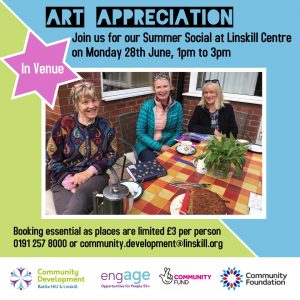 KEEP ACTIVE 
Come and meet the volunteers behind the group – hear what plans they have and tell us what you'd like to see and hear about in future meetings. 
We'd love it if you came along with your favourite piece of art for a wee 'show and tell' – maybe it's something you've made yourself!
---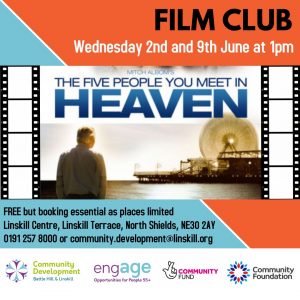 KEEP WATCHING 
Join us in June to watch 'The Five People You Meet In Heaven' – perhaps you have read the book?  There are two showings until restrictions ease further.  Book on to either Wednesday 2nd or 9th of June.
Both booking links are below.
June Film Club – The five people you meet in heaven
---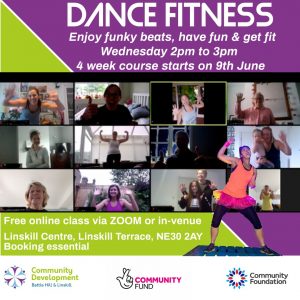 KEEP ACTIVE  
You are now able to book for our 'blended' Dance Fitness class with Christina. The class will be running from Wednesday 9th to 28th June, 14:00 – 15:00 both online via Zoom and in venue at the Linskill Centre. 
 
You have two options:
 
Option 1 – in venue
Join us in person at the Linskill Centre. Class numbers will be limited and Covid restrictions adhered to, including social distancing. You can book for the whole block below. Eventbrite will say it is for a one-off event but you are booking for the whole block.
 
Option 2 – online
Keep joining us online, use this link to book onto the online option.
---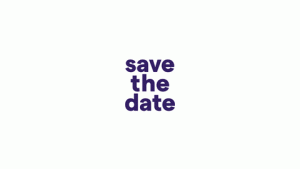 ACTIVE SUMMER CHALLENGE 2021 
Last year's team mileage challenge was a huge success covering over 4,000 miles – so we have decided to do it again! 
The summer always has a different schedule for people, and this year everything is still very uncertain, but we hope you will help us to celebrate our unique local waggonways, whatever the summer has in store. 
Like last year we want to encourage team spirit and community connection but this time the activity side will be complimented by a programme of activities and events celebrating our local traffic free network. Don't worry we will still be collectively working towards a miles based challenge and you will have plenty of opportunities to participate in mini challenges along the way too. 
This year the challenge will take place over three weeks from 1st – 22nd July. More details and how to participate to follow.
---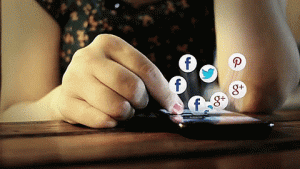 As a team, we continue to work from home and from the centre. The best way to get in touch with us is to email community.development@linskill.org or phone Reception on 0191 257 8000. 
And don't forget we are on:
Instagram @linskillcentre
Facebook @LinskillEngage 
Twitter @Linskill_engAGE 
Best wishes & stay safe 
Janice, Charly, Alex and Lucy 
Your Community Development Team
---