Linskill Community Development Team Community Grapevine Newsletter – 4 October 2020

`

Welcome to a jam packed edition of Grapevine! Our new fortnightly edition means we are looking ahead to events throughout October. So why not take part in a community sewing project, try our toffee biscuits and settle down to reminisce about our lovely coastline.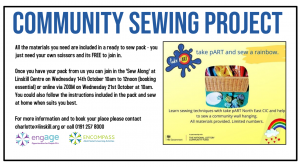 KEEP LEARNING
Now the active summer challenge is over it's time for something crafty – help us make a community rainbow and learn new sewing skills.  Check out the video and if you would like to get your own ready to sew pack please contact charlotte@linskill.org
---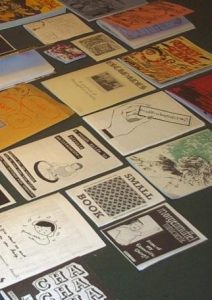 BE ACTIVE 
We've had a great response so far to last week's call out for creative content for our new 'zine' that we are planning to produce. So far we've had some poems, personal memories from the past, gardening tips and recipes but we are looking for more!
 
There is still time to send us your content to go into our first edition. What you can include in a 'zine' is only limited by your imagination but could include:
 
Sketches/drawings
Recipes
Poetry and songs
Memories and stories from the past
Short stories
Gardening tips
Life hacks and tips
Jokes
Photographs
Puzzles
Colour in artwork
Line drawings
If you'd like to submit something, have an idea of what to call our publication or would like to help put the physical 'zine' together then please contact alex@linskill.org
Finished issues will be available online and a small number will be printed and available for distribution.
---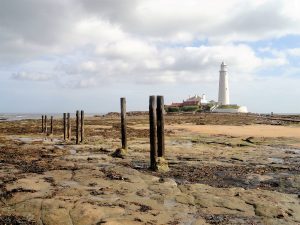 TAKE NOTICE 
Join us on online via ZOOM on Thursday 15 October at 3pm for a trip down memory lane as we take a stroll along the North East coast from St Mary's Lighthouse to the watch house at Tynemouth.
Presented by Remembering the Past, we will share some photos from across the decades, so join us to share your own memories and stories of our beautiful North East coastline.
This talk will be taking place via Zoom.
From Lighthouse to Watch House Tickets
---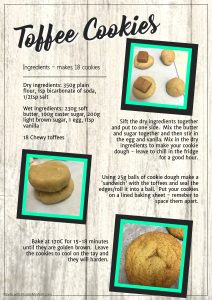 KEEP BAKING 
It was biscuit week for the Great British Bake Off contestants this week. To honour this and to help keep our energy up during a team meeting Charly made these delicious toffee biscuits. Yum! 
Charly was inspired by Cupcake Gemma's Salted Caramel Cookies who you can follow on YouTube. 
Why not send in your favourite recipes into our new 'zine'?
---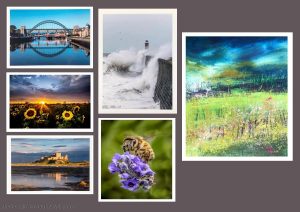 GIVE 
I think we all know that our community programme couldn't function without our volunteers and one of our fabulous team is raising funds for Macmillan Cancer Support and we wanted to help spread the news far and wide!
Chris and friends have organised a raffle of original art work and if you fancy the chance to win a gorgeous print then please have a look at the following link or email RaiseFunds2020@gmail.com to donate to this wonderful cause.
You can also donate via their Just Giving page.
---
---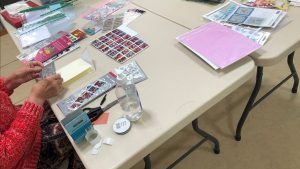 CONNECT
Do you feel isolated or live alone in the NE28 9xx postcode or do you know someone who is? We are trialling some new craft packs from our Battle Hill site which we would like to distribute for FREE containing some easy creative activities to help keep you active and connected. If you are interested in receiving one of these packs then please contact alex@linskill.org or call 0191 257 8000
---
.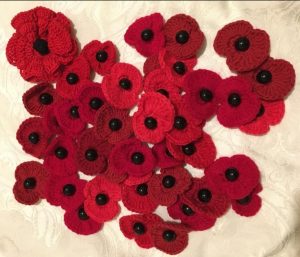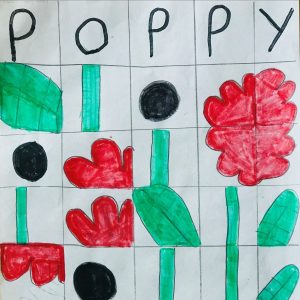 Help us make a record number of poppies for local businesses in North Tyneside to display in their windows for Remembrance Day – drop poppies off by Thursday October 15th to Charly at Linskill centre. 
They don't all have to be woolly poppies…Imogen aged 9 has sent in a very clever and wonderful drawing of a deconstructed poppy!  We love it!
---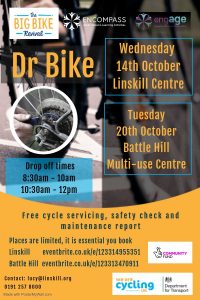 Due to demand Dr Bike is back for two more sessions in October. Make sure your bike is ready for winter by bringing it along to one of our FREE Dr Bike sessions. Booking is essential and all work is carried out by Velotech mechanics.
Dr Bike – Linskill 14th October
`Dr Bike – Battle Hill 20th October
---
As Grapevine is now published every fortnight here are some dates for your diary:
The Art Appreciation group are back on October 26th at 1pm watching the film Loving Vincent followed by a discussion of the painters work. Booking information to follow. 
There are still places in the Monday afternoon Tai Chi class at 2.30pm – please contact charlotte@linskill.org to book your place.
The British Red Cross will be delivering an interactive session, over Zoom, covering everyday first aid topics on 5th November 10:00 – 11:30. Booking information to follow. 
Take care and best wishes
Janice, Charly, Alex and Lucy 
Your Community Development Team
---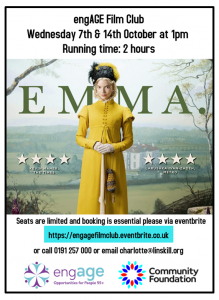 Last chance to see Emma as part of the Film Club – book on to get the last few tickets for an afternoon viewing.