Linskill Community Development Team Community Grapevine Newsletter – 6 September 2020


Find out how many miles our 1st Linskill's Active Summer Challenge completed. Join the photography club at Marden Quarry, get fit with Christina, get your bike checked by Dr Bike and remember your school days.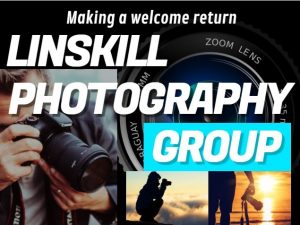 TAKE NOTICE 
Welcoming the return of our popular photography group, we have 3 local meet-ups in September, 2 of which can be booked below.
Adrian and Paul are back with a new set up for the group so you can stay safe and still share, learn and enjoy your photography skills.
Places are limited so book your place, and keep your eyes out for the next Monday meet-up.
All details will be emailed to you with your ticket confirmation.
St Mary's Lighthouse Ticket – 7th September
Marden Quarry Ticket – 14th September
---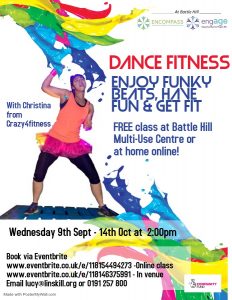 BE ACTIVE 
After the success of our 'Get down in lockdown' dance fitness series we are really excited to be welcoming Christina from Crazy4Fitness back this September. This time you will be able to join her virtually from your own home AND at Battle Hill Multi-Use Centre in person. 
We are following current government guidance and in person participant numbers will be limited. You have to book each week individually if you want to join us in person. The link is below.
If you want to continue to join us via Zoom at home you can request one ticket for all 6 sessions, again link below. 
These sessions are super fun and suitable for everyone. No equipment is needed.
---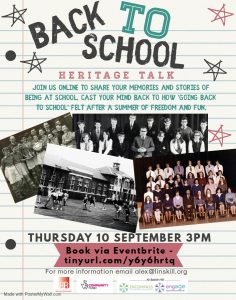 KEEP LEARNING
Join us on Thursday 10 September at 3pm for a trip down memory lane as we remember our school days. …..Cast your mind back to how 'going back to school' felt after a summer of freedom and fun.
Which school did you attend? Did you have a favourite teacher? Did you play netball or football for the school team? Were you a fan of cross country? Do you remember posing for the yearly class photo?
Presented by Dr Kath Smith from Remembering the Past, we will share some photos from across the decades, so join us to share your own memories and stories of being at school.
---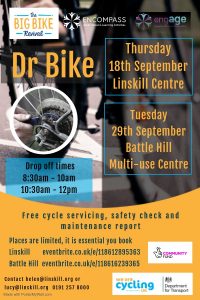 GIVE 
Our wonderful Velotech qualified Dr Bike volunteers are back! After the huge sucess of our first Cycling UK Pop-Up Dr Bike sessions we are delighted to offer another two. 
After a comprehensive 'M-Check' has been completed, minor repairs to ensure a cycle is safe and roadworthy will be carried out.
Due to government guidance and to ensure we can see all bikes booking is essential for both of these sessions. On Thursday 18th September Dr Bike will be at the Linskill Centre and on Tuesday 29th September they will be at Battle Hill Multi-Use Centre. 
To book follow the link below for your preferred venue, click on the bike drop off time you require, bring it along on the day, leave it with us and we will get in touch a few hours later when it is ready to collect.
Dr Bike – Linskill Centre 18th September
Dr Bike – Battle Hill 29th September
---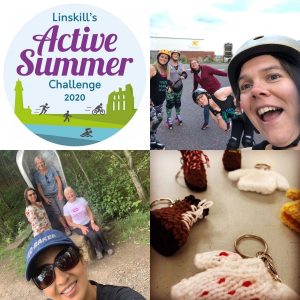 `CONNECT
Linskill's Active Summer Challenge came to a close on Tuesday 1st September. Originally the target was to cover the length of Britain from Lands End to John O'Groats (1198 miles) as a team over the summer. Well the final numbers are in and that target was smashed. 
66 registered for the challenge and an amazing 47 (71%) of those participants logged at least one journey totalling a whopping 7499 miles! That means we covered the North Sea Cycle Route and a bit more! Those 7499 miles were made up on 849 separate journeys – incredible!
Prizes are being given out, not only for the greatest distanced travelled by one person but for the most improved and we had mini competitions too like best selfie. 
We are already thinking about next year's challenge!
---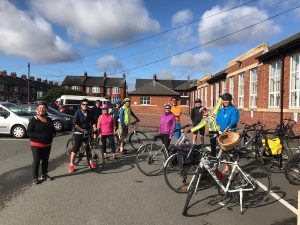 The Linskill Riders had a fabulous 12 mile circular ride up the coast on Thursday. We made use of the new cycling infrastructure along the coast and it was a nice gentle ride down hill all the way to Spanish City.
Charly's digital coffee, quiz and chat is taking a break until the winter hits BUT watch this space for an in person version coming soon.  Please let Charly know if you would be interested in coming to Linsill for a socially distanced cuppa!
Take care and best wishes
Janice, Charly. Helen, Alex and Lucy 
Your Community Development Team
---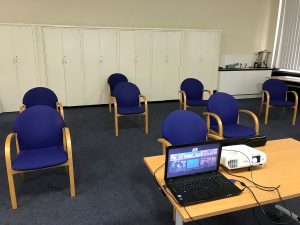 And finally…. Our socially distanced cinema has returned – yay! There wasn't a dry eye in the house after enjoying an afternoon watching Judy.  There are only a couple of spaces left for the second showing on the 9th September… for anyone thinking of booking please click the link below.
---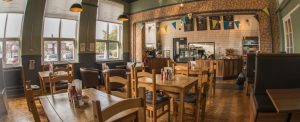 Psst don't forget….Cafe 32 will open next week on Monday 7th September, serving food and beverages from 8am to 4pm (Monday to Friday). Things will be different including track and trace system, revised seating layout and new table service – we look forward to seeing you soon.