Linskill Community Development Team Community Grapevine Newsletter – 8 July 2022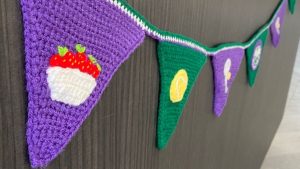 Huge thanks to Susan D from the Woollies who crocheted the brilliant Wimbledon themed bunting currently on display at Reception. Plus good luck Norrie for today's semi-final!
You will see our newsletter is a bit shorter today as we head towards summer. Our regular activities will continue but the wider programme will be a little quieter. With that in mind Grapevine will be taking a little break from Friday 22nd July and the next Grapevine will be in your inbox on Friday 19th August.
---
THE SHED 
Cookery in The Pantry – The Shedders are now benefitting from cookery sessions in The Pantry, a purpose-built community cooking space with plenty room for people to cook together.  We are covering kitchen safety, food hygiene, learning about healthy food choices and wise food shopping. These fun sessions are aimed at making cooking enjoyable and The Shedders make a meal to share with each other or to take home. 
The Shed is being well used by it's members for socialising, skill-sharing and developing new skills. They have a wide range of things they like to do from re-cycle, up-cycle, making their own items, commissions, sales and community projects.  
The average age range of members is 55+ We encourage anyone interested in The Shed to contact us directly and to arrange a visit.
---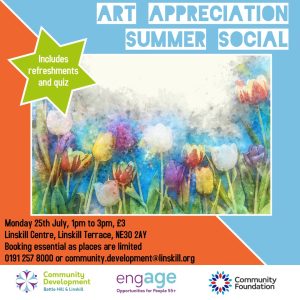 TAKE NOTICE – Art Appreciation 
Time for Pimms again, bring along an item that makes you smile for our show and tell session!  This will be a lovely afternoon whether you come regularly to the monthly meetings or are new to the group.
Please book using the link below.
engAGE activities are funded for people 55+
---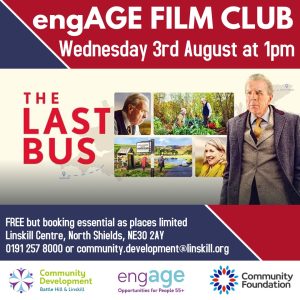 CONNECT – Film Club
A heart-warming tale of Tom (Timothy Spall), a pensioner whose wife, Mary (Phyllis Logan), has just passed away.  Tom travels from Britain's most northerly point, John O'Groats, to his original home town at its most southerly point, Land's End, using his free bus pass. He carries with him only a small suitcase, travelling the length of the country with it. Along the way, his adventures are recorded by the people he meets and helps, and by the end of his trip he has unwittingly become a social media celebrity.
engAGE activities are funded for people 55+
---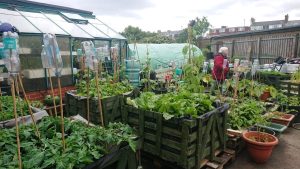 KEEP LEARNING – Upcycle Gardeners
You don't have to have a garden to grow things – Linskill's upcycle gardeners use pots, polystyrene crates, dumpy bags and all manner of containers. 
If you would like to find out how they do it and what they're growing then come and visit between 11am and1pm Monday to Friday.  We're always looking for more help – come and ask for Alan at reception.
---
We look forward to seeing you at an activity soon! 
Lucy, David, Charly and Janice
Your Community Development Team
---
From our friends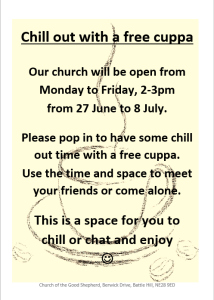 ---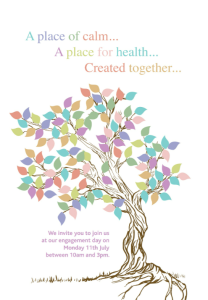 The new Shields Health Hub invites you to their new drop in engagement day on 11th July between 10am and 3pm.
Come along and talk about what you want to see in a consulting area, waiting room or what would make it a more healthy, happy place to visit.
Drop in any time, meet members of the design team, draw a picture, comment on ideas and add them to their inspiration tree located in reception. Or if you'd like to just have a look around and find out more then call in.
---

The latest edition of the North Tyneside Patient Forum is available now with lots of useful information about care in the borough. You can read the latest edition below.
---