National Survivor User Network (NSUN) Bulletin – 1 June 2020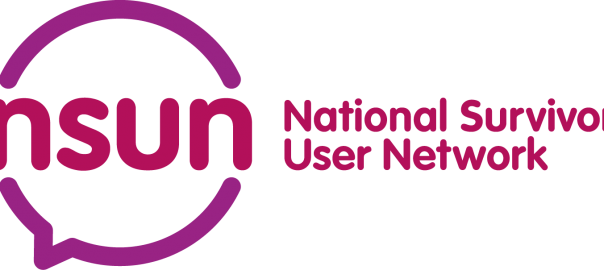 The news this week has been painful to watch and read. Day after day, there are also headlines about the deaths of people from racialised communities from Covid-19. In mental health, we know that people from racialised communities are more likely to be detained under the Mental Health Act, subject to confinement (seclusion), be on a Community Treatment Order, or be medicated against their will.
Warm wishes,
Akiko
Akiko Hart
CEO of NSUN
pronouns: she/her
NSUN is a community of people and groups who come together to support each other. We come together in many ways: physically, digitally through social media or through sharing information.
During these uncertain times, we will try and share with you what we can that is useful. In particular, we will think of ways of being together, when we can't physically be together. And finally, we will continue our campaigning role, ensuring that policy and legislative changes are scrutinised and are rights based.
by Dr Dwight Turner in BME voices
in Mad Covid diaries
by NSUN member Shanine Fasasi
Last week the topic was social determinants of health and, while it was acknowledged that BAME, men, people with learning difficulties and from deprived communities do seem more at risk from Covid, it was also accepted that as yet, it is not clear as to why this is the case and work on this is ongoing. It was also acknowledged how community action has been "central and essential" to the fight against Covid.
Food banks are playing a very important part in ensuring people have enough food to eat in these challenging times.
If you are either in need of help yourself or would like to find out how you can help, find and contact your local food bank here:
Ways in which you can help include:
donate money
donate food
volunteer
become a business partner
"We are Jo Edge and Bethan Edwards, both survivors of mental illness and the psychiatric system. Jo is a doctor of medieval history, currently working at the John Rylands Library at the University of Manchester, beginning a stint as Women's Rep on the National Executive Committee of the University and College Union in May 2020. Bethan is a Research OT employed by the NHS, and is also undertaking her PhD . She professionally registered with the HCPC and is an admin of Recovery in the Bin, a user-led critical theorist and activist collective. Both Jo and Bethan are Welsh.
Money will only go to those who need it: folks who do not have access to other available funds from employers or through the government.
The MadCovid Team would like to send a big thank you to NSUN for promoting and supporting our Hardship Fund for people with a mental illness / mental health condition, who are experiencing financial difficulties during COVID19. We have reached £8,000 thanks to everyone's support and have had 51 applications so far.
We'd also like to take this opportunity to invite NSUN members to take part in #MadCovidDiaries – a service user-led project that aims to capture the experiences of people with a mental illness / mental health condition during COVID19. At the moment we are particularly interested in hearing from men, people from Black, Asian and minority ethnic communities and people who are receiving mental health services who are not in education or employment.
The British Institute of Human Rights is creating, "Communities of Practice." An online platform where people can:
​Access our human rights resources and information during Covid-19 and beyond.
Join free Q and A sessions with BIHR.
Discuss and create change with people in a similar situation to you, whether that is about your life or your work (you might be accessing or working in/with public services).
Share your expert experience with us. This will inform what we tell those in positions of power about the human rights issues that impact you (whether that's in your life or your work).
Working with people is important to us. As part of our first steps in setting up these Communities of Practice we want to involve you in the decisions we need to make. Which platform should we use? How should we arrange each community?
The aim of this research study is to find out about the experiences of feeling lonely or isolated and how they may relate to experiences of mental health problems during the COVID pandemic and more generally.
Lived experience researchers are conducting telephone and online interviews with people with lived experience of mental illness to help us understand more about mental health and loneliness and how it relates to COVID 19 pandemic.
It will also help us to do further research looking at how to measure these things, or to develop ways of supporting people's mental health and reducing loneliness and isolation particularly during pandemics.
We wonder if you would want to take part by sending a short audio-file or text with your insights beforehand, and/or simply by joining the conversation on a radio evening (6:30 to 9:30 pm) that day.
The coronavirus outbreak is having an impact on everybody's lives. At this time, it is understandable that children and young people may be feeling anxious and upset. Their life may feel unpredictable and out of control and their usual mechanisms of support through friends, family members and professionals will have changed and may be more limited.
Some children and young people with extra vulnerabilities will be facing greater challenges. We know that all professionals and services working with children and young people across the statutory, voluntary and independent sectors are doing their best to support children, young people and their families but as we move out of lock-down these anxieties may increase.
Children and Young People's Mental Health services have adapted to the crisis by offering creative solutions and extra support to crisis lines, but we would like to go further in reaching out to let children, young people and those who support them know that help is available, and for this we seek your help.
We would like to draw your attention to two articles by Dr Prathiba Chitsabesan (the NHS' Associate National Clinical Director for Children and Young People's Mental Health), which are now on our website.
Big news! Hearts & Minds have partnered with Intentional Peer Support to be able to deliver Peer Support Training to 18 young people (aged 16-30) across the UK! Our Director, Beth Ingram will be facilitating it alongside Mirabai Swingler, Founder of the 'Only Us' Campaign.
At the end of the course you will have an Intentional Peer Support Core Qualification which is recognised and respected by charities and NHS Services that employ peer support workers across the country.
"There's lots of advice springing up all over the internet about how to look after your mental health and wellbeing in self isolation, but what we're hearing from people we support is that information isn't so useful if you were already struggling with your mental health beforehand and many of the suggestions such as routines and home cooking feel impossible right now. We don't pretend to have the answers but here are a few thoughts you might find useful."
"South London and Maudsley NHS Foundation Trust jointly with our local authorities: Croydon, Lambeth, Lewisham and Southwark invite you to take part in an urgent Mental Health Prevention Summit to address how we can work together to protect our communities' mental health as result of Covid-19.
We will be joined by Gregor Henderson, Director of Mental Health at Public Health England, mental health experts and people with lived experience.
"We are the Be Human movement, which is hosted by Disability Rights UK and In Control.
We have set up this initiative because we believe it is important to maintain a public record of how disabled people and those who require care and support experience accessing care and treatment during the Coronavirus pandemic. It will be used to increase transparency and to influence the future policy and practice of government, the NHS and local councils. By contributing your experiences you will help to protect people's lives and their future wellbeing.
If you are willing to share your experience, whether negative, positive or mixed, please take part by answering a few questions for us. You can ask someone you trust to help you complete the questionnaire.
People First are holding weekly zoom meetings for people with learning difficulties/disabilities around the country.
The meetings are facilitated by Andrew Lee, Director of People First and Joanne Kennedy, Chair of Change.
Our meetings are an opportunity for people to talk about their feelings, concerns and ideas during the coronavirus lockdown. Please join us!
We are running 2 sessions for older people and carers to help simplify online shopping for those that may be thinking about starting to do this.
We will focus on food shopping initially, its benefits, creating shopping basket and safety. You can make good use of a supermarket website even without purchasing as it can help with choosing your items, nutrition advice and budgeting.
It's important to take care of our emotional wellbeing, just as it is to take care of our bodies. One way of doing this is to connect in a truthful and empathic way with others.
Anyone who wants to take care of their wellbeing and support others.
Join us ONLINE for a Taster. Then you can: 
Join a TALK FOR HEALTH CAFE; continue talking for wellbeing and gain communication skills.
Sign up for our in-depth 4-day Talk for Health Programme, online.
Follow these with ongoing groups for strong peer networks.
It's all FREE and is commissioned by the NHS. You will learn and have space for:
Honest talking – being the real you
Empathic listening
Basic counselling skills
How to set up and be part of an ongoing group to talk for wellbeing. 
Find out what we're about and join us for our next Taster on:
Sussex Partnership NHS Foundation Trust
We're a large NHS Mental Health Trust in South East England. We're looking for people to help us provide high quality services for the patients, carers and local communities we serve.
We want patients and staff to recommend our organisation as a place where they would be happy for their friends and family to be treated. You can help us do this by bringing your skills, experience and commitment to Sussex Partnership.
Inclusion London are seeking to appoint Deaf or
Disabled people to the following posts:
Policy & Campaigns Officer
Communications & Media Officer
Nothing About Us Without Us Project co-ordinator
The Violence Abuse & Mental Health Network (VAMHN) are currently looking for eight people with lived experience of violence or abuse and significant mental distress to join a new Lived Experience Advisory Group. The role of the group will be to comment on network activities and potentially develop survivor-led activities. The group is supported by a Lived Experience Coordinator. Group members will be compensated for time spent preparing for and attending meetings at £20 per hour, and expenses will be reimbursed.  Meetings will be held remotely during COVID-19 pandemic. We expect to run up to 3 half-day meetings per year. Please note that you will not be asked to share details of your personal experiences at any point. 
We would also like to hear from you if you are interested in getting involved but don't feel able to submit an application right now.