National Survivor User Network (NSUN) Bulletin – 13 January 2020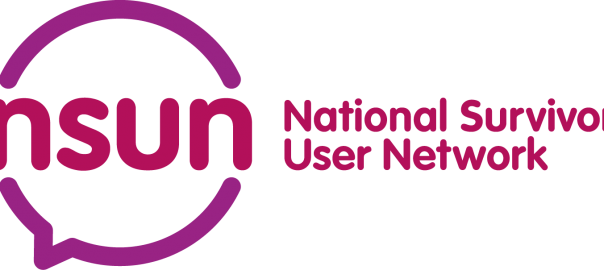 Welcome to the Monday 13th January 2020 edition of our weekly ebulletin – full of news, views, events and involvement opportunities.
Help and support
If at any time you need immediate support you can find out where to go, who to call, where to get information from here
---
I started at NSUN last Monday and so far it's been a whirlwind, meeting members, trustees and partners. Two things have already become even clearer to me: how needed NSUN is, especially in this current climate, and the importance it holds in so many people's lives.
Looking forward to connecting with you over the next few months.
Warm wishes,
by Disability News Service
by Groundswell
by Mental Health Today
by Kaleidoscope
We are excited to launch our first pan-London Campaigning event to bring together Disabled people and allies to discuss and explore how we can work together to promote equality and inclusion across London.
Join us to make your voice heard and fight the daily injustices Disabled people face.
Whether you want to get active in your community, make your voice heard or you're just passionate about disability rights, inclusion and equality – we want you to campaign with us.
Join us at our first London wide campaigning workshop where we will talk and share ideas about how we can campaign together.
Open to all Disabled people and allies to promote equality and inclusion across London.
NSUN member Nash Momori is launching Diversity Radio – an engaging, empowering and embracing digital radio station. It aims to provide a space to bring people together, and build awareness and acceptance of issues that affect our mental health and wellbeing.
"Based in London, we produce quality programming that is both entertaining and educational. We know there is so much unlocked talent and experiences. You wake up with an idea, a story to share but you don't know how to get this out there.
Diversity Radio is there for you to do this."
Programming will include the following:
Music – original music and live music as well as recorded (DJ'ed) music showcasing local talent
Chat shows – panel discussions about topics our listeners are interest in
Personal stories – documentary style programmes that hear from individuals with different experiences, not necessarily with mental health as the primary topic but here is nevertheless features.
Local news and information – providing local news content and information about local events, services and activities
Lifestyle programmes – programmes focussed on different lifestyle topics where discussions about mental health come up as part of the conversation but where people can also learn how to keep themselves well by eating well, exercising in different ways or pursuing interests
Arts and culture – book discussions, poetry sharing,art and music reviews
Food – cooking shows, nutrition and diet advice
Sport – exploring grass-roots sports
We want Diversity Radio to be shaped by our community, here's how you can help
Listen to us!
Join our mailing list to hear about our content
Provide us with content – stories, views/perspectives, talent – we want to share your experience
Volunteer with us – we particularly need people who can help us with music tech/podcasting, social media marketing and promotion
Provide us with creative content – presenters, musicians, presenters, documentary maker and well as those with mental health related stories (we can record from your location, your event)
Provide us with a regular donation – even just £3 (a cup of coffee a month) with help us establish the station
Advertise with us – use the Diversity Radio platform to reach our audiences and associate with our positive brand
Fund us – we are interested to speak with Foundations, health authorities, criminal justice agencies and other potential funders (or contractors) 
An exhibition created in collaboration with the Mother and Baby Unit, Bethlem Royal Hospital, looking at identity and the everyday, framed by the complex challenges experienced during the transition to motherhood.
Bonnie Burstow, a Canadian activist, scholar and psychotherapist died on January 4th. She was a fierce and long-standing campaigner and will be greatly missed. You can read more about her here: 
"By turns wrenching and comical, self-indulgent and self-aware, 'Prozac Nation' possesses the raw candor of Joan Didion's essays, the irritating emotional exhibitionism of Sylvia Plath's 'Bell Jar' and the wry, dark humor of a Bob Dylan song," wrote New York Times book critic Michiko Kakutani. If the memoir needed "some strict editing," she added, it was nonetheless marked by passages of "sparkling, luminescent prose."
Healthcare apprenticeship proposal consultation – urgent
for Peer Support Worker
An NSUN member would like to draw attention to this proposal which has been submitted for a level 3 peer support worker apprenticeship.
The proposal itself is under Peer Support Worker on the list of submitted apprenticeships on this page.
"Peer led organisations and grassroots peer support workers need to have the opportunity to feed back on this proposal. It is currently very prescriptive around what peer support workers are and should do, and many peer-led organisations will find the apprenticeship will not match their own values and principles for peer support. (It is, essentially, the ImROC model). The apprenticeship is meant to be cross-sector, but is very mental health system focussed, and even then does not enable a range of approaches to be incorporated into even NHS organisations."
We are circulating this urgently to enable peer-led organisations (and indeed, peer supporters with different views, values and principles) to be able to offer their opinions.
The deadline for feedback for the proposal is 19th January 2020.
---
Emerging Minds is a mental health research network funded by UK Research and Innovation (UKRI) with the aim of encouraging research across sectors and disciplines.
They want to encourage research that will help to reduce the prevalence of mental health problems amongst children and young people through mental health promotion, prevention and early treatment. They are organising a workshop to help people develop their proposal for the first Emerging Minds funding call. Travel bursaries available.
Self-injury Support, based in Bristol, offers direct support by phone, text and webchat to women and girls across the UK affected by self-harm.
They have managed to raise over £55,000 to ensure that their vital services can continue beyond January 2020.
Sodit (Survivors of Depression in Transition) offers peer support for women experiencing depression and other mental distress in Sheffield.
Join Northern Stage and the ground breaking theatre company, Cardboard Citizens, for a day of discussion, inspiration, networking and innovation.
Cardboard Citizens have been working for nearly 30 years to facilitate and affect change in both individuals and society. We believe that people working in arts and culture can use their work to have a lasting social and political impact.
We will pose the question – how art and creativity can affect social and political change? How can we, as campaigners or artists, work together to challenge perceptions and facilitate real social, systemic and political transformation?
Bursaries available.
Action for Asperger's warmly invite you to their AGM and Conference that is to be held on Saturday, 8th February 2020.
'This is usually a very well attended event and promises to be of great interest to all who come along. The theme of this year's conference is "The Misdiagnosed".
Recovery in the Bin merchandise is now available at Etsy.
Stand-up comedy showcase
Featuring overtly mental comics…
Dear all, I am a service user myself and I developed a website and iPhone App to try to connect people like us. When you sign up you do so as a carer or a service user. Then others who have signed up with the same issue will be connected to you. You can then message or even talk via the app. If you don't feel up to that you can even play games like chess or connect 4 with your connections.
This app is purely to help and no data will ever be shared. I created this app to try to help people like myself. When I was alone and desperate if only I'd had have had access to my App it would have made the world of difference. To connect with someone who shares your illness or that of someone you care for is a brilliant experience and I'll use my diddlyboo if only to speak to anyone who shares my illness. It is very rare unless you go to a group to ever get to connect with people in the same situation as you. No job, living with parents, totally alone, desperate or does not matter as those you connect with will understand like no one else could ever.
I run the site and created it when I had nothing and then as I rose from the ashes I used every penny I could afford to create it. It wasn't cheap. I can't wait to connect with you! I have support from both Alastair Campbell and Frank Bruno who are both suffers themselves.
Best wishes,
One of our NSUN members is running a club night – and kindly donating all the profits to NSUN!
So if you fancy dancing the night away in aid of a good cause – us! – then here's the details: 
Jami provides practizcal and emotional support for people in Jewish communities who struggle with their mental health.
Work as part of our newly formed multi-skilled community team to deliver a recovery focused mental health service. We are looking for an experienced Peer Support Worker to join our forward-thinking mental health charity. You will be creating links with primary care and voluntary sector organisations to support people. You will carry out initial assessments and short-term interventions enabling people to identify their needs and pursue their goals.
We welcome and encourage job applications from people of all backgrounds.
Equal Lives is a Norfolk-based charity led by people who face disabling barriers.
The Violence, Abuse and Mental Health Network at St George's University of London are looking for a Research Assistant who is interested in conducting evidence based research examining the harms of violence and abuse on mental health. This is a stimulating 12 months research programme, funded by the UK Research and Innovation (UKRI), investigating the relationship between the severity of mental health outcomes and specific characteristics of victimization including timing, duration, frequency, severity, and types of violence. These associations will be further analysed between women and men to assess the gendered nature of violence, and in relation to other social inequalities. We seek to unpack how these interacting factors are implicated in survivors' mental health as an outcome of VA.
(Followed by HVN AGM at 4.15pm)
Quick Links