National Survivor User Network (NSUN) Bulletin – 14 July 2020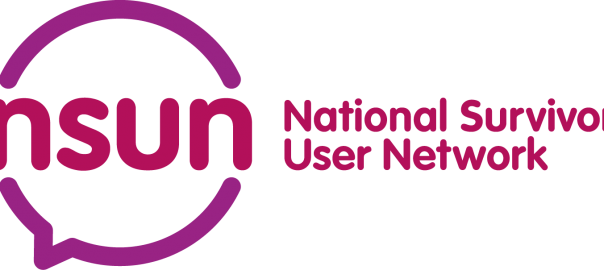 NSUN is a community of people and groups who come together to support each other.  We come together in many ways: physically, digitally through social media or through sharing information.
During these uncertain times, we will try and share with you what we can that is useful. In particular, we will think of ways of being together, when we can't physically be together. And finally, we will continue our campaigning role, ensuring that policy and legislative changes are scrutinised and are rights based. 
in Matters of Engagement
by Outdoor Prescription
a TedX talk by NSUN member and survivor Lorna Collins
In Disability News Service 
As well as the details of our statutory business, the report features:
the transcript of an empassioned speech by Anne Beales, NSUN's co-founder, which brought many members to tears;
notes on guest speakers including Alison Faulkner, Mark Brown, and Dominic Makuvachuma
links to all the videos of the ever popular soapboxes
Please take a look! 
As a VCSE (Voluntary Community and Social Enterprise) partner of the Dept. of Health and Social Care's (DHSC) Health and Wellbeing Alliance (HWA), NSUN now attends a fortnightly webinar where we are given updates on Covid-19. 
Meetings are continuing with HWA members being linked in to the Task & Finish group, its priorities and subsequent actions. There were strong concerns voiced this week about outreach and accessibility – to make sure that people who have been 'abandoned' and 'forgotten' are reached and looked after.
Food banks are playing a very important part in ensuring people have enough food to eat in these challenging times.
If you are either in need of help yourself or would like to find out how you can help, find and contact your local food bank here:
Ways in which you can help include:
donate money
donate food
volunteer
become a business partner
"We are Jo Edge and Bethan Edwards, both survivors of mental illness and the psychiatric system. Jo is a doctor of medieval history, currently working at the John Rylands Library at the University of Manchester, beginning a stint as Women's Rep on the National Executive Committee of the University and College Union in May 2020. Bethan is a Research OT employed by the NHS, and is also undertaking her PhD . She is professionally registered with the HCPC. Both Jo and Bethan are Welsh.
Money will only go to those who need it: folks who do not have access to other available funds from employers or through the government.
"​LGBTQ+ organisations and groups across the UK will soon be able to apply for grants of up to £15,000 to support their vital role in supporting LGBTQ+ communities through the coronavirus pandemic and beyond.
"Collective Voice is delighted to launch the Addiction and Recovery Covid-19 Response Fund.
The government has made available £750m to support VCSE organisations during the COVID-19 crisis. The Addiction and Recovery Response Fund has £322,035 available and contains funds drawn from this package (held by the Department for Digital, Culture, Media and Sport) and supplemented by the Department of Health and Social Care.
"ADIRA, Sheffield Health and Social Care Trust & Flourish have worked together to put on this event to look at ways to engage with the BAME community to build better relationships- break down barriers, dispel any myths about mental health services and build positive relationships with this community.
We are hopeful that in doing this it will support people to come forward for help at an earlier point with their mental health problems so that they are able to enter into preventable treatments rather than at a point where they are very unwell and require for example hospital inpatient care.
We want to raise awareness of our mental health services, what's available and how to access them.
We also want to learn more from the community about what they want from services and how we can better work together to provide the care and support that's needed."
"Shaping Our Lives has been awarded a grant from the National Lottery Community Fund Covid19 programme.
The research will:
Investigate the longer term impacts of Covid19 emergency measures on Disabled people
Research the experiences of Deaf and Disabled People's Organisations and other user-led groups during lock-down and beyond
Look at how Patient Participation Groups have been involved and impacted.
We hope to find out:
What Disabled people need to regain their confidence and independent living skills
Understand how remote meeting technology can increase and inhibit Disabled people's ability to take part and get their voice heard
Find out if Deaf and Disabled people's organisations and other user-led groups have been successful in getting funding and their capacity to offer services
Ask Patient Participation groups about their involvement during the pandemic and after.
The NDG now proposes to add an eighth Caldicott Principle to the seven in use to emphasise the importance of there being no surprises for patients and service users with regard to how their confidential health and care data is used.
"In 2016, it was estimated that 75% of people in the UK may not get the help that they need for mental health problems and that staggeringly, people who identified as Asian/Asian British were 14% less likely than average to be in contact with mental health services. 
Join us as we discuss everything from localised health solutions to the role of faith and faith institutions in breaking the taboo around mental wellbeing."
90% of respondents said that the pandemic has had a negative impact on their mental health.
80% of respondents were not included in the official shielded group, yet 57% of those had support needs. For example many could not get online supermarket food delivery despite needing to shield.
56% of respondents had experienced some difficulty sourcing Personal Protective Equipment (PPE).
62% of respondents have experienced one or more health visit being stopped due to Covid-19.
Accessibility of the hubs was a problem, 46% found them inaccessible with deaf people being the worst excluded.
Disabled people are less satisfied with their care plans since the outbreak of Covid-19. Prior to the outbreak, 23% were dissatisfied, this dissatisfaction increased to 43% during the Pandemic.
37% said that their housing was not accessible or only partially accessible.
83% of disabled people were worried about how they would be treated in hospital because of attitudes to disability.
47% found government advice unclear and many commented that the lack of a British Sign Language interpreter or conflicting language made official announcements inaccessible.
Digital exclusion was a problem, especially as a lot of the emergency response used digital platforms.
A third of disabled people believe that their local authority is not doing anything significant whilst 76% of disabled people are dissatisfied with the help provided by the government.
We have made 13 key recommendations for improving the problems we identified and are pleased that GM Mayor Andy Burnham and other regional leaders have shown a willingness to listen and engage with our issues. There is a lot of work to do to remove disabling barriers that have gotten worse over the last 10 years and were made worse again in the Pandemic. However we as disabled people and our organisations and communities will not stop until our rights to a fully inclusive society are realised."
There are many anecdotal reports of difficulties in getting a diagnosis and accessing treatment, but there is no published research to evaluate these experiences. This survey will be valuable in helping us understanding the specific barriers that people with Depersonalisation-Derealisation Disorder might have met. We hope you can share your experience so that we can help improve this process in the future.
"RE:CREATE Psychiatry have commissioned Healing Justice London to deliver a three-part online workshop series for people of colour who use mental health services, work in mental health services, or both, exploring how we can build liberatory public health systems.
Using a combination of creative discussion and embodied practice, these sessions will offer a safe space to share stories and experiences of oppression, trauma and mental health difficulties, and explore pathways to healing.
"Challenge and Change is a fund dedicated to supporting the limitless energy of young people affected by injustices who are working tirelessly across England to create positive change. We see you. We know that you are creators of change and active citizens for the public good. We also recognise that you need investment and support to take forward your ambitions for a positive future.
If you're 18-25 years old, working at the hard edge of injustice and have radical ideas, dreams, visions, and imaginations for a just and fair world for all, we want to invest in you and your work and offer a package of mentoring and network support to help take your work to the next level.
This fund was co-created by a group of partners: Young Advisers – Daze Aghaji, Chloe Deakin, Jovan Nepaul – the Blagrave Trust and the Centre for Knowledge Equity."
"The European Network on Independent Living is launching its first Independent Living Survey, with the aim of getting a better picture of access to Independent Living in Europe. Responses will be analysed and published in December 2020.
The Independent Living Survey should be completed by disabled people, DPOs or NGOs familiar with access to Independent Living and/or provision of Personal Assistance (PA), ideally by or in close consultation with PA users.
"Seminar for leaders who are seeking ideas and guidance on advancing race equality in their organisations." 
HEAR is seeking new trustees to help us move forward as we grow as a network and an organisation: a new Chair of Trustees, a Treasurer, and other trustees with the skills and interests to support our work going forward.