National Survivor User Network (NSUN) Bulletin – 15 June 2020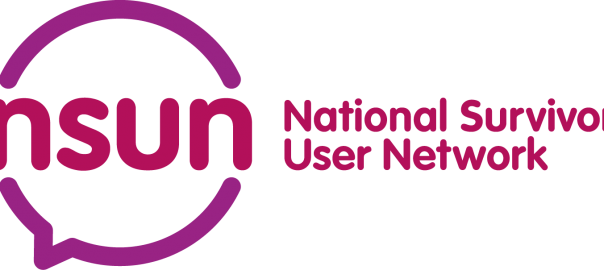 Warm wishes,
Akiko
Akiko Hart
CEO of NSUN
pronouns: she/her
NSUN is hiring!
We are looking for someone with relevant skills to deliver NSUN's communication strategy and to liaise with our membership. Taking ownership of the communications function, and thinking creatively and working proactively will be an essential part of the role. The role is currently home-based. Specifically we are looking for someone with the following skills and experience:
Excellent written and oral communication skills, with experience of writing for a range of audiences/outlets including websites and social media
Proactive, flexible and responsive, with strong interpersonal and relationship management skills
Lived experience of mental ill-health, distress or trauma, with a passion for NSUN's mission and work, and the ability to communicate it effectively to a wide variety of stakeholders
NSUN is a community of people and groups who come together to support each other. We come together in many ways: physically, digitally through social media or through sharing information.
During these uncertain times, we will try and share with you what we can that is useful. In particular, we will think of ways of being together, when we can't physically be together. And finally, we will continue our campaigning role, ensuring that policy and legislative changes are scrutinised and are rights based.
By Hannah-Rebecca Eldritch
By Disability News Service
By Oluwaseun Matiluko
Food banks are playing a very important part in ensuring people have enough food to eat in these challenging times.
If you are either in need of help yourself or would like to find out how you can help, find and contact your local food bank here:
Ways in which you can help include:
donate money
donate food
volunteer
become a business partner
"We are Jo Edge and Bethan Edwards, both survivors of mental illness and the psychiatric system. Jo is a doctor of medieval history, currently working at the John Rylands Library at the University of Manchester, beginning a stint as Women's Rep on the National Executive Committee of the University and College Union in May 2020. Bethan is a Research OT employed by the NHS, and is also undertaking her PhD . She is professionally registered with the HCPC. Both Jo and Bethan are Welsh.
Money will only go to those who need it: folks who do not have access to other available funds from employers or through the government.
The LGBT Foundation has published findings from the largest and most substantive research into the impact of the Covid-19 pandemic on LGBT communities in the United Kingdom. This research has uncovered some of the wide-ranging and profound effects the pandemic has had on the lives of LGBT people in areas such as mental health; isolation; substance misuse; eating disorders; living in unsafe environments; finances, homelessness; access to healthcare; and access to support.
Dr. Meg-John Barker talks to co-creators who've also been putting out content on coping with the pandemic and lockdown situation.
"First up, Nina Burrowes – from The Consent Collective – and I spoke about how survivors of trauma are experiencing living through this and what we can do if we're experiencing trauma responses at this time.
"The BiPP Network are proud to announce our next event on 'Racial Trauma & Wellbeing'. The aim is to support prospective & registered Black African and Caribbean #MentalHealth practitioners during current events.
In response to recent events circulating in the news, the Black and Minority Ethnics in Psychiatry & Psychology (BIPP) Network would like to bring awareness to, and highlight the mental health impacts of living with anti-Black atrocities – such as George Floyd – on prospective and registered Black mental health practitioners' mental health in a supportive online event.
Particularly, we focus on race-based trauma (or racial trauma) which can impact members of the Black community after directly or indirectly, learning of, or witnessing the recent incidents of police brutality and racism against other members of the Black community (Carter, 2007). In highlighting the mental health impacts, as well as dialoguing about how to nurture body, mind and soul, the BIPP Network aims to support prospective and registered Black mental health practitioners as whole human beings, so that in turn, they can also provide therapeutic support to other members of the Black community during this time period.
"We just wanted to let you know that during this very difficult time our text-based support services are still open and we are here to listen and support. Dealing with the current global situation on top of existing struggles with mental health is leaving people feeling more isolated than ever. Our TESS service offers emotional listening support for women and girls affected by self injury and a space where you can explore what is going on for you alongside a trained female volunteer with knowledge of self injury.
All of our services are open from 7pm – 9.30pm, Tuesday – Thursday.
You can:
Text us on 07537 432 444
The new issue of Asylum magazine is out now! It's a special issue focusing on Covid-19 and mental health, with contributions by Mad Covid amongst others.
It also features an online article by Dina Poursanidou:
We're looking for written pieces of up to 2,000 words, submitted via our online form, which will launch in June.
"In light of recent events around racism and inequality experienced by persons in the Black Community, Diversify Education would like to gift free anti racist and black culture story books to children between 4 and 16 years nationwide.
We have been able to gift a total of 21 books so far, however the requests are still coming and would love to continue gifting these worthwhile books to as many children as possible."
"Healthy Minds, Healthy Bods was set up to proactively promote a healthy lifestyle through access to health, fitness, budget and nutrition advice, concentrating on a unique fresh proactive approach to mental health.
We are a mentor-led mental health project, based in islington, looking to shake up mental health intervention.
These classes by ClearCommunityWeb are an opportunity to ask questions and practice some of the basic features of Zoom to then be able to access social groups and classes.
A free, online, interactive forum to hear about, ask about and talk about the impact of coronavirus on communities and services.
There will be 5-6 speakers, each followed by a Q & A and discussion.
"Recovery Devon is a CIC that champions Mental Health recovery throughout communities in Devon.
Since the beginning of the Coronavirus pandemic we have adapted our way of working so we can still reach out to those within the mental health community. We quickly identified the need to keep mental health high on the agenda as lock down unfolded, with audiences becoming overwhelmed with distressing news.
We have also created the Recovery Devon Podcast which is available on Spotify and itunes.
We are also in the process of producing our 3rd book and are currently collecting stories from those supporting someone with their mental health journey.
"If you are finding life challenging in these difficult times, then why not join us online?
Want to join or know more? Feel free to contact Phil
It's important to take care of our emotional wellbeing, just as it is to take care of our bodies. One way of doing this is to connect in a truthful and empathic way with others.
Anyone who wants to take care of their wellbeing and support others.
Join us ONLINE for a Taster. Then you can: 
Join a TALK FOR HEALTH CAFE; continue talking for wellbeing and gain communication skills.
Sign up for our in-depth 4-day Talk for Health Programme, online.
Follow these with ongoing groups for strong peer networks.
It's all FREE and is commissioned by the NHS. You will learn and have space for:
Honest talking – being the real you
Empathic listening
Basic counselling skills
How to set up and be part of an ongoing group to talk for wellbeing. 
Find out what we're about and join us for our next Taster on:
SOLITUDE AND THE ENCOUNTER
A one day online event organised by the MSc Creative Arts and Mental Health.
"This one-day webinar explores productive, radical, contemporary encounters between the arts and mental health, bringing together clinical, artistic and research perspectives that offer a re-interpretation of contemporary mental health science and practice.
We welcome service users, mental health professionals, artists and researchers and any members of the general public interested in the way the arts can contribute to mental health.
HEAR is seeking new trustees to help us move forward as we grow as a network and an organisation: a new Chair of Trustees, a Treasurer, and other trustees with the skills and interests to support our work going forward.
Inclusion London are seeking to appoint Deaf or
Disabled people to the following posts:
Policy & Campaigns Officer
Communications & Media Officer
Nothing About Us Without Us Project co-ordinator