National Survivor User Network (NSUN) Bulletin – 18 May 2020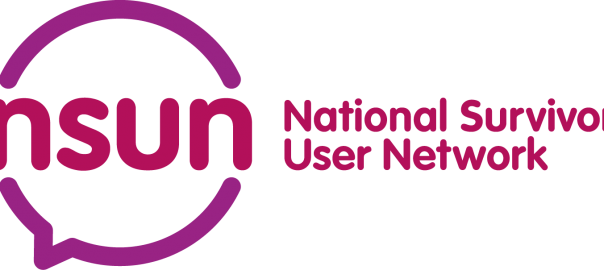 Warm wishes,
Akiko
Akiko Hart
CEO of NSUN
pronouns: she/her
NSUN is a community of people and groups who come together to support each other. We come together in many ways: physically, digitally through social media or through sharing information.
During these uncertain times, we will try and share with you what we can that is useful. In particular, we will think of ways of being together, when we can't physically be together. And finally, we will continue our campaigning role, ensuring that policy and legislative changes are scrutinised and are rights based.
in Health and Human Rights Journal
in Mad Covid Diaries
in Mad in America
by Frances Ryan in The Guardian
in Mental Health Today
in Mad in Asia
This app, currently trialling in the Isle of Wight, is due to be launched in the UK "mid-May".
Food banks are playing a very important part in ensuring people have enough food to eat in these challenging times.
If you are either in need of help yourself or would like to find out how you can help, find and contact your local food bank here:
Ways in which you can help include:
donate money
donate food
volunteer
become a business partner
We are Jo Edge and Bethan Edwards, both survivors of mental illness and the psychiatric system. Jo is a doctor of medieval history, currently working at the John Rylands Library at the University of Manchester, beginning a stint as Women's Rep on the National Executive Committee of the University and College Union in May 2020. Bethan is a Research OT employed by the NHS, and is also undertaking her PhD . She professionally registered with the HCPC and is an admin of Recovery in the Bin, a user-led critical theorist and activist collective. Both Jo and Bethan are Welsh.
Money will only go to those who need it: folks who do not have access to other available funds from employers or through the government.
The MadCovid Team would like to send a big thank you to NSUN for promoting and supporting our Hardship Fund for people with a mental illness / mental health condition, who are experiencing financial difficulties during COVID19. We have reached £8,000 thanks to everyone's support and have had 51 applications so far.
We'd also like to take this opportunity to invite NSUN members to take part in #MadCovidDiaries – a service user-led project that aims to capture the experiences of people with a mental illness / mental health condition during COVID19. At the moment we are particularly interested in hearing from men, people from Black, Asian and minority ethnic communities and people who are receiving mental health services who are not in education or employment.
We are the Be Human movement, which is hosted by Disability Rights UK and In Control.
We have set up this initiative because we believe it is important to maintain a public record of how disabled people and those who require care and support experience accessing care and treatment during the Coronavirus pandemic. It will be used to increase transparency and to influence the future policy and practice of government, the NHS and local councils. By contributing your experiences you will help to protect people's lives and their future wellbeing.
If you are willing to share your experience, whether negative, positive or mixed, please take part by answering a few questions for us. You can ask someone you trust to help you complete the questionnaire.
People First are holding weekly zoom meetings for people with learning difficulties/disabilities around the country.
The meetings are facilitated by Andrew Lee, Director of People First and Joanne Kennedy, Chair of Change.
Our meetings are an opportunity for people to talk about their feelings, concerns and ideas during the coronavirus lockdown. Please join us!
A press release from the Royal College of Psychiatrists says that they are seeing an alarming rise in patients needing urgent and emergency care and forecast a 'tsunami' of mental illness.
43% of psychiatrists have seen an increase in urgent and emergency cases following the COVID-19 lockdown.
At the same time, 45% of psychiatrists have seen a fall in their most routine appointments, leading to fears of a 'tsunami' of mental illness after the pandemic.
Psychiatrists are alarmed by both the drop-off in routine work, especially in CAMHS and old age psychiatry, and by the increase in urgent cases.
RCPsych is calling for investment in mental health services to be prioritised to enable services to cope with a surge in mental health cases after the COVID-19 peak is passed.
At Mental Health and Money advice, we support anyone who is struggling with their money as well as the impact of those financial worries affecting their mental health.
Before our service launched in 2017, our research highlighted four million people in the UK have both mental health and money problems, and a further four million are at risk because of their financial difficulties.
Due to recent events with COVID-19, these numbers are expected to rise as many people will find themselves needing to access the benefits systems when they have never had to before. Knowing where to start is the first step to taking control and planning.
Whilst focus is on people's physical health at the moment, the fallout and dramatic changes will take a toll on people's financial wellbeing as well as their mental health. We provide vital information and links to help provide support during the COVID-19 outbreak.
Domestic violence in these times of pandemic has sadly been on the increase and hitting the headlines of late.
BIHR have teamed up with Learning Disability England to provide a free online session for people with learning disabilities, autistic people & family to learn how human rights can help
you build & keep an independent life.
Sisters of Frida are an experimental collective of disabled women sharing experiences, mutual support and relationships.
They have just published a paper titled "The Impact of COVID 19 on Disabled Women from Sisters of Frida."
"This paper started as a brief but we sent the first version in response to the Women and Equalities Unequal impact: Coronavirus (Covid-19) and the impact on people with protected characteristics. We know that the experiences of Disabled women are not visible in the wider response to COVID-19.
The need to add the narratives focused on Disabled women is the reason for this paper. We feel that the narrative about Disabled women, when available, is very one dimensional. There is no consideration that Disabled women occupy multiple roles, we are diverse and any considerations have to be viewed through an intersectional lens. We are strongly aware that new measures under the Coronavirus COVID-19 2020 Act threaten rights-based protections and reduce our independent living and in some cases our lives."
The Synergi Collaborative Centre has just launched a survey to capture and document how ethnic minority people with lived experience of severe mental illness and their carers are coping during Covid-19, which will inform the creation of a digital journal platform.
The survey will be open for at least three months and the findings will be used to impact policy, particularly in light of the disproportionate impact Covid-19 is having on ethnic minority communities and frontline workers.
You can access the survey by clicking on the links below:
Have you been given a diagnosis of Borderline Personality Disorder (BPD)/Emotionally Unstable Personality Disorder (EUPD) now or in the past? Have you written any poetry about the experience of having the label?
It's important to take care of our emotional wellbeing, just as it is to take care of our bodies. One way of doing this is to connect in a truthful and empathic way with others.
Anyone who wants to take care of their wellbeing and support others.
Join us ONLINE for a Taster. Then you can:
Join a TALK FOR HEALTH CAFE; continue talking for wellbeing and gain communication skills.
Sign up for our in-depth 4-day Talk for Health Programme, online.
Follow these with ongoing groups for strong peer networks.
It's all FREE and is commissioned by the NHS. You will learn and have space for:
Honest talking – being the real you
Empathic listening
Basic counselling skills
How to set up and be part of an ongoing group to talk for wellbeing. 
Find out what we're about and join us for our next Taster on:
Invitation for Expressions of Interest for post to start 1st July
(Application by Cover letter/CV
The HEAR Network of London's Equality and Human Rights VCS is a small organisation starting an important new phase in its development. As an important part of this we are appointing an Interim Managing Director, part time, fixedterm.
Post start date: 1st July, 2 days a week, 9 months initially with temporary extension subject to funding. £35,000 pro rata. The post is likely to include remote working.
Enabling the HEAR Network to work towards its goal of greater equality and human rights in London, laid out in HEAR's constitution and 5 Year Strategic Plan (presented to HEAR AGM on 23rdJan 2020);
Close coordination and communication with trustees;
Facilitating and supporting HEAR's operationaland project activities, plus financial and strategic development by ensuring effective development and use of management systems, structures, finance and fundraising
Supporting and line managing staff;
Work to establish a sustainable post and full equal opportunities recruitment of Managing Director going forward.
Send cover letter and CV to express your interest and you will be sent a FD and further details.