National Survivor User Network (NSUN) Bulletin – 2 March 2020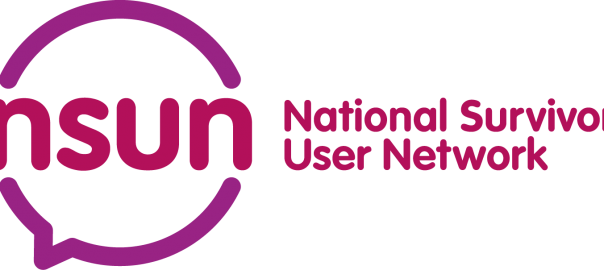 This week, we have some good news and some less positive news.
Warm wishes
Akiko
Akiko Hart
CEO of NSUN
pronouns: she/her
Providing efficient financial management support to CEO and Board of Trustees
Taking responsibility for the financial controls of the organisation
Producing financial reports in line with charity and company requirements
The successful candidate will be proficient with SAGE 50, have demonstrable experience producing management accounts and other financial reports, and will have experience working in a similar capacity for a charity. We particularly welcome applications from people with lived experience of mental health difficulties or distress.
NSUN Ltd.
Kemp House
152-160 City Road
London
EC1V 2NX
By Hattie Porter 
By R.F. Hunt
In the New York Times
We should all be aware of our rights in such instances – so here is a reminder. 
Do not get fobbed off and insist on the hospital giving you all the information you need.
We are a Merseyside-based group who have produced several booklets aimed at inspiring our peers that they can move forwards with their mental wellbeing through creativity and positivity. We have provided people with information and signposting about a whole range of mental health topics through the booklets and our online blog. We hope people gain some insights and suggestions that could be useful for their mental health and wellbeing. Links to the PDFs of the booklets are on our blog.
Part of what we do is collected together online on our blog site at:
The new Marmot Report on health inequalities was published last week, a decade after his first landmark report.
Mental Health Pharmacy; a vital area within Mental Health Services.
You are invited to take part in this study, conducted by an Aston University student, to show your opinions on clinical pharmacy services in the secondary care (hospital related area) of severe mental health patients. This survey has been created incorporating advice from relevant people with lived experience in this field.
Check out this year's nominations for the Mental Health Blog Awards:
The Bristol Wellbeing Conference is a collaborative event brought to you by Bristol SU Wellbeing Network, Education Network and the Bristol Institute for Learning and Teaching. Together, we want to recognise University Mental Health Day and the change that we still need to see, and also celebrate the progress that has been made and look to the future of the city, the university and the wellbeing of our communities.
With the maternal mortality rate of Black mothers almost five times greater than that of their white counterparts and Black men being more likely to be diagnosed with severe mental health problems and sectioned under the Mental Health Act, the racial discrimination that exists in aspects of health practice in the are being brought into question.
Come along to this discussion with guest speaker Dami Oladebo, where we will be touching upon topics such as the health outcomes of black motherhood and migrant communities, analgesic prescribing practices for pain management in particular demographics and mental health.
This event is open to healthcare students and professionals, as well as anyone else who is interested!
Funded by Girton College: a free two-hour workshop providing practical tools for having a caring conversation that could save a life.
This skills-based and emotionally-sensitive workshop, The Pressure of Success, provides practical tools for having a caring conversation about mental health and suicide with someone you are worried about. You will learn:
How to spot the possible signs of suicide
How to start the conversation
Practical considerations – where and when to talk
Healthy language around suicide
Where and how to get more help
A range of speakers including Norman Lamb, Darren Eadie and Joe Tracini PLUS two live debates.
Topics throughout the day include mental health in the workplace, my child and their wellbeing, loneliness and inspirational stories from local people.
No tickets required – all welcome and doors open
all day to just walk in!
Call for further details on 01603 772371
We are seeking a motivated and creative individual with the ability to successfully lead a small team. Voice Collective is an innovative service supporting young people who hear voices, see visions or have other unusual sensory experiences.  This post will give you an opportunity to develop, implement and supervise an established and renowned project and manage a small team. You need excellent interpersonal skills, flexibility and the awareness to work well in a challenging environment. In addition, you will have experience of working with vulnerable young people; an in-depth understanding of the principles and practice of the hearing voices movement and its ethos, and a strong commitment to user-led initiatives.
Applications are particularly welcome from those with personal experience of hearing voices, seeing visions or having other sensory experiences.
NICE are looking for a young person (aged 16 to 25) with an understanding of self-harm and the issues important to people using services.
Over the next 5 years Mind is working with UCL
on a piece of research into virtual reality (VR) treatment for depression.
We are leading on the Lived experience element and are currently recruiting a lived experience consultant to co-ordinate and support this. 
someone who is autistic and also a family carer for children or young people
someone with a learning disability
someone who has links to black and minority ethnic (BME) groups
people who have good networks
people who are different from the people already on the group and live in different areas.
You can also answer the questions in a video and send it back to us. 
The NIHR coordinating centres, Academy, Central Commissioning Facility (CCF), and NIHR Evaluation, Trials and Studies Coordinating Centre (NETSCC) are looking for members of the public to join a number of national and regional committees that prioritise and recommend health and social care research applications for funding.
The Public Health Research (PHR) programme is seeking to appoint members to the Prioritisation Committee. This opportunity is for current voluntary/charity sector employees working at a senior level and/or with a breadth of experience and knowledge of public health issues.
Manchester Users Network
CRASSH, University of Cambridge
Quick Links
%MCEPASTEBIN%