National Survivor User Network (NSUN) Bulletin – 22 June 2020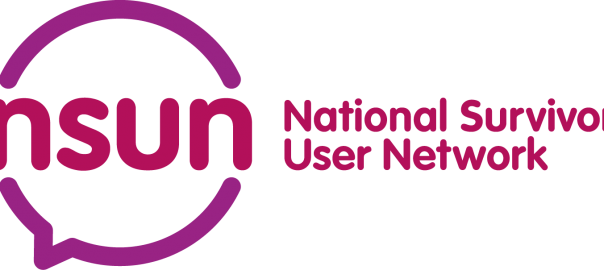 NSUN is hiring!
We are looking for someone with relevant skills to deliver NSUN's communication strategy and to liaise with our membership. Taking ownership of the communications function, and thinking creatively and working proactively will be an essential part of the role. The role is currently home-based. Specifically we are looking for someone with the following skills and experience:
Excellent written and oral communication skills, with experience of writing for a range of audiences/outlets including websites and social media
Proactive, flexible and responsive, with strong interpersonal and relationship management skills
Lived experience of mental ill-health, distress or trauma, with a passion for NSUN's mission and work, and the ability to communicate it effectively to a wide variety of stakeholders
NSUN is a community of people and groups who come together to support each other. We come together in many ways: physically, digitally through social media or through sharing information.
During these uncertain times, we will try and share with you what we can that is useful. In particular, we will think of ways of being together, when we can't physically be together. And finally, we will continue our campaigning role, ensuring that policy and legislative changes are scrutinised and are rights based.
by Sarah Carr in Evidence & Policy Blog
in The Guardian
by Alice Smith, survivor and co-founder of 361 Life Support – an NSUN Covid-19 Fund grantee
By Lucy, in Mad Covid
Food banks are playing a very important part in ensuring people have enough food to eat in these challenging times.
If you are either in need of help yourself or would like to find out how you can help, find and contact your local food bank here:
Ways in which you can help include:
donate money
donate food
volunteer
become a business partner
"We are Jo Edge and Bethan Edwards, both survivors of mental illness and the psychiatric system. Jo is a doctor of medieval history, currently working at the John Rylands Library at the University of Manchester, beginning a stint as Women's Rep on the National Executive Committee of the University and College Union in May 2020. Bethan is a Research OT employed by the NHS, and is also undertaking her PhD . She is professionally registered with the HCPC. Both Jo and Bethan are Welsh.
Money will only go to those who need it: folks who do not have access to other available funds from employers or through the government.
The Ubele Initiative is hosting bi-weekly Fundraising Support Webinars for BAME community groups.
Attend the webinar to learn more about the funders who are offering emergency funding and receive support for other fundraising queries you may have.
"We will focus on the following funding available:
London Community Response Fund – Ubele's support for BAME organisations
BBC Children in Need COVID-19 Next Steps Grant
Edge Post Covid-19 Revival Fund – How to build back better
"We've started corroding the experiences of prisoners, prison leavers & their families from black, Asian and minority ethnic backgrounds, inc. Gypsy, Roma & Traveller communities. We're here to listen how Covid-19 has affected you & your loved ones.
"As a society, we want to highlight the perspective of mental health and psychiatry on racism in society. On researching this topic, we found that Black people and people from other Ethnic Minority groups in the UK were both more likely to be diagnosed with a mental health problem, and up to six times more likely to be admitted to hospital with a mental health problem. The risk of psychosis in Black Caribbean groups is estimated to be nearly seven times higher than in the White population. These statistics, along with research which suggests that experiencing racism in society (be that overt or systemic), can contribute to ill mental health, as well as evidence that Black people are treated differently once they enter mental health services, indicates that something has to change.
We hope this webinar will both educate and open up a discussion about both the effects of racism on individual's mental health as well as institutional racism within psychiatry and mental health services."
We need your views on the draft campaign plan and what you can do to support and take forward the work detailed in it.
The campaign plan is divided into 5 themed sections:
Independent Living and National Independent Living Service (NILS)
National Disability Strategy
Intersectionality
Making Our Rights Real
Covid19 – responses and post Covid inclusive recovery
As you will see there is a column on the right-hand side of the plan – "who can contribute what?" – which is currently empty. This campaign plan is only going to have an impact and make a difference to our lives if we all commit to doing what we can to support the goals and work detailed in the plan. We are a self-organising alliance so if something needs to be done, we need to do it!
If you can contribute and help take action then please join the themed campaign group(s) you want to support by adding your name in this box. Each campaign theme group will need a chair who will take responsibility for convening the groups using zoom and drive the implementation. Please also indicate in this box if you are prepared to chair/convene the campaign group you wish to join.
This guide just published is for members of the public who are in receipt of income-related Employment and Support Allowance (ESA). The guide provides vital advice on how to follow the Jobcentre Plus procedures to receive payments, without any hassles, for service-user involvement or co-production on:
How you can start receiving up to £140 a week without affecting your Employment and Support Allowance or your Housing Benefit or Local Housing Allowance, Disability Living Allowance or Personal Independence Payment
How reimbursed expenses are ignored for service user involvement
How to fill in a Permitted Work form for service user involvement and avoid misunderstandings about your incapacity for work, mobility and care needs
When your payments will be treated as averaged across several weeks and about responsibility for tax.
This book is written by three members of the team—David Healy, Joanna Le Noury and Julie Wood—who have been behind writing the study and creating the website that hosts a set of documents pharmaceutical companies never expected you would get to see.
"We just wanted to let you know that during this very difficult time our text-based support services are still open and we are here to listen and support. Dealing with the current global situation on top of existing struggles with mental health is leaving people feeling more isolated than ever. Our TESS service offers emotional listening support for women and girls affected by self injury and a space where you can explore what is going on for you alongside a trained female volunteer with knowledge of self injury.
All of our services are open from 7pm – 9.30pm, Tuesday – Thursday.
You can:
Text us on 07537 432 444
"In light of recent events around racism and inequality experienced by persons in the Black Community, Diversify Education would like to gift free anti racist and black culture story books to children between 4 and 16 years nationwide.
We have been able to gift a total of 21 books so far, however the requests are still coming and would love to continue gifting these worthwhile books to as many children as possible."
These classes by ClearCommunityWeb are an opportunity to ask questions and practice some of the basic features of Zoom to then be able to access social groups and classes.
HEAR is seeking new trustees to help us move forward as we grow as a network and an organisation: a new Chair of Trustees, a Treasurer, and other trustees with the skills and interests to support our work going forward.