National Survivor User Network (NSUN) Bulletin – 27 July 2020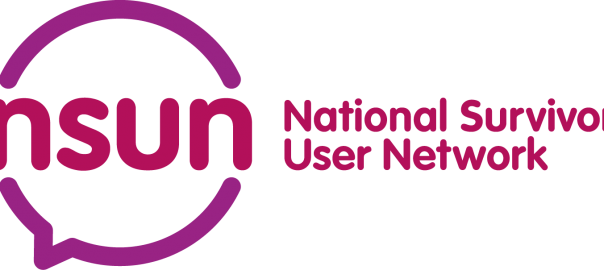 Hello! 
My name is Amy and I've just started as the new Communications and Membership Officer for NSUN! I'll be looking after the bulletin and social media (and lots more) – I'm really excited to connect with the membership and hear your thoughts on our communications, so please do feel free to get in touch with me via the email below.
Take care,
As well as the details of our statutory business, the report features:
the transcript of an empassioned speech by Anne Beales, NSUN's co-founder, which brought many members to tears;
notes on guest speakers including Alison Faulkner, Mark Brown, and Dominic Makuvachuma
links to all the videos of the ever popular soapboxes
Please take a look! 
NSUN is a VCSE (Voluntary Community and Social Enterprise) partner of the Dept. of Health and Social Care's (DHSC) Health and Wellbeing Alliance (HWA).
Meetings are continuing with HWA members being linked in to the Task & Finish group, its priorities and subsequent actions. We will update you with news when we have any.
NSUN is a community of people and groups who come together to support each other.  We come together in many ways: physically, digitally through social media or through sharing information.
During these uncertain times, we will try and share with you what we can that is useful. In particular, we will think of ways of being together, when we can't physically be together. And finally, we will continue our campaigning role, ensuring that policy and legislative changes are scrutinised and are rights based. 
By Penny Vicary via Applied Research Collaboration East of England 
By Mark Brown (lecture to Goldsmiths MA Social Enterprise students)
In Mad Covid Diaries
Podcast by Expert by Experience 
By Micha Frazer-Carroll in the Independent
Food banks are playing a very important part in ensuring people have enough food to eat in these challenging times.
If you are either in need of help yourself or would like to find out how you can help, find and contact your local food bank here:
Ways in which you can help include:
donate money
donate food
volunteer
become a business partner
"We are Jo Edge and Bethan Edwards, both survivors of mental illness and the psychiatric system. Jo is a doctor of medieval history, currently working at the John Rylands Library at the University of Manchester, beginning a stint as Women's Rep on the National Executive Committee of the University and College Union in May 2020. Bethan is a Research OT employed by the NHS, and is also undertaking her PhD . She is professionally registered with the HCPC. Both Jo and Bethan are Welsh.
Money will only go to those who need it: folks who do not have access to other available funds from employers or through the government.
"​LGBTQ+ organisations and groups across the UK will soon be able to apply for grants of up to £15,000 to support their vital role in supporting LGBTQ+ communities through the coronavirus pandemic and beyond.
Healing Justice have announced "Through the Portal: Healing Justice Beyond Pandemic", a programme that will run from summer to autumn. It is free and open to all.
"The NHS in England and Wales is considering using a 'call b efore you walk' approach to attending A&E over the winter to try and reduce pressures on A&E.
What has been suggested is a "triage point" such as NHS 111 should be available for patients needing urgent treatment and be able to book access to primary care, urgent treatment centres or same-day emergency "hot clinics" staffed by specialists.
We have been contacted by some people who attend A&E for self-harm treatment to say they have concerns about this approach and we would like to gather more views so that we can feed them back to policy makers in this area. We can talk to policy makers about how this will impact on people who need self-harm treatment and how to make sure they get the treatment they need.
All information will be used anonymised and we will not share your contact details with anyone."
How can arts and creative therapies help those living with psychosis to make sense of their experiences when talking can be too difficult? How can we make this way of working to be more available within the NHS? Our panellists Mary Coaten, Louise Combes, Sarah Parkinson and Harry Walker will talk about these and other important but complex issues. There will be time for discussion and questions from participants."
---
"Our new report explores the challenges people with mental health problems face when accessing debt advice – and sets out what debt advice providers, funders and regulators can do to better support people."
Following the Mental Health Act review, the government has committed to introducing Advance Choice Documents (ACDs) for mental health service users. The Mental Health and Justice research group has produced the paper "The PACT advance decision-making template: preparing for Mental Health Act reforms with co-production, focus groups and consultation" in response, proposing guidelines for the introduction of ACDs:
"A prototype template and guidance, the PACT (Preferences and Advance decisions for Crisis and Treatment) was co-produced, designed to help manage fluctuating mental capacity through collaborative decision making."
"Compassionate care: as defined by individuals who have used mental health services and are from an ethnic minority background.
I am a trainee clinical psychologist at the University of East London, looking for participants to speak to me about compassion and compassionate care.
The study will involve attending an informal interview, which will last for approximately 1 hour. Interviews will be held via phone or online call, or face to face at the University of East London, Stratford campus (depending on government guidelines on social distancing).
NSUN member Wendy Micklewright has created a petition asking for signatories to join her in calling for the abolition of the Mental Health Act.
There are many anecdotal reports of difficulties in getting a diagnosis and accessing treatment, but there is no published research to evaluate these experiences. This survey will be valuable in helping us understanding the specific barriers that people with Depersonalisation-Derealisation Disorder might have met. We hope you can share your experience so that we can help improve this process in the future.
(1)    The common sources of harm in the interconnected systems encountered by victims and survivors of violence and abuse?
(2)    The pathways to experiencing – and/or using – violence and abuse, and their relationship with mental health problems?
(3)    Which factors are protective against violence, abuse, and mental health problems across the life course, disaggregated by gender, and which could be potential targets for interventions?
Grants can be used to deliver a targeted piece of research or to pump-prime larger projects.  We welcome applications from a broad range of disciplines and the inclusion of early career researchers, users/survivors, and third sector and other non-academic organisations as co-investigators.  We expect the meaningful involvement of survivors and of third sector organisations within all applications.
"Challenge and Change is a fund dedicated to supporting the limitless energy of young people affected by injustices who are working tirelessly across England to create positive change. We see you. We know that you are creators of change and active citizens for the public good. We also recognise that you need investment and support to take forward your ambitions for a positive future.
If you're 18-25 years old, working at the hard edge of injustice and have radical ideas, dreams, visions, and imaginations for a just and fair world for all, we want to invest in you and your work and offer a package of mentoring and network support to help take your work to the next level.
This fund was co-created by a group of partners: Young Advisers – Daze Aghaji, Chloe Deakin, Jovan Nepaul – the Blagrave Trust and the Centre for Knowledge Equity."
"AVA has launched a new national project – 'Staying Mum' – in order to develop responses to women who have faced domestic and/or sexual violence and have faced the loss of their child(ren) being temporarily or permanently removed.
We are recruiting up to 15 women (aged 18 and above), to talk and listen to women about their experiences of domestic and sexual violence and the loss of their child(ren). We are looking for women who:
Have experienced domestic and/ or sexual violence
AND have experienced the loss of having their child(ren) being temporarily or permanently removed.
We are also interested in recruiting women who have: experienced mental ill health,  used substances in a way that has impacted on their well-being (substances may include alcohol, illegal drugs, prescribed and over-the counter medications), had contact with the criminal justice system; experienced homelessness; have been involved in sex work or faced sexual exploitation. 
HEAR is seeking new trustees to help us move forward as we grow as a network and an organisation: a new Chair of Trustees, a Treasurer, and other trustees with the skills and interests to support our work going forward.
"We're Mind. We're the leading mental health charity in England and Wales. We're here to make sure that everyone with a mental health problem has somewhere to turn for advice and support.
We're looking for up to three trustees to join our Board from December 2020. We're looking for dedicated, empathetic and ambitious candidates to help make our mission a reality.
Diversity is critical for a board to be effective; enabling varied discussions, active debate and effective decision making. This year, we particularly encourage applications from those
from BAME groups
from Wales or have a strong knowledge and understanding of the devolved environment in Wales
who have experienced or are experiencing socio-economic disadvantage