National Survivor User Network (NSUN) Bulletin – 29 June 2020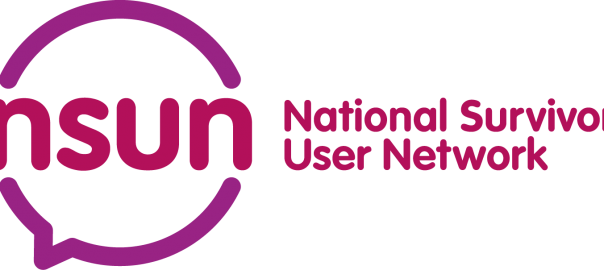 Warm wishes,
Akiko
Akiko Hart
CEO of NSUN
pronouns: she/her
NSUN is hiring!
We are looking for someone with relevant skills to deliver NSUN's communication strategy and to liaise with our membership. Taking ownership of the communications function, and thinking creatively and working proactively will be an essential part of the role. The role is currently home-based. Specifically we are looking for someone with the following skills and experience:
Excellent written and oral communication skills, with experience of writing for a range of audiences/outlets including websites and social media
Proactive, flexible and responsive, with strong interpersonal and relationship management skills
Lived experience of mental ill-health, distress or trauma, with a passion for NSUN's mission and work, and the ability to communicate it effectively to a wide variety of stakeholders
NSUN is a community of people and groups who come together to support each other.  We come together in many ways: physically, digitally through social media or through sharing information.
During these uncertain times, we will try and share with you what we can that is useful. In particular, we will think of ways of being together, when we can't physically be together. And finally, we will continue our campaigning role, ensuring that policy and legislative changes are scrutinised and are rights based. 
by Peter Beresford in BMC
in Disability News Service 
by @tentaeminty in Mad Covid
By Sarah Nugdalla
As a VCSE (Voluntary Community and Social Enterprise) partner of the Dept. of Health and Social Care (DHSC), NSUN now attends a fortnightly webinar where we are given updates on Covid-19. 
At our meeting last week, it was announced that a new task and finish group was being set up to address the health inequalities that have been witnessed in BAME groups and areas of deprivation for example. It was also observed by voluntary sector speakers that additional social determinants of health were factors such as racism and disabled discrimination.
Food banks are playing a very important part in ensuring people have enough food to eat in these challenging times.
If you are either in need of help yourself or would like to find out how you can help, find and contact your local food bank here:
Ways in which you can help include:
donate money
donate food
volunteer
become a business partner
"We are Jo Edge and Bethan Edwards, both survivors of mental illness and the psychiatric system. Jo is a doctor of medieval history, currently working at the John Rylands Library at the University of Manchester, beginning a stint as Women's Rep on the National Executive Committee of the University and College Union in May 2020. Bethan is a Research OT employed by the NHS, and is also undertaking her PhD . She is professionally registered with the HCPC. Both Jo and Bethan are Welsh.
Money will only go to those who need it: folks who do not have access to other available funds from employers or through the government.
"Suicide Crisis is a registered charity which has been providing Suicide Crisis Centres since 2013. The charity was set up and is run by a person with lived experience of mental health crisis.
"Challenge and Change is a fund dedicated to supporting the limitless energy of young people affected by injustices who are working tirelessly across England to create positive change. We see you. We know that you are creators of change and active citizens for the public good. We also recognise that you need investment and support to take forward your ambitions for a positive future.
If you're 18-25 years old, working at the hard edge of injustice and have radical ideas, dreams, visions, and imaginations for a just and fair world for all, we want to invest in you and your work and offer a package of mentoring and network support to help take your work to the next level.
This fund was co-created by a group of partners: Young Advisers – Daze Aghaji, Chloe Deakin, Jovan Nepaul – the Blagrave Trust and the Centre for Knowledge Equity."
"Charities Challenging Hate Crime, London's pan-equality hate crime network virtual meeting.
Speakers will include the Traveller Movement, Migrant Voice and Southeast and East Asian Centre in London."
The report paints a stark picture. From the outset, Disabled people have been discriminated against, forgotten, and in some cases abandoned as policymakers have ignored our needs. Or, at best considered us as an afterthought. During the pandemic Disabled people saw our legal rights diminished, we experienced resource rationing and blanket policies. This led to many of us struggling to get bare necessities, losing support and independence and living in fear for our lives.
The pandemic has shone a light on the long-standing structural inequalities and discrimination that Deaf and Disabled people experience. The dreadful disparities are reflected in the grim data released by the Office for National Statistics, which says Disabled people were about twice as likely to die from covid-19."
"Digital Skills for Seniors is designed to help people learn how to use the internet safely and be more comfortable with technology.
Due to the Coronavirus we are now having to look at new ways to keep in contact and learn new skills and so keeping this class alive is vital. It is a perfect opportunity to put things into practice, plus we can broaden our horizons as other people may with to join.
"We just wanted to let you know that during this very difficult time our text-based support services are still open and we are here to listen and support. Dealing with the current global situation on top of existing struggles with mental health is leaving people feeling more isolated than ever. Our TESS service offers emotional listening support for women and girls affected by self injury and a space where you can explore what is going on for you alongside a trained female volunteer with knowledge of self injury.
All of our services are open from 7pm – 9.30pm, Tuesday – Thursday.
You can:
Text us on 07537 432 444
It's important to take care of our emotional wellbeing, just as it is to take care of our bodies. One way of doing this is to connect in a truthful and empathic way with others.
Anyone who wants to take care of their wellbeing and support others.
Join us ONLINE for a Taster. Then you can: 
Join a TALK FOR HEALTH CAFE; continue talking for wellbeing and gain communication skills.
Sign up for our in-depth 4-day Talk for Health Programme, online.
Follow these with ongoing groups for strong peer networks.
It's all FREE and is commissioned by the NHS. You will learn and have space for:
Honest talking – being the real you
Empathic listening
Basic counselling skills
How to set up and be part of an ongoing group to talk for wellbeing. 
Find out what we're about and join us for our next Taster on:
"If you are finding life challenging in these difficult times, then why not join us online?
The Sunshine Group is an independent confidentially run Peer Support Group, we meet every Tuesday evening at 7pm for an hour. When restrictions ease we will be hosting some group meetings face-to-face (South London area).
"In light of recent events around racism and inequality experienced by persons in the Black Community, Diversify Education would like to gift free anti racist and black culture story books to children between 4 and 16 years nationwide.
We have been able to gift a total of 21 books so far, however the requests are still coming and would love to continue gifting these worthwhile books to as many children as possible."
HEAR is seeking new trustees to help us move forward as we grow as a network and an organisation: a new Chair of Trustees, a Treasurer, and other trustees with the skills and interests to support our work going forward.