National Survivor User Network (NSUN) Bulletin – 3 February 2020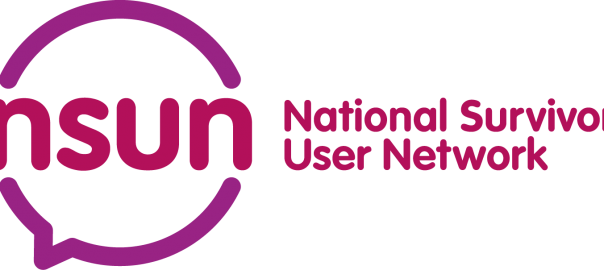 After initially sharing the letter with the Trailblazer group which led on the apprenticeship proposal, we were offered an open meeting within two weeks, to discuss our concerns. Unfortunately, I was not free on the one date offered. Beyond this, I fed back that whilst I appreciated the offer, one meeting, within a 2 week timeframe, would not be enough to address the issues we raised, as they were both broad and deep; and that one of our most pressing concerns was – despite the efforts of the Trailblazer group – the lack of meaningful engagement with the wider peer support community during the consultation process. In my view, one meeting would not be enough to rectify this.
Ten days ago, I then formally shared the Open Letter (with the signatories) with the Institute for Apprenticeships and the Trailblazer group, asking them to pause the process in order to open up a wider conversation. I have not as yet heard back.
I have now submitted the Open Letter to the Route Panel at the Institute for Apprenticeships, which approves or denies the apprenticeship process. I will continue to share developments with you.
We've been busy with many other things as well, with some exciting campaign news coming up – I will keep you posted.
Warm wishes
The Department of Social Care has been working intensively on the Mental Health Act (MHA) Review's recommendations. The original aim was for a White Paper drawn from the recommendations to be available by December of last year, but this timetable was interrupted by the calling of a general election. According to the latest information we have, the White Paper is now due to be published during the next three months. However, the exact timetable will depend on the new government.
When the White Paper is made available, there is due to be a 12-week public consultation period as well. The final MHA Review Advisory Group meeting last year was cancelled, again because of the general election, However, when the White Paper is published, there may also be further meetings with Advisory Group members, including NSUN.
in Mad in Asia
The very first ODC (Open Dialogue Champions) conference is being held on:
It's free to attend, and donations are invited, which go to support future activities. If you want see change in mental health services this is a day for you. During the day, you'll learn about Open Dialogue and how it differs from conventional services. There will be opportunities to be part of a major research trial and be involved in practical activities that help connect us.
Peter Fonagy talks on BBC Radio 4 about how therapy saved his life and led him to pioneer a radical new way of treating our mental health.
The next Violence, Abuse and Mental Health Network Meeting is taking place on:
We'll be sharing hosting roundtable discussions and hearing presentations from some of the following confirmed speakers:
Prof. Andrea Danese, King's College London
Bridget Steele, University of Oxford
Akiko Hart, National Survivor User Network (NSUN)
Laura Fischer, Researcher, Mental Health Activist and Artist
We hope this is an opportunity for those who have faced domestic abuse to help us understand what works and what doesn't in terms of how health settings relate and respond to domestic abuse. The evidence will form part of recommendations to health settings across England.
ICHOM (www.ichom.org) is an international non-profit organisation that unites healthcare providers, policymakers, and patients to improve health care worldwide.
ICHOM is developing a standardised set of health outcome questions asked of patients and their healthcare providers to improve the health of patients with psychosis, personality disorders and disorders related to substance use or addictive behaviours and the quality of care they receive.
We would really like to know what you think about our proposed list of outcome concepts. Have we captured the things that are most important when it comes to your or your child's mental health condition? Can you help us improve the areas we cover to better fit patients' needs?
Please join us in creating a standard set of measures for psychosis, personality disorders and disorders related to substance use or addictive behaviours:
Knowledge is Power: Helping people who hear voices to feel more empowered and overcome stigma
Free half-day training courses, Glasgow & London
Up to 1 in 10 people will hear voices at some point in their lives. It is an experience that can happen to people with a psychiatric diagnosis such as psychosis, bipolar disorder, borderline personality disorder, anorexia and depression, as well as people who do not have a mental health problem.
Brought to you by Hearing the Voice (Durham University) in collaboration with Rai Waddingham (voice-hearer, mental health trainer), this workshop will explore the way in which we can use information and resources to help people distressed by their voices feel more empowered and reduce internalised stigma.
This course is suitable for:
Anyone with an interest in this topic, including voice-hearers, family members, carers, mental health professionals, volunteers, social care workers, peer supporters, group facilitators, GPs and more.
The training is free to attend and runs from 10am to 1pm, with lunch provided at 1pm. Certificates will be available at the end of the course.
Glasgow: Friday 28th Feb
London: Tuesday 3rd March
Travel bursaries are available for voice-hearers and Hearing Voices Groups who wish to attend the course. Places are limited for these events, so advance booking is essential.
Find out more here and register here
---
Two new Healthwatch England reports have been published.
The evidence we gathered was shared with local NHS leaders, who will set out in their plans how they have used the feedback from the public to inform changes to services.
As we move into the implementation phase of the NHS Long Term Plan, this is a crucial moment for our NHS. Continued public engagement around how the NHS operates locally to fulfill the needs of people has never been more important.
NSUN member (anonymous) writes:
I am a mental health service user and survivor and am diagnosed with a 38 year history of severe schizophrenia. I found a lot of differing opinions on-line on mental health areas, and wanted to create a space where as far as possible all views on mental health are allowed to be discussed, and where people can consider a more unified model and approach to mental health areas.
I have felt very passionate, as have and do many other people about helping to create better understandings and approaches to the treatment of people suffering mental illness.
I have tried to create the forum as a research hub for information on all the different areas mental health goes into as there is a lot of debate within and around all these areas with all the anti, critical, pro, alternative psychiatry and pharma views, from all the political, biological, scientific, psychological, sociological, religious and spiritual, integral and other areas. Mental health can be a very emotive area for a lot of people, and there are a lot of different views and opinions on it all.
I hope that people can get something useful from this site. Thank you.
Has your life changed for the better since working as a care worker?
Perhaps you bring something unique to your workplace by running a dance class or a football team, with the people you support, for example.
Or maybe you have formed a meaningful friendship with someone you support.
Our casting team will be in touch with more information and you will be asked to send us a short self-tape telling us a bit about yourself and your work. Those who take part will be reimbursed for their time.
Have you ever been offered ECT as a treatment for depression?
Are you female?
Are you aged 60 or over?
Two new posts at ReCoCo. Both fixed term, full time.
The Movement for Social Approaches in Mental Health (MSAMH) is a new grass roots UK social movement to raise awareness and campaign for better access to social forms of support and social interventions in mental health services and redress the power balance that sees medical definitions and services being disproportionately funded and dominant. 
MSAMH is seeking a provider to build our brand new website. We have limited funds as we are an emerging grassroots organisation and are appealing to a potential provider who feels some alignment with the aims and values of MSAMH and as such, would be prepared to offer us this service at good rates.
For more information or to discuss this opportunity, please contact Hári Sewell (member of the MSAMH Core Group).
Unreal are looking for a volunteer to help out at their monthly peer support group in London. Unreal is a UK charity for depersonalisation and derealisation disorder (DPRD). 
At Together, the longest established mental health charity in England, we want to ensure that everyone who experiences mental distress is valued, can live the life they choose and can determine their own future. We will only achieve this ambition by being service user-led in all we do, and putting the insights from those with lived experience of mental distress at the heart of our decision-making. That's why we are looking to appoint two new trustees with lived experience of mental distress to join our Board in a voluntary capacity.
been given a diagnosis of personality disorder due to specific
work in this area. This is a desirable, but not an essential criteria, on the person specification.
Documentary screening in London by Mind in Camden and London Met University. Chaired by Susan Fernando. Free.
Evolving research through lived experience
CRASSH, University of Cambridge
Quick Links