North Tyneside Art Studio (NTAS) What's On in February 2020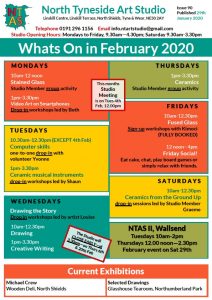 Hi everyone,
Download our What's On leaflet 90 for February here. As ever, we have hard copies printed out in the studio too if anyone would like one.
Please note that the Fused Glass sessions on a Friday is fully booked. Please don't turn up unless you've been informed that you have a place on this group. If you have a place but can no longer make it, please let us know asap so we can offer the place to the next person on our very large reserve list.
There will be another block of these sessions in April – people on the reserve list will be offered first choice to book.
The Video Art on Smartphones (Mondays), Ceramic Musical Instruments (Tuesdays) and Drawing/Writing The Story (Wednesdays) are great sessions and still have spaces for new people to join. And there's always other bits and pieces going on in the studio!
NTAS II at the Forum Shopping Centre in Wallsend – don't forget that we have art sessions on at NTAS II on Tuesdays and Thursdays – anyone is welcome to pop along and join in (you don't have to be a member).
For members – a couple of other things to note:
– our Studio meeting this month is on Tuesday 4th Feb at 12.00noon
– our early closing day (closing at 3.30pm once a fortnight) is changing to a Thursday, starting Thurs 6th Feb
All the best,
Rachael
Rachael Jones
Operations Manager
My working days are Tuesday to Saturday
North Tyneside Art Studio, Linskill Centre, Linskill Terrace, North Shields, NE30 2AY
0191 2961156
Charity No. 1059103
Company No. 3266699
www.northtynesideartstudio.org.uk