Time to Talk Day 2020 at White Swan Centre – 6 February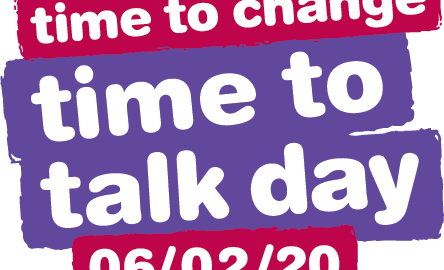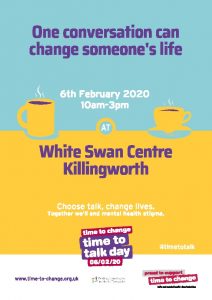 Hi
This year North Tyneside's Ending Loneliness Partnership are holding a Time To Talk event at The White Swan Centre in Killingworth on Thursday 6th February between 10am-3pm. (You'll find us in the foyer)
The purpose of the event is to showcase the five organisations involved in the Ending Loneliness Partnership on how one conversation can save someone's life. Loneliness can significantly affect someone's mental health; so if you know anyone who might benefit from popping by to have an informal chat with one of the team, we'll be around all day with plenty of activities and conversation starters on tackling loneliness, mental health and practical information about local services.
Age UK Befriending- 'One conversation can start a friendship'
The Carers Centre – 'One conversation can support an unpaid carer to cope'
VODA Good Neighbours 'One conversation can build communities'
Citizens Advice 'One conversation can help reduce worries'
SIGN Directory 'One conversation can raise awareness of local services'
This informal drop in is open to all, we'll also have additional resources on other services doing amazing work in North Tyneside that may be of interest.
Download poster here.
Please feel free to share far and wide!
https://services.northtyneside.gov.uk/sign/Public.Event.aspx?ID=550
Best Wishes
Josie
Josie Robinson 
Project Co-ordinator Ending Loneliness
Email:   josie.robinson@voda.org.uk 
VODA E-bulletin – If you would like to keep up to date with what's happening at VODA, as well as latest news and events from the sector and the North Tyneside VCS, you can sign up to our fortnightly e-bulletin here.
Telephone: (0191) 643 2632
VODA, Queen Alexandra Campus, Hawkeys Lane, North Shields, NE29 9BZ
Find our precise location here: https://map.what3words.com/needed.sums.raced
Charity Reg. No. 1075060
Company reg. No. 3703221
VODA is an ISO9001 Organisation