YoungMinds #BeyondTomorrow Campaign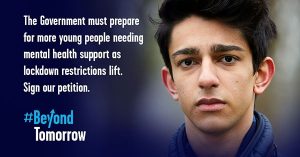 Will the Government commit?
Coronavirus risks impacting young people's mental health for years to come.
Last week we had an early victory for the Beyond Tomorrow campaign when the Government announced the good news that £4.2 million has been pledged for mental health charities in response to the pandemic.
This was thanks to early support of the campaign and the letter that we sent to the Prime Minister together with over 30 organisations.
Why we still need you to take action
This is a significant first step in recognising the impact of the pandemic on young people's mental health but we still urgently need you to take action.
It's important that the Government are listening to our concerns but we need them to ensure that all young people who need immediate mental health support can get it.  We also want them to commit to introducing additional support for young people's mental health beyond the current crisis, in order to tackle the anticipated rise in mental health needs.
Right now we have 6500 signatures on our petition, but for them to listen and really make a difference for young people's mental health, we need more. Please take action now. Add your voice to the petition