YoungMinds Campaign: Early support hubs for mental health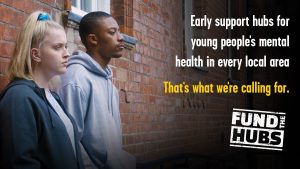 Introducing our new campaign for early support hubs: #FundTheHubs
Right now, thousands of young people are not getting support for their mental health when they first need it. For many, things will get much worse and they may even reach crisis point before they get help. We think that's unacceptable.

That's why we're calling on the Government to invest in a network of early support hubs.
What are early support hubs?
Early support hubs are local, drop-in centres that provide free mental health support with no appointment necessary and no need for a referral. They provide a space for young people to drop in and get support with whatever they're struggling with.

Why early support hubs?
Because the evidence shows they work. Early support hubs are not a new idea; some hubs already exist in the UK. We know that they work, so now we're calling for the Government to provide consistent, long-term funding so we can build on these successes across the UK.
Ask your MP to support #FundTheHubs
I'm in! How can I help?
We know from previous campaigns that when enough of us raise our voices, those in power listen. So, if you agree that we can – and should – do better by our young people, we're asking you to take action now by writing to your MP and telling them to back our call to #FundTheHubs