YoungMinds Newsletter – December 2019

How your support has made a difference in 2019
As 2019 draws to a close, we've been looking back on what we've achieved over the last year. Thanks to your incredible support, we've been able to reach more young people than ever before to make sure they get the best possible mental health support and have the resilience to overcome life's difficulties. We were able to give advice and support to the 11,557 parents and carers who called our Parents Helpline; our new Crisis Messenger service has been contacted more than 4,105 times by young people in crisis; and through our website, we were able to offer advice to help over 1.4 million people in the UK with their mental health.
We're really proud of everything we've achieved this year. But none of that impact or change would have happened without your support. Although 2019 is coming to an end, our fight for young people's mental health is not. We have so much planned for 2020 and your ongoing support and donations make such a difference. So, please join us as we continue our fight for a future in which all young minds are supported, no matter what they are dealing with. Whether you are able to donate today or not, we want to say a big thank you – your support means everything to us and we hope you will continue to support us in 2020.
---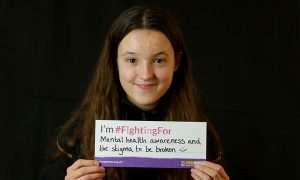 Announcing our new ambassador
We are delighted to announce that the BAFTA award-winning actor Bella Ramsey has joined our fight for young people's mental health as a YoungMinds ambassador. You can read why our fight is so important to her on our website.
---
Your last chance to Act Early
With a general election on 12 December, now is the time to take action for young people's mental health by calling on your local candidates to make young people's mental health a priority.
---
Wellbeing Advent Calendar
The lead up to Christmas is a fun and exciting time. But for some, it can be a very difficult time and can leave you feeling anxious, lonely or stressed. We've created a Wellbeing Advent Calendar to help you and your family, friends or colleagues prioritise your wellbeing over the holidays.
> Download the calendar
> Download the calendar for schools
---
Crisis Messenger
Christmas can be a difficult time of year if you are struggling with your mental health. If you are a young person in need of urgent help, you can text our 24/7 Crisis Messenger service for free throughout the holidays.
---
On the blog this month…
---
If you're worried about your child, visit
for advice and info on getting help.
---
Also this month… 
If you work with young people and want to learn how you can promote their mental health and wellbeing, and improve their access to services and support, then book onto our Introduction to Children and Young People's Mental Health workshop in London on Wednesday 12 February 2020.
We are running an Adolescent Mental Health training course in Birmingham on Friday 28 February 2020. Book now to get a better understanding of young people's mental health and learn how to support them through their teenage years.
Are you good with numbers and passionate about young people's mental health? Apply now to join our team on a six-month contract as Interim Senior Accountant.

---
At YoungMinds, we're leading the fight for a future where all young minds are supported and empowered, whatever the challenges.