YoungMinds Newsletter – June 2021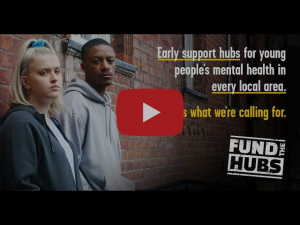 Join our call for early support hubs
Tell your MP to support #FundTheHubs
---
---
---
---
Help shape NHS training courses for professionals working with young people
Have you ever helped with the training for pyschological professionals who work with young people? You might have shared feedback to develop a training course, or provided information to be used in teaching. If so, the NHS would like to hear from you, so they can improve the training programmes for future psychological professionals.
The survey will take around 10-15 minutes to complete and the deadline is 14 June.
---
New on the blog this month
The physical symptoms of anxiety we don't talk about: Anxiety can affect us all in different ways, but there are some symptoms we don't tend to talk about. Sophie, 23, explains some of the ways anxiety and stress can affect our bodies, and why we need to normalise them.
Unpicking autism and mental health: Rachael, 22, explains how her autism intersects with her mental health, and how the two things are – and aren't – related.
Tips for coping with depersonalisatqion and derealisation

: Aimee, 22, and Lauren, 22, share their experiences of depersonalisation and derealisation, and explain what helps them to cope.




---

Our latest tips and advice on Instagram. Follow us @YoungMindsUK
---
At YoungMinds, we're leading the movement to make sure every young person gets the mental health support they need, when they need it, no matter what.
Thank you for your ongoing support – Team YM 💛