YoungMinds Wise Up Campaign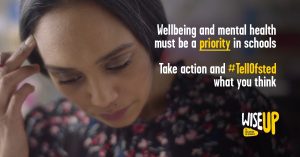 I'm George, and have been a YoungMinds activist for 2 years.
At school I had a really hard time with my mental health, and I didn't feel like there was enough time for anyone to see me as a person, rather than a number or a grade.
But one teacher went out of her way to talk to me about how I was feeling, and it made all the difference.
I got involved with YoungMinds' Wise Up campaign because I really want every young person at school to be supported. Now there's a real chance to change the system, because Ofsted are changing their inspections and want to know what people think should change.
#TellOfsted What Needs To Change
If teachers had the time, and felt able to talk to students about wellbeing, things might be different for lots of young people who are struggling with their mental health. Now is your chance to #TellOfsted to make a change.
Thank you for your support,
George