World Mental Health Day was observed for the first time on 10 October 1992. It was started as an annual activity of the World Federation for Mental Health by the then Deputy Secretary General Richard Hunter. World Mental Health Day is celebrated on 10th October each year.
Global Campaign 2018
The global theme for 2018 is 'Young People and Mental Health in a Changing World'.  More details can be found here.
North Tyneside World Mental Health Day Celebration Event 2018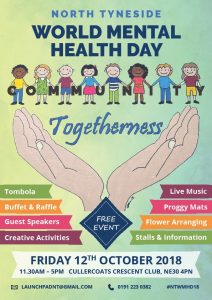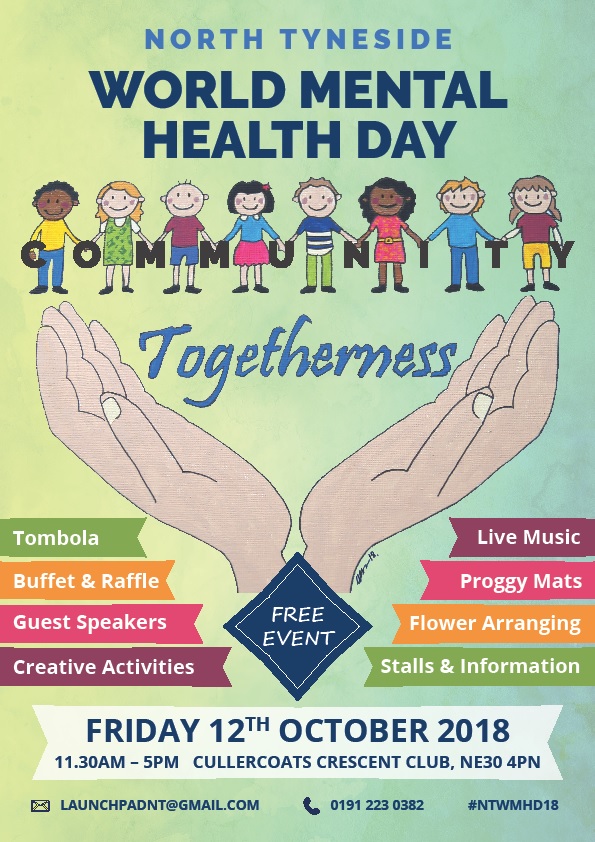 On Friday 12th October from 11.30am North Tyneside will be celebrating World Mental Health Day at Cullercoats Crescent Club.  The day is for anyone with an interest in Mental Health; survivors, service users, support workers, carers, professionals.
There will be a range of creative activities throughout the day, live music, talks, information stalls, laughter workshop and more.  A free buffet lunch will be provided and refreshments available.  It's a great opportunity to meet others with experience of mental health difficulties as well as people working in the sector.
Download poster here.
Download programme here.
Comments from previous years include:
"This is a brilliant event, well done everybody"
"The personal stories were fantastic and inspirational"
"I have learned more about what support is available and how to access it"
"The day gave me hope for the future"
I hope you're able to make it along for as much of the day as you are able.
The NT WMHD 2018 event Facebook page can be found here.  Please share and say whether you are coming!
If you have any questions, please do get in touch with Beth Williams.
Newcastle World Mental Health Day Event – 6 October 2018
Saturday 6 October, 11:00am – 3:00pm, Central Library, 33 New Bridge St W, Newcastle upon Tyne, NE1 8AX
On the nearest Saturday to World Mental Health Day, there will be an event at Central Library with stalls from different organisations.
A free Hate Crime partnership training session from Advocacy Centre North will take place between 1:00pm and 3:00pm. Register here for a place on the training.
North Tyneside World Mental Health Day 2017
North Tyneside World Mental Health Day 2016