World Mental Health Day was observed for the first time on 10 October 1992. It was started as an annual activity of the World Federation for Mental Health by the then Deputy Secretary General Richard Hunter. World Mental Health Day is celebrated on 10th October each year. Find a history of WMHD here.
Global Campaign 2018
The global theme for 2018 is 'Young People and Mental Health in a Changing World'.  More details can be found here.
Global Campaign 2017
The global theme for 2017 was 'mental health in the workplace'.
October 10th 2017 marked an anniversary: We came together to celebrate World Mental Health Day for the 25th time! Since 1992, people all over the world have been holding events, making announcements and celebrating #WorldMentalHealthDay.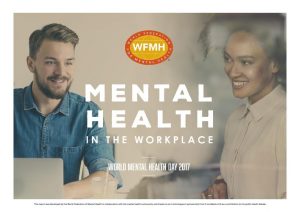 Download the WMHD 2017 Report here
North Tyneside World Mental Health Day 2017 Celebration Event
Friday 6th October 2017, 10.45 am (for an 11.00 am start) to 5.00 pm at Cullercoats Crescent Club, Victoria Crescent, Cullercoats, NE30 4PN.
This free event was organised by a collaborative partnership involving a variety of mental health organisations, including mental health providers and service users across North Tyneside; they range from charities, voluntary sector and statutory agencies, including Northumberland, Tyne and Wear NHS Foundation Trust.
Last year's local theme for WMHD was 'Survive, Thrive, Be Alive', inspired by the Maya Angelou quote "My mission in life is not merely to survive, but to thrive; and to do so with some passion, some compassion, some humour, and some style."
The organisers supported service users and survivors to have their voice heard and be instrumental in shaping and developing mental health services by promoting their views and opinions in a friendly, safe environment.  There was creative and interactive activities, including art, music, laughter yoga and poetry.  There were presentations by the Samaritans, Rape Crisis Tyneside and Northumberland, a Community Treatment Team, Northumberland and Tyneside Mind, North Tyneside Recovery College, Age UK and Supporting Stars, among others.
Download a flyer/poster here.
Download a programme here.
For more information contact Beth Williams from Launchpad North Tyneside, bethlaunchpadnt@gmail.com, #NTWMHD17
North Tyneside World Mental Health Day 2016