World Mental Health Day was observed for the first time on 10 October 1992. It was started as an annual activity of the World Federation for Mental Health by the then Deputy Secretary General Richard Hunter. World Mental Health Day is celebrated on 10th October each year.
Global Campaign 2021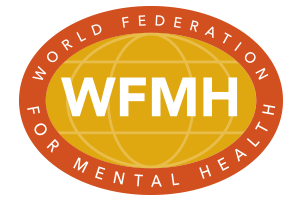 The global theme for World Mental Health Day 2021 is 'Mental Health in an Unequal World'.  More details can be found here.
North Tyneside World Mental Health Day Activities 2020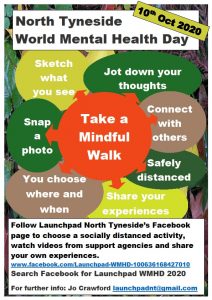 World Mental Health Day was different in 2020 due to the COVID-19 pandemic.  Facebook was used to encourage individuals to carry out socially distanced activities, some of which were suggested by a planning group that met via Zoom every other week.  Again, the planning  group was blessed in its make-up from keen and passionate partners including Launchpad North Tyneside, LEAPS, Supporting Stars and AIM.
People were encouraged to do a self-led 'mindful walk' and to share their experiences on the Facebook page.  They were free to choose their own date, route, length and scale of difficulty.  The council's Active North Tyneside Team's Healthy Walks resource was shared on the Facebook page.  People could choose their favourite walk and improve their well-being through practising mindfulness and being physically active!
The Facebook page was used to record what people had done; hosted accounts, humour, photographs and videos.  There was an introduction to mindfulness and suggested mindful activities to choose from (thanks to Alice Cosgrove).  Also uploaded to the Facebook page was a video of Key Enterprises' band, the Key Tones!
Download the poster here.
Make a donation towards North Tyneside World Mental Health Day.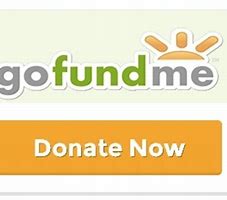 North Tyneside World Mental Health Day 2020
North Tyneside World Mental Health Day 2019
North Tyneside World Mental Health Day 2018
North Tyneside World Mental Health Day 2017
North Tyneside World Mental Health Day 2016