Adult AD/HD Support Group NE Meetings – September/October 2021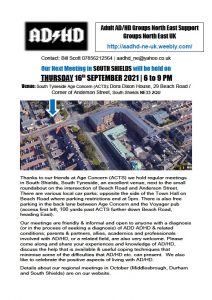 Hi folks,
Apologies for the delay but it was worth it! (see #2 below)
(1) South Shields: Thursday 16th SEPTEMBER (6-9pm)
Venue: Age Concern (ACTS) Dora Dixon House, 29 Beach Road / corner of Anderson Street, South Shields NE33 2QU. Thanks once again to Age Concern for their invaluable support. Download a PDF reminder flyer for this meeting here.
We look forward to seeing everybody who can make it along.
---
(2) I'm delighted to announce that coming up in October, we will also be in Middlesbrough and Durham:-       
Middlesbrough – Coulby Newham- Tuesday 5th Oct (Thanks to Gordon*)
Durham – Waddington Street Centre Thursday 15th Oct (Thanks to Ali et al)      
South Shields Age Concern – Thursday 22nd Oct (Thanks, as always to Grahame)
* Thanks to Gordon Williams, one of our long term allies in Middlesbrough, we will now be able to join in with his brand new Neuro Key meetings in Coulby Newham on the first Tuesday of every month! This gives us a fantastic opportunity to fully explore all  Neurodiverse conditions. Please check out Gordon's latest blog post
Hiding neurodiversity in plain sight a lifetime of masking suppressing and acting
https://neurologically-challenged.co.uk/hiding-neurodiversity-in-plain-sight-a-lifetime-of-masking-suppressing-and-acting/
Kindest regards,
bill
Bill Scott
Adult AD/HD Support Groups North East
07856212564