Healthwatch North Tyneside News – 4 June 2020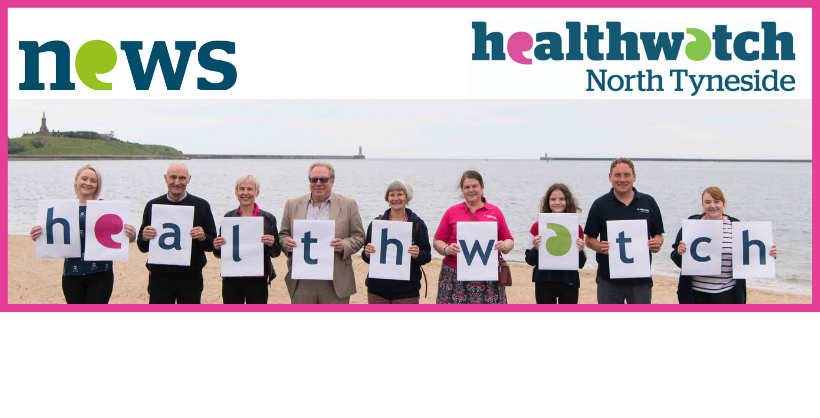 Your experiences during coronavirus
We want to hear your experiences of health and care services during the outbreak of coronavirus.
NHS and care services are starting to develop plans for how they can open up again and deliver more services whilst social distancing and other coronavirus restrictions are in place. We want to ensure that local people's voices are taken account of when developing these plans.
You could tell us about your experiences because you have had the virus or about the services you would normally use. We want to know what's worked well, what could be done better and anything you would like to see in the future. The information you provide will be stored safely and will be used anonymously to help us work to improve local services.

To tell us about your views and experiences you can and take part in our £20 prize draw you can: 
Complete our questions online here
Call or text us on 0191 263 5321 and we will arrange a convenient time to talk to you in detail
Email us at info@hwnt.co.uk
Please share this link with colleagues, friends and family to help us get a good response:
 https://www.surveymonkey.co.uk/r/covid19experiences
---
Thanks to all our Healthwatch volunteers
This Volunteers' Week we have been celebrating  the achievements of our volunteers, and we are sharing some of their stories with you.

Our volunteers contributed an amazing 1176 hours of their time over the past year. They have been involved in all sorts of activities including capturing people's feedback of local health and care services, conducting surveys, inputting data, providing information on local services, running discussion groups, representing Healthwatch at events and meetings, and lots more. Without volunteers we wouldn't be able to achieve nearly as much as we do.

Read how volunteering with Healthwatch led to new roles as Insight and Engagement Officer and Chair of Trustees for Mary Low and Judy Scott

For more information about volunteering with Healthwatch contact Amanda by email a.graydon@hwnt.co.uk or call 0191 263 5321.
Find out more about volunteering with us
---
Supporting National Carers Week
8 to 14 June is National Carers Week, an annual campaign to celebrate and recognise the vital contribution made by carers.
The theme of this year's campaign is Making Carers Visible – we are supporting events by hosting a social media takeover from North Tyneside Carers' Centre and sharing their information and messages throughout the week. 
 
Follow us at Facebook Healthwatch North Tyneside and Twitter HWNTyneside
More information from North Tyneside Carers Centre
---
GP services  – thanks for your feedback
346 responses to our survey
Our survey, GP services – now and tomorrow, is now closed. Thank you for taking the time to respond to this survey so quickly. The winner of the £10 voucher is Janet B from Backworth.
We have already begun reviewing what you have told us and sharing the findings with local Primary Care Networks and North Tyneside Clinical Commissioning Group. We will publish the key findings soon.  
More information about GP services during the coronavirus outbreak