The planning group organised a post-COVID return to Cullercoats Crescent Club on World Mental Health Day itself, 10 October.  The planning group provided an opportunity for anyone with an interest in mental health to get together and celebrate.
There was live music, creative activities, talks, raffle, and opportunities to connect with local organisations supporting people's mental health.  The event was totally free and a buffet lunch and refreshments was provided.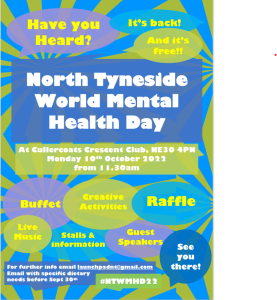 Download the poster here.