NTAS II has launched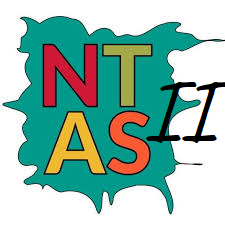 Info re NTAS II, in the Forum Shopping Centre, Wallsend – open Tuesdays and Thursdays – below. This project is funded and supported by NHS North Tyneside Clinical Commissioning Group 😀
just a little announcement…
We've officially launched!
Last Saturday we cut the red ribbon on our satellite studio space in Wallsend's Forum Shopping Centre. Thank you to everyone who came along to show their support and to all staff and volunteers who helped make it happen.
North Tyneside Art Studio is a charity based in North Shields that has been using art and creative activities to improve the lives of people experiencing mental health issues since 1991. We provide creative opportunities for as long as they're needed, in an inspirational and accepting space, that offers escape from everyday life, builds connections with others and increases people's resilience and confidence. http://northtynesideartstudio.org.uk/
NTAS-II in Wallsend is kindly provided by East Street Arts. It is funded and supported for one year by the North Tyneside CCG. We are a meanwhile studio space transforming the lives of the public and people with mental health issues through free at point of use practitioner-led creative arts and writing workshops, exhibitions, events and activities.
We provide tools to help individuals improve their well being and connections with relevant support networks, we are currently promoting the NHS #EveryMindMatters campaign
We are open Tuesdays for arts activities with Sam (10-12)
and Thursdays for writing workshops with Jo (12-2).
Below you'll find photographs documenting our activities over the past month.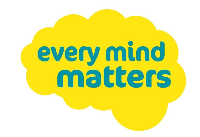 Funded and supported by North Tyneside Clinical Commissioning Group
North Tyneside Art Studio CEO Paul Hillier, guest Mary Glindon and NTAS-II
Project Leader Dr. Jo Clement at our brilliant launch event.
To find out more about how the brilliant studio sign was made, keep reading!
---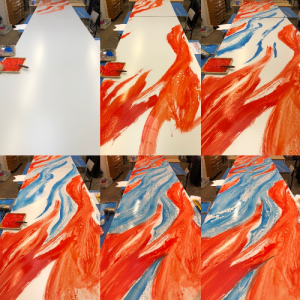 With huge thanks to our Studio Technician Russ Coleman, our Artistic Co-Ordinator Michael Cunliffe who did the colourful marbled paint job and Jo who painted the lettering, we're no longer operating under the previous shop name Wiggiz but have our own creative NTAS-II signage!
Made with recycled materials. Doesn't it look fab?
---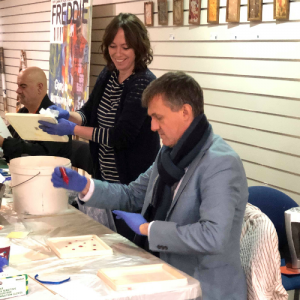 At the launch our brilliant Project Worker Sam Burgess led paper marbling activities. Completely free to take part in and all materials supplied, you could even take work home that day…if it dried in time! Lots of people dropped in to say hello and give it a try. Even our CEO Paul couldn't resist!

Thanks for all your work Sam! See some more examples from Sam's exciting workshops below.
---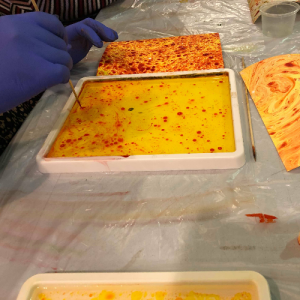 A participant creates some gorgeous orange marbling, stirring the colour and mixing it using a wooden tool.
---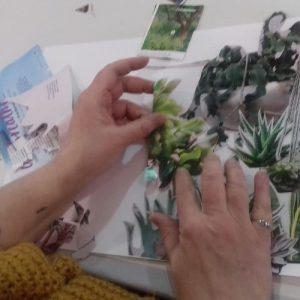 Creating botanic collages with succulent imagery
---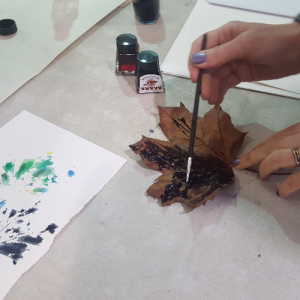 Printing with newly fallen leaves using brushed ink and watercolour paper.
---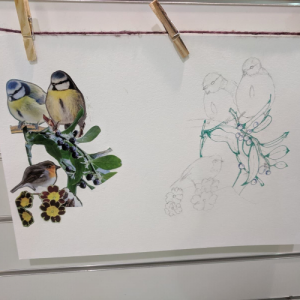 An ornithological turn with blue tits and robins. Collage and line drawing pegged out to dry on our studio line.
---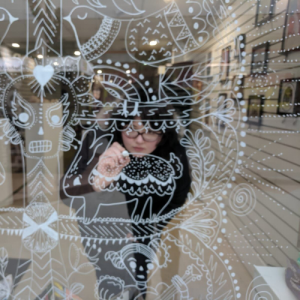 Our hand-drawn Día de Muertos window design by Project Leader Jo has been getting lots of attention from Forum shoppers and NTAS-II visitors. Thanks to everyone who came by whilst she was drawing, popping in or just gave wave or a smile as they passed by.
Keep an eye out for window art coming every few months!
---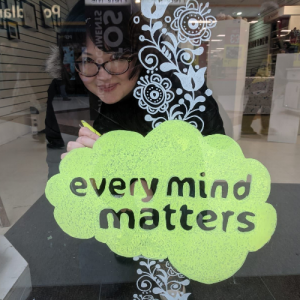 Here's Jo brightening up our door with the #EveryMindMatters logo. Click the link below to find a whole host of resources especially designed to help you manage and maintain your mental health. Good mental health makes such a difference to our day to day lives. It helps us to relax more, achieve more and enjoy our lives more.
---
---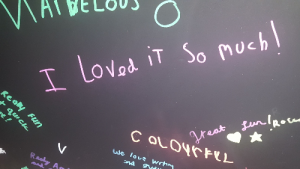 http://northtynesideartstudio.org.uk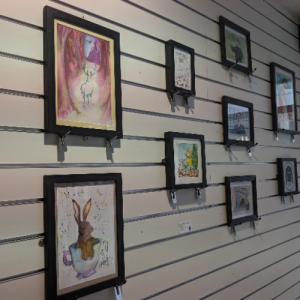 Visitors had great comments to make about the selection of nine pieces by North Tyneside-based illustrator, our fantastic invited Guest Artist Corrine Read.
---
Our exhibitions featured work by fantastic local artists of all ages.
With special thanks to Amelie Thomas-Richardson for her 'Distorted Portrait'.
---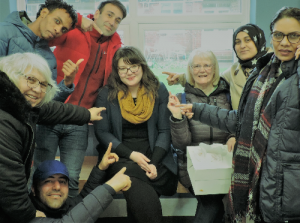 As part of our weekly workshop activities at the studio Dr Jo Clement has led sessions with refugees and asylum seekers based in North Tyneside.

Through creative interventions, the group are achieving a better sense of well being and belonging in the local community. Jo's practice takes inspiration from the groundbreaking mode of writing 'Poetry of Witness' which was coined by American poet, editor, professor, translator, and human rights advocate Professor Carolyn Forché.

A banner designed and painted by the group became the stage backdrop for a local Poem-A-Thon at Ernest in Newcastle to help support RAICES Texas, the support network righting to have children detained in Trump's US border camps returned to their families or safer hands.

Thirty poets read their poems on a continuous loop over eight hours
and raised over a thousand pounds.
---
Opening Times

Tuesdays for arts activities with Sam (10-12)
Thursdays for writing workshops with Jo (12-2).

Our opening days and times are limited each week due to availability. 
Please contact jo.ntartstudio@gmail.com or sam.ntartstudio@gmail.com if you'd like to book in a studio tour or find out more. 

If the door is open, pop in and check out the latest exhibitions 
and find out more about our upcoming programme
which includes monthly Saturday events.
Thanks for reading! See you soon.