Recovery Colleges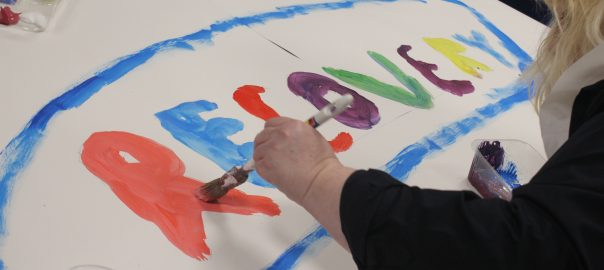 Tyneside Recovery College
The Recovery College Collective is peer led and peer run. This means that everyone who works at the college have their own lived experience of recovery and survival. Our courses have been developed around what people have already found to be helpful in their own recovery.
All courses are free and open to anyone who would find them helpful in their recovery from mental illness, substance misuse, trauma or distress. Or to anyone who might find them beneficial to their wellbeing.
More information about Re-Co-Co can be found here.
Download the 2019 prospectus here.  If you are interested in attending any of the courses then first enrol as a student; arrange an appointment by telephoning 0191 261 0948.
North Tyneside Recovery College
Recovery colleges are designed to help people get involved in learning and education. This can include accessing courses and workshops as a student, becoming involved in the development and delivery of courses and supporting others to learn.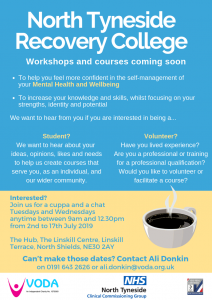 Please see the poster regarding North Tyneside's new and exciting Recovery College – workshops and courses coming soon!  Please contact ali.donkin@voda.org.uk if you require any further information.
Download the poster here.
Download the 'North Tyneside Recovery College Coming Soon' Word document here.