akt Current Support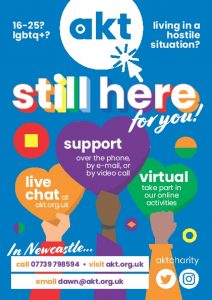 Hi
akt are continuing to work with LGBTQ+ young people during the effects of COVID-19.  Our services and support are just as vital and have evolved as young people find themselves locked down with others who don't accept their identity, or who are making it clear that they don't want them to live there once lockdown is lifted.
akt can provide support and access to things that might make lockdown a little easier.
Please download a PDF flier here.  Could you please distribute it around your networks, or share with any young people who may need to get in touch with us.  We are a national organisation and can take referrals from anywhere in the North East as well as throughout the UK.
Referrals can be made through akt.org.uk.  However, if you would like to get in touch with us to talk about what we do, please call, text or email Dawn.
Best wishes,
Dawn
Dawn Gascoigne
Services Manager
pronoun: she/her
akt, 45-51 george street, newcastle upon tyne ne4 7jn
phone: 0191 281 0099 mobile: 07739798594