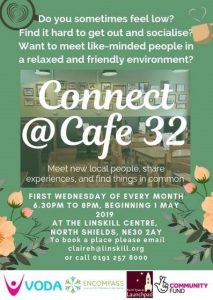 Connect at Cafe 32 is a new initiative designed by local members of Launchpad, VODA and Linskill Centre's Encompass project.  It's an opportunity for people who are feeling a bit low and might be looking for an opportunity to make some new connections.
The next meeting is on Wednesday 3 July, 6.30pm to 8pm at the Linskill Centre and takes place once a month.  We expect this to be popular so please do book your place with Claire at 0191 257 8000 or claireh@linskill.org
So much time and energy has gone into the planning of this new group to ensure it meets the needs of the people who will access it and there will be opportunities to further shape the group as it progresses.
Download poster here.