Diabetes and Moving More event – 29 September 2020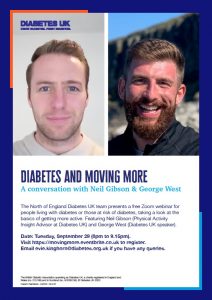 Diabetes UK will present an online session packed with useful information about the basics of getting more active later this month.
The 'Diabetes and Moving More' webinar, organised by the charity's North of England team, will take place on Tuesday, September 29 (8pm-9.15pm).
It is free to register and will be particularly useful for anyone living with diabetes, anyone caring for someone with diabetes or anyone at risk of developing diabetes. There will be advice for people of all fitness levels, from beginners to people who exercise regularly.
The session will feature talks from Neil Gibson, Physical Activity Insight Advisor at Diabetes UK, and George West, a Sheffield-based Diabetes UK speaker and volunteer living with type 1 diabetes.
Neil's talk will include myth-busting, top tips, and practical ideas and suggestions around getting more active. George will give a personal perspective on living with diabetes, touching on some of the mental barriers that commonly prevent people with the condition from exercising more.
There will be a Q&A with Neil and George following their presentations.
The event will be run on the video conference platform Zoom and you will be sent a link once you register. To sign up, please visit: https://www.eventbrite.co.uk/e/diabetes-and-moving-more-registration-117263413025
Download the poster here.
If you have any queries, email Evie Kinghorn at evie.kinghorn@diabetes.org.uk.
Many thanks,
Evie
Evie Kinghorn
Volunteer Development Officer (Event Registration Expert)
T +44 (0)7885 557 010
E evie.kinghorn@diabetes.org.uk | W www.diabetes.org.uk
Facebook www.facebook.com/diabetesuk | Twitter www.twitter.com/diabetesuk
Diabetes UK Wells Lawrence House, 126 Back Church Lane, London E1 1FH
Got a question about diabetes? Contact our Helpline.
0345 123 2399
helpline@diabetes.org.uk