Healthwatch Newcastle Newsletter – 14 June 2022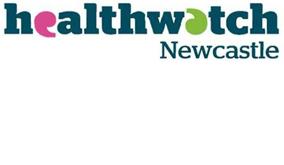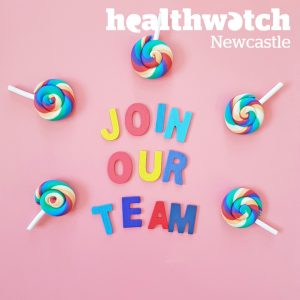 Join our team!
Tell Us North is a community interest company (CIC) with three new roles supporting the delivery of the Healthwatch Gateshead and Healthwatch Newcastle contracts.
Business and Governance Manager
The Business and Governance Manager is responsible for the efficient management of day-to-day administration, finance and governance activities, working closely with the Chief Executive and Deputy Chief Executive to ensure compliance with Tell Us North policies and procedures and legislative and statutory requirements.
Research and Engagement Manager
The Research and Engagement Manager will be a confident researcher with experience in public engagement, leading, developing and supporting the engagement team in its activities.
Healthwatch Newcastle Engagement and Involvement Officer
The Engagement and Involvement Officer will design and deliver innovative engagement activities, produce high-impact reports and contribute to the design and delivery of new data visualisation techniques.
How to apply
Further information, job descriptions and an application form can be downloaded at www.healthwatchnewcastle.org.uk/work-with-us
Please note we do not accept CVs.
The deadline to apply is Friday 1 July 2022.
---
Meet our new Healthwatch Stars

We're proud to recognise the contribution that people and organisations make to the success of social care and health services in Newcastle.
We're delighted to announce the following have recently received a Star for providing exceptional care:
The Learning Disabilities Community Team for their fantastic support.
Saville Medical Group doctors for helping to rehouse a patient with learning disabilities.
The Coquet Trust for their fantastic support for people with learning disabilities.
Sutherland Court Care Home staff for their ethos and care, which are second to none.
Tell us about your Healthwatch Star at www.healthwatchnewcastle.org.uk/nominate-a-star
---
Carers' experiences during the pandemic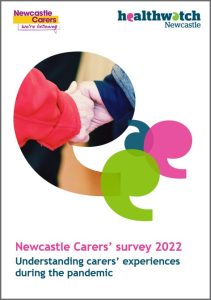 We wanted to gain a greater understanding of carers' experiences in Newcastle during the COVID-19 pandemic. A questionnaire was designed, which included a short evaluation for people who had used Newcastle Carers' services.
Carers saw a significant increase in the amount of care they provided during the pandemic. Because of this, many carers felt they struggled to cope and there was an impact on carers' mental health. Social and emotional wellbeing was heavily impacted during the pandemic, with most carers feeling more isolated.
We also compared findings with a North Tyneside survey, looking at the similarities and differences in carers' needs in the two local authority areas.
Read our reports at www.healthwatchnewcastle.org.uk/about-us/reports
---
Healthwatch Newcastle's annual report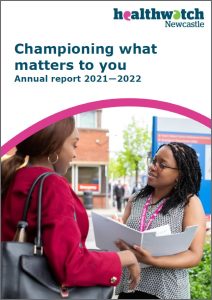 All local Healthwatch are required to produce an annual report and submit it to various organisations, including Healthwatch England, the Care Quality Commission and the commissioning local authority by the end of June each year.
Our 2021—2022 annual report takes a look at our work on services for children and young people affected by domestic abuse, the experiences of health checks for people with learning disabilities, dental services in Newcastle during the pandemic and more.
We want to say 'thank you' to our volunteers, including our Committee, for their support throughout the year. They have helped people in Newcastle have their say on health and social care services and we couldn't do it without you!
Read the report at www.healthwatchnewcastle.org.uk/about-us/reports
---
What is adult social care?
Do you or a loved one need help with social care? Healthwatch England has put together a useful guide about who can access adult social care and how to pay for it.
Social care can be very different from the health care you receive from the NHS. Although it can include medical help, social care offers more practical support to enable people to live independently. These services are usually provided in people's homes, care homes or elsewhere in the community, rather than at a GP practice or hospital.
If you or someone you live with needs social care, it's important to understand what types of care and support are available, where to find the correct information, and how services are paid for.
Read 'What is adult social care?' at www.healthwatch.co.uk/advice-and-information/2021-10-07/what-adult-social-care
If you would like to tell us about your experiences of adult social care services please get in touch with us via email info@healthwatchnewcastle.org.uk or call us free on 0808 178 9282.
---
Other news and events
Newcastle United Foundation health and wellbeing event
Friday 1 July, 9am to 1pm, at St. James' Park, Newcastle upon Tyne
Join Newcastle United Foundation and 30 local organisations offering free support to improve the health and wellbeing of you and your family.
Listen to four inspirational guest speakers discuss different topics designed to improve your wellbeing in the current climate.
Enjoy a free healthy breakfast and refreshments.
Access free resources and support from 30 local organisations.
Receive one free raffle ticket and be in for a chance to win a range of prizes.
Find out more and book at www.eventbrite.co.uk/e/health-and-wellbeing-event-tickets-338094438567
Glaucoma UK urges people to get their eyes tested
With the number of people living with glaucoma in the UK expected to increase by almost a third between 2020 and 2035, Glaucoma UK is urging people to get their eyes tested.
Glaucoma is the name of a group of eye diseases that damage the optic nerve, which is responsible for transferring visual information from the eye to the brain. Damage to the optic nerve can result in sight loss and even blindness. Over 700,000 people in the UK have glaucoma, and half of them don't know they have it.
Find out more at https://glaucoma.uk
New online mental health service
Togetherall is a free, safe and anonymous online mental health service now available for people living in Gateshead and Newcastle The service is available 24/7 and is moderated by mental health professionals.
Find out more at www.togetherall.com
Have you or your loved ones been affected by cancer?
Northern Cancer Voices are a collaboration of volunteers, patients, carers and health professionals in the North East and North Cumbria.
They're looking for people to join their Patient, Carer and Public Involvement Network to share their stories and experiences and get involved in future work.
Find out more at https://northerncancervoices.co.uk
How should your hospital prevent and respond to falls during your stay?
Did you know that over 2,000 people over the age of 60 fell and fractured their hip while staying in hospital in England and Wales in 2020?
The Royal College of Physicians has published a patient resource for the National Audit of Inpatient Falls. It includes information about what level of care patients should receive if they sustain a fall when admitted to hospital. It also advises people on how to get involved with patient and public improvement groups.
Download the 'How should your hospital prevent and respond to falls during your stay?' resource at www.rcplondon.ac.uk/projects/outputs/how-should-your-hospital-prevent-and-respond-falls-during-your-stay
About this newsletter
You can find copies of all our recent newsletters at www.healthwatchnewcastle.org.uk/about-us/resources
If you need this newsletter in another format please get in touch by emailing info@healthwatchnewcastle.org.uk or calling Freephone 0808 178 9282.