Helix Arts Neighbours and Strangers Project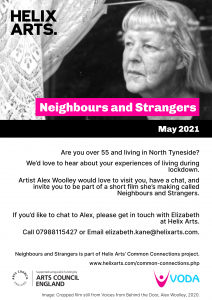 Please see a flyer for a new project being delivered by Helix Arts. 
Helix are looking to engage participants in a creative spoken word piece about connection during the pandemic in collaboration with local artist Alex Woolley. 
Please contact Elizabeth Kane from Helix arts if you or someone you know would like to contribute (details on flyer) and feel free to share amongst your networks.
Download the flyer here.