Chilli Studio News – May 2021

Welcome to the Chilli Newsletter. There's a lot of exciting things happening soon and opportunities for our members to be involved with.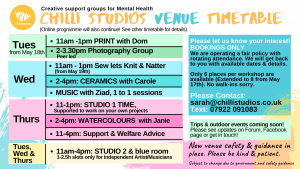 1. CHILLI STUDIOS IS OPEN
AND EXTENDING OUR WORKSHOPS!
See above for updated workshops at the studio. Please send an expression of interest in which events & workshops you would like to attend and we will get back to you about possibilities. We are using a fair system of allocating places. No walk-ins at the moment please.
BOOK NOW!
Contact: sarah@chillistudios.co.uk
or Text/leave a message with 07922 091083
This is exciting news and we can't wait to see more of you all in person. However, this has to be done within Government guidelines with safety implications for all our members, volunteers, and staff. It will be different! and we will all have to make small changes to work together to maintain the safety of the space and people. Our programme and plans are subject to change due to Gov and safety guidance.
It's all about getting back to making a great creative community and fun space again, where we can support everyone's wellbeing. #chillilove #chillicommunity.
We will be carrying on online activity as it's been such an important development at reaching everyone, staying connected, creative and safe. As more venue and outdoor activity starts this may reduce the online workshops a little due to staff capacity.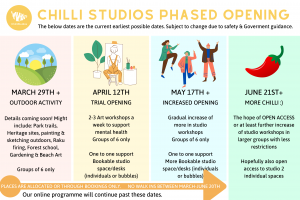 ---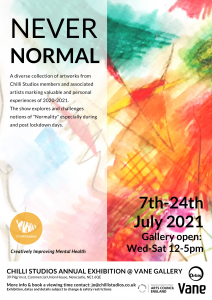 There is still time to submit your artwork! Deadline to receive work is end May 2021. Contact Jo ASAP jo@chillistudios.co.uk
NEVER NORMAL exhibition
7th-24th July 2021 @Vane Gallery
Gallery open: Wed-Sat 12-5pm
Chilli Studios annual exhibition showcases a diverse collection of over fifty artists. It is a celebration of the immense creativity of our members and their valuable personal experiences through the testing year of 2020. Playfully approaching the media's concept of "The new normal", this show questions notions of "Normality" and our individual and collective experiences of mental health.
"This year has only highlighted the importance of art to our mental health and wellbeing. Using art as a powerful and liberating tool to often distract and heal ourselves, to self-express, to also challenge and make actions towards change." Jo Burke, Arts Coordinator, Nov 2020
Opening times:
Reduced capacity of venue viewing is in place and you can choose to book time slots if you wish through ​jo@chillistudios.co.uk
Vane is open Wednesday-Saturday, 12-5pm, admission free.
Vane, First Floor, Commercial Union House, 39 Pilgrim Street, Newcastle upon Tyne NE1 6QE. T +44(0) 191 261 8281
Exhibition, dates and details subject to change, government guidance & safety restrictions.
---

3. NEW social app for Chilli Members coming soon!
It's all about creating a digital creative safe space and community! Improving our forum and digital connected platforms. A place to chat, share and celebrate art, share support resources and more.
We are in the design phase so if you would like to be part in the steering group contact bob@chillistudios.co.uk
---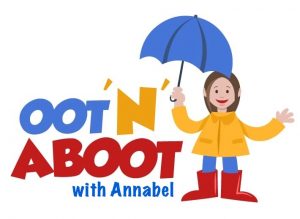 "Oot n aboot" with Annabel
Cultural Trips to Galleries, Museums and more
Thursday 27th May 11am-12noon: trip to the Shipley Gallery
Thursday 10th June 11am-12noon: trip to the Baltic Gallery
Friday 25th June time tbc: BEACH ART DAY! at Whitley Bay (larger event)
Thursday 1st July 11am-12noon: trip to Discovery Museum
6 places per trip out. The Beach Art day will be more people but we are waiting on Government guidelines. Please let us know if you would like to come by contacting sarah@chillistudios.co.uk
---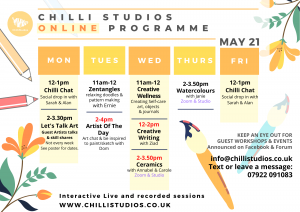 Online Workshops, Demos & social

We will be carrying on online activity! See timetable above.
Since March 2020 our online workshops have proven to be such an important aspect of reaching our community, tackling isolation, enabling us to stay connected, creative and safe during uncertain times. However, as more venue and outdoor activity starts this may reduce the online workshops a little due to staff capacity.
Links to all our zoom workshops can be found on the Members Area of our website and our Members facebook group.
---
6. Support Links
Remember, there is comfort in knowing that you are not alone, we will come together soon and be stronger still.
Chilli Love to all x
---