Introduction & Enrolment Sessions @ NT LIFE Recovery College – between 31 August and 2 September 2021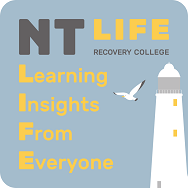 Due to the increasing interest in NT LIFE Recovery College and resources it has become necessary to change from the previous 1:1 registration into group sessions.
Between the 31st August and 2nd September NT LIFE is hosting a series of Introduction and Enrolment sessions in Room R11 A at The Linskill Centre.
SIf you have any clients that would benefit from attending NT LIFE Recovery College this would be a perfect opportunity for them to find out more about what we do, meet with our students and volunteer facilitators, find about upcoming courses and if they want to enrol or at least be added to our distribution email list.
Spaces are limited due to covid safety restrictions. 
We have 9 sessions taking place and should this not be sufficient we will run additional sessions at a later date. (TBC)
Below I have attached a link to a description of the event and the booking form. 
The form is straightforward: Name Email and Contact number along with the chosen time and date.
Once I have received the form, I will be able to confirm attendance, if a session is fully subscribed I will offer an alternative session from this series or add them to the next round of enrolments.
AI should be in a position to email the September -December Timetable by Monday of next week. Thank you for your patience in receiving information, I'm sure, as no doubt you have been impacted by the ongoing changes with the COVID situation, you'll understand how I have been, which results in last minute changes.
Many thanks for your ongoing support and interest.
https://forms.gle/jwu4mhXMHqLuUA5V6
NT LIFE Recovery College: September 2021 Introduction and Enrolment Sessions
Ali Donkin
Lead Worker NT LIFE
NT LIFE Recovery College (VODA, Linskill Centre, Linskill Terrace, North Shields, NE30 2AY.
www.voda.org.uk/north-tyneside-recovery-college