Healthwatch Newcastle Newsletter – 17 August 2021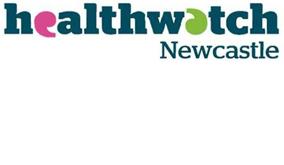 COVID-19 impact in Newcastle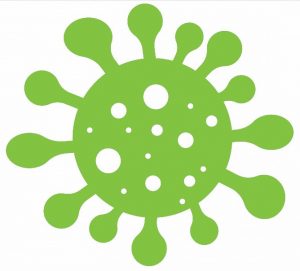 Newcastle City Council is reminding us that it is important to remember that COVID-19 has not gone away. Regionally, case rates remain at a high level and community transmission of the virus continues. While thankfully hospital admissions are not as high as previously, there is a lot of pressure on key health and social care services.

To help protect others and keep Newcastle open there are some things we can all keep doing, including members of the public and people working in care settings. Support is also at hand.

Read Newcastle City Council's statement at www.healthwatchnewcastle.org.uk/news/covid-impact-newcastle
 
Here at Healthwatch Newcastle…
We now have more freedom to do the things we love and wanted to let you know what we're doing at Healthwatch Newcastle too. We're continuing to take a cautious approach to keep our staff, volunteers and members of the public safe. We're also:
Continuing to wear masks if we're in the office.
Keeping up with handwashing and topping up the hand sanitiser stations.
Working mainly from home with face-to-face meetings as we need to.
Planning for how we get back to face-to-face engagement.
---
Please take a quick survey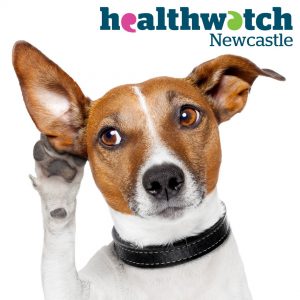 Thank you to everyone who has taken the time to answer so far — your views are important to us.

Have you used local health or social care services recently? What works and what you would like to see improve?

Please share your views and experiences in our survey at www.surveymonkey.co.uk/r/hw-have-your-say

If you need a paper copy, or support to complete the survey over the phone, please email info@healthwatchnewcastle.org.uk or call Freephone 0808 178 9282.
---
Business Administrative Apprentice vacancy — last few days to apply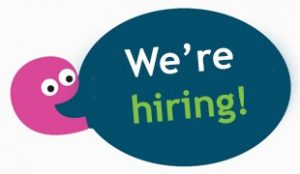 Tell Us North has an exciting Advanced Level 3 Apprentice role.

Join us in promoting positive changes in health and social care for everyone in Newcastle and Gateshead. If you're passionate about local services and helping those who are less often heard, this could be the role for you! This role is full time (37 hours per week), from 9am to 5pm. The successful candidate is required to be flexible and adjust hours around the needs of the work. The role is for 18 months.

The closing date to apply is Monday 23 Aug 2021.

Find out more and apply at www.findapprenticeship.service.gov.uk/apprenticeship/1000016624
---
You said, we did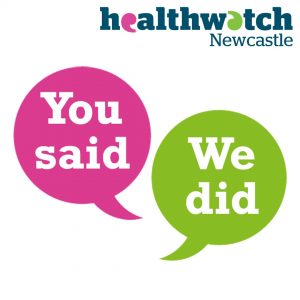 You said…
Ms D contacted us wanting to make a complaint because she found it impossible to get an GP appointment. She is deaf and someone called on her behalf only to be told to get up at 7am to book on the app.

Miss D had been trying to do this for around three weeks and no appointments were ever available. The receptionist said there were plenty of appointments ready to go on the app for the next day but was not able to book her one over the phone.

Miss D was also informed by the hospital that she needed checks done by the GP before she could receive treatment. As a result, she was running out of medication and could not get any more until GP saw her. Ms D wanted to make a formal complaint as her mental health was suffering and had ongoing issues accessing a GP appointment.


We did…
We informed Ms D about North East Independent Complaints Advocacy (ICA). ICA could support her during the complaints process and the first step would be to write a letter to the practice manager. Ms D agreed this was the best course of action and we referred her on.

As a result…
Ms D is now aware of the support available to her. She was able to get an appointment so she could attend the hospital and also receive the medication she urgently needed. We were able to share knowledge of local services to ensure Ms D was able to voice her complaint and also be able to attend hospital and receive the medication she needed.

Need our help?
Do you need free, independent and confidential information about local health and social care services? Just ask online at www.healthwatchnewcastle.org.uk/just-ask or call us on Freephone 0808 178 9282 (leave a message outside office hours).
---
Other news
Are your children up to date with their immunisations?
Are your children up to date with their immunisations that are delivered in schools? If your child is between 12 and 14 years of age and didn't receive their vaccines during school term times, catch-up community-based vaccination clinics are available in Newcastle during the summer holidays.

Find out more about the vaccines on offer at www.northumbria.nhs.uk/our-services/childrens-services/immunisations

To book an appointment, phone 0191 643 2878 Monday to Friday 9am to 5pm (please leave a message outside these hours during school term and holidays).

NHS England proposes new mental health access standards
The NHS aims to introduce five new waiting time guarantees under proposals recently set out.

The proposals could ensure that patients requiring urgent care will be seen by community mental health crisis teams within 24 hours of referral, with the most urgent getting help within four hours. Mental health liaison services for people who end up in A&E departments would also be rolled out to remaining sites across the country.

The NHS is consulting on the new standards and the deadline is Wednesday 1 September 2021.

Find out more at www.england.nhs.uk/2021/07/nhs-england-proposes-new-mental-health-access-standards

Have you heard of NHS Healthy Start?
If you're pregnant or have children under the age of four you may qualify for free vouchers or payments every four weeks via NHS Healthy Start.

Can be spent on cow's milk, fresh, frozen or tinned fruit and vegetables, infant formula milk and fresh, dried, and tinned pulses. Free Healthy Start vitamins are also available.

Find out more at www.healthystart.nhs.uk/frequently-asked-questions/applying-for-healthy-start-faqs
Strategy to improve the lives of autistic people
The government has launched a new strategy to improve the lives of autistic people. The five-year strategy will support autistic adults and children by:
Increasing awareness of autism in society
Reducing diagnosis waiting times
Improving access to healthcare
Find out more at www.gov.uk/government/news/new-landmark-strategy-to-improve-the-lives-of-autistic-people

What should happen when you're diagnosed with dementia?
Being diagnosed with dementia can be a big shock, and it can be hard to know what to do next. Take a look at the Healthwatch England guide to find out what support you should receive.

Read more at www.healthwatch.co.uk/advice-and-information/2021-08-12/what-should-happen-when-youre-diagnosed-dementia?

Support from Deaflink North East
Deaflink North East offers support to D/deaf, Deafblind, Hard-of-Hearing and Deafened people and their families across the North East. The charity provides some services and can also signpost you to others.

BSL Support/Deaf Rights
Support information and advice is available to Deaf BSL users, including help to understand information, assistance with phone calls, support at meetings and help with forms.

Specific sessions aimed at the BSL community
Saturday Forum BSL accessible meeting — usually run every two months to give D/deaf community the chance to meet and share information and knowledge.

Drop in and chat/Zoom catch ups — regular BSL sessions for Deaflink members

Find out more by emailing admin@deaflink.org.uk or visiting www.deaflink.org.uk
Top tips to get the most out of your GP appointment
Do you struggle to speak to your doctor about your medical concerns? You're not alone. Take a look at these top tips to make the most out of your GP appointment.

Find out more at www.healthwatch.co.uk/advice-and-information/2021-07-26/top-tips-get-most-out-your-gp-appointment

This newsletter in other formats
We're currently unable to provide paper copies of this newsletter. If you would like a version you can print out yourself, you can find copies of all our recent newsletters at www.healthwatchnewcastle.org.uk/about-us/resources

If you need this newsletter in another format please get in touch by emailing info@healthwatchnewcastle.org.uk or phoning Freephone 0808 178 9282.