Linskill's Active Summer Challenge 2021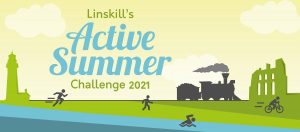 We are delighted to officially announce Linskill's Active Summer 2021!
 
We have designed a challenge to offer exploration (near and far), help you learn new skills and connect with people and nature. 
 
Last year we smashed our target of travelling, virtually, from Land's End to John O'Groats and this year we are going to Istanbul.
---
When is it running?
1st July – 22nd July 2021
What is the challenge? 
Collectively to cover the miles of the original Orient Express (but from Newcastle) which is 2146 miles (according to our calculations) over three weeks. 
To make the challenge personal to you we want you to pick three 'mini challenges' to complete over the challenge period and log the number of miles you walk, run or cycle every time you go out. We suggest one of them should include a mile challenge (highlighted in green in the table below).
Are there prizes this year?
To keep us all motivated there will be a weekly prize draw for everyone registering an activity that week.
Ok, this sounds interesting, what are the challenges I need to choose from?
Have a look at the table below – keep it handy!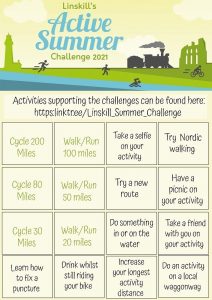 And is there a cost?
No, it's free! 
How do I log my miles and activities?
On day one (Thursday 1st July) we will email you a link to a google form. You then log your miles and which mini challenge (if any) you have completed. You can log your miles daily or once a week as long as they are all entered by Wednesday 30th July. Everyone will be using the same link so we will be able to have a running total. When you log your activity, you will need to enter your email address, name and total miles covered. 
 
If you use Strava you can join our group called Linskill's Active Summer Challenge 2021 and then we can log your miles from there BUT please still log your mini challenges via the Google form.
Is this challenge open to everyone? 
Yes! Get your family and friends involved.
This all sounds awesome, how do I get involved?
Simply follow the link below to register and we'll be in touch with weekly emails about our progress, photos of activities, route ideas and the weekly prize draw winners.
MILEAGE CHALLENGE SIGN UP HERE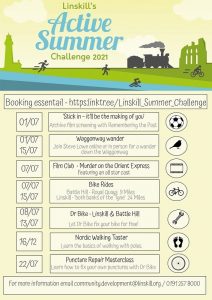 To accompany the 'mini challenges' we are holding some extra activities at the Linskill Centre and Battle Hill Multi-Use Centre – take a look here and book yourself on.
*You do not have to sign up to the miles based challenge to participate in these activities, they are open to all. But be quick as places are limited!
If you have any questions or would like more information please email community.development@linskill.org