North Tyneside Social Prescribing Service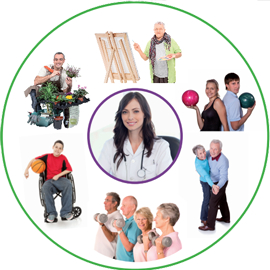 A partnership initiative between Tyneside and Northumberland Mind and Age UK North Tyneside
What is Social Prescribing?
Social prescribing is a mechanism for linking patients with sources of support within the community. These might include opportunities for arts and creativity, physical activity, learning new skills, volunteering, mutual aid, befriending and self-help, as well as support with, for example, employment, benefits, housing, debt, legal advice, or parenting problems. Social prescribing is usually delivered via primary care – for example, through 'exercise on prescription' or 'prescription for learning', although there is a range of different models and referral options.
What are some of the benefits to patients for Social Prescribing?
Improved fitness

Increased mobility
Depleted levels of anxiety
Managed depression
New skills learned
Reduced isolation & loneliness
Lasting friendships & acquaintances
Join in the fun and friendly atmosphere of our monthly Comfy Cuppa Club
Visit their web site here