NTAS 'What's On-line'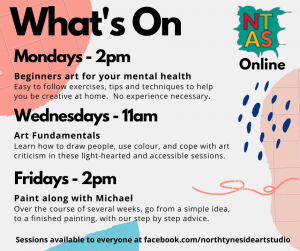 Good afternoon everyone,
As you will already know NTAS has had to close it's studio doors, along with lots of other organisations, due to the current coronavirus measures. We are keeping a eye on guidance and will re-open as soon as we are able.
In the meantime, we've been looking at what we can do to continue supporting people and encouraging creativity to support good mental health, and are now very pleased to announce a new online programme of creative sessions!
These sessions are available on our public Facebook page  (www.facebook.com/NorthTynesideArtStudio), so please feel free to share and encourage anyone to join in.
Studio Members – we now also have a private members group on Facebook – over 40 members have joined already and it's a great place to chat, share pictures of artwork that you're doing at home, and receive inspiration and support from your fellow members! Visit our Facebook page for the link to join. (Note: this group is only available to current NTAS studio members, volunteers and freelance artists.)
Referrers – as you'll understand we've had to postpone all new referrals until we're able to reopen, but please feel free to share this What's On-line guide with your clients – there's some really nice beginners sessions that they might like to join in with!
Take care of yourselves!
Rachael
Rachael Jones
Operations Manager
My working days are Tuesday to Saturday
North Tyneside Art Studio, Linskill Centre, Linskill Terrace, North Shields, NE30 2AY.
E. rachael.ntartstudio@gmail.com
T. 0191 2961156
Charity No. 1059103
Company No. 3266699
www.northtynesideartstudio.org.uk