Reducing Isolation and Loneliness in Carers – North Tyneside Carers' Centre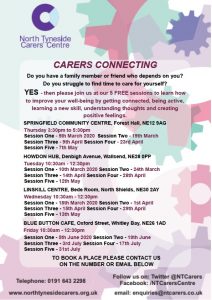 Good afternoon
You may be aware that the Carers' Centre is working in the community to reduce Loneliness and Isolation in carers and we have arranged 5 well-being sessions in 4 locations in the North East to do this.
See the promotional flyers. I would appreciate it if you would share these with colleagues who may work with carers and / or display them on notice boards.
The flyer called Carers Connecting Dates shows all the venues and dates, the rest are individual ones with more details about the actual session with in the area:
SE – Linskill Centre, North Shields
NE – Blue Button Cafe, Whitley Bay
NW – Springfield Community Centre, Forest Hall
If you have any questions, please do not hesitate to contact me direct or the Carers' Centre.
Kind regards
Sue
Sue Lambert
Carer Community Link Worker
North Tyneside Carers' Centre, 3rd Floor, YMCA building, Church Way, North Shields, NE29 0AB
sue.lambert@northtynesidecarers.org.uk