The national Self injury Support service is still open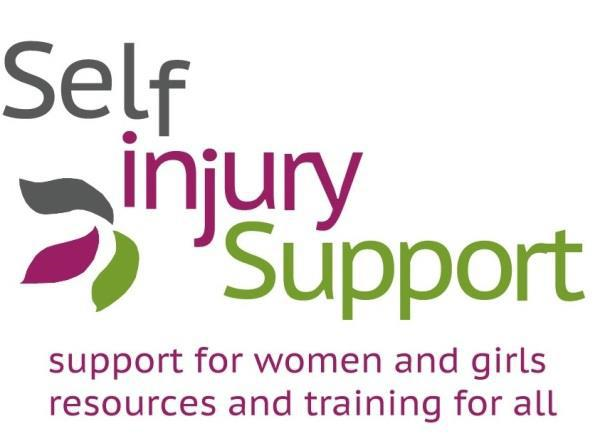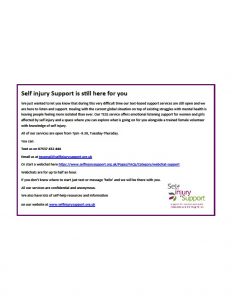 We are still here for women and girls affected by self injury
We just wanted to let you know that during this very difficult time our text-based support services are still open and we are here to listen and support. Dealing with the current global situation on top of existing struggles with mental health is leaving people feeling more isolated than ever. Our TESS service offers emotional listening support for women and girls affected by self injury and a safe space where they can explore feelings and experiences alongside a trained female volunteer with knowledge of self injury.
Our service are self-referral and available for women of all ages. To use our services:
Text us on 07537 432 444
Email us at tessmail@selfinjurysupport.org.uk
Or start a webchat here https://www.selfinjurysupport.org.uk/Pages/FAQs/Category/webchat-support Webchats are for up to half an hour.
If you don't know where to start just text or message 'hello' and we will be there with you. All our services are confidential and anonymous.
All of our services are open from 7pm -9.30pm, Tuesday-Thursday.
We also have lots of self-help resources and information on our website at www.selfinjurysupport.org.uk
Our experience of the last few weeks has shown us that many people are not getting the same mental health support they usually get and/or not in the same way – this is at a time when people need it more than ever. Our text-based services can often some support during these difficult times and a place where people can feel listened-to and relieve some of the isolation.
Please circulate to staff, colleagues and service users who might benefit from these services.
We hope you are keeping as safe and well as possible right now and thank you for all the amazing work you're doing.
With best wishes
The team at SiS
Text: 07537 432 444 email: tessmail@selfinjurysupport.org.uk or webchat via link on website
Keep up to date with resources, innovation & research around self injury – sign up for our monthly ebulletin