The Northern Guide to Happiness would love to hear from you!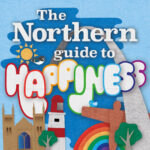 The Northern Guide to Happiness is a podcast funded by the National Lottery Community Fund that aims to put a smile on the faces of people across the North East and beyond. They're talking to adopted and native Northerners about what makes them happy and what happiness means to them as well as exploring what's special about the North and how living here makes life happier for its residents.
They are looking for more people to be interviewed as part of the podcast as well as community groups to get involved in the project through FREE happiness workshops.
For more information; visit thenorthernguidetohappiness.co.uk or email Alex on hello@thenorthernguidetohappiness.co.uk. You can keep up to date with the project by following them on Twitter and Instagram and Facebook