Youth Survey Report 'Impact of Lockdown' – Northumbria Violence Reduction Unit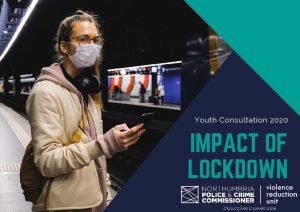 Good Afternoon,
I hope you and your families are keeping well and those returning to school have settled in.
Firstly, a huge thank you to everyone who supported with the sharing, distribution and completion of our Youth Survey on the impact of lockdown. I was delighted with the number of responses achieved and this will help shape the work of my office and Violence Reduction Unit going forward.
As restrictions tighten once again, the importance that we act on this feedback increases even more – we have set out a number of recommendations and are fully committed to delivering them along with our partners.
Please read and share the report within your network, and if you have questions about the contents, or would like any of the data captured, please contact VRU@northumbria-pcc.gov.uk and my team will get back to you.
The impact this year has had on young people has been significant, but I am confident that with the excellent support networks we have across Northumbria, we can ensure their concerns are addressed and acted upon.
Regards,
Kim McGuinness
Northumbria Police & Crime Commissioner