11:11 Mindfulness 5 Minute Journal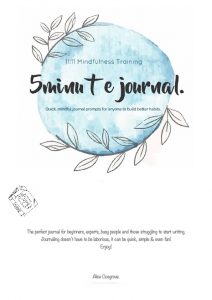 Good Morning,
Download a copy of the 11:11 Mindfulness 5 Minute Journal here.
This has been so kindly provided for NT LIFE Recovery College by Alice Cosgrove our wonderful Positive Language and Mindfulness facilitator.
Alice has asked me to share with anyone whom it may benefit. As I'm conscious of how much effort and heart everyone is putting into our work at the moment I wanted to remind you all of taking time for your own self care.
You may have clients, family members and friends who could benefit from this too so please share.
Thinking of you all
Ali Donkin
North Tyneside Recovery College Worker
https://voda.org.uk/north-tyneside-recovery-college
North Tyneside Voluntary Organisations Development Agency (VODA), Queen Alexandra Campus, Hawkeys Lane, North Shields, NE29 9BZ
Find our precise location here: https://map.what3words.com/needed.sums.raced
Tel: (0191) 643 2628
E-mail: ali.donkin@voda.org.uk
Web: www.voda.org.uk
Charity Reg. No. 1075060
Company Reg. No. 3703221